In September of 2015, a full year before his then-current contract was expiring, the Blackhawks and Brent Seabrook agreed to an eight-year, $55 million dollar contract extension, good for $6.875 million against the salary cap through the 2023-24 season.
The first six years of the contract come with a no-movement clause (NMC) and the last two come with a partial no-trade clause (NTC), which tie the Blackhawks hands if they ever want to move on.
Seabrook was drafted 15 years ago, in 2003. He helped bring the city Stanley Cup Championships in 2010, 2013 and 2015. He scored franchise-changing overtime goals in the playoffs. He was named an alternate captain of the team in 2015.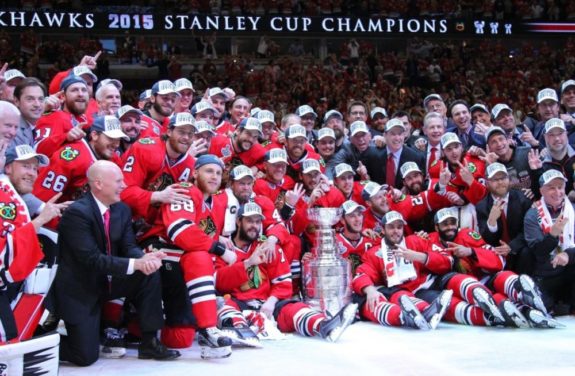 For all that Brent Seabrook has done for the city of Chicago and the Blackhawks organization, he is very unfairly the direct target of criticism of many fans simply because of the amount of money he makes.
Fans are pointing the finger at him when making their attempts to figure out what's causing the downturn of the team, saying that if he wasn't there, everything would be better.
So let's set the record straight. Realistically, how will this be handled? What are the options?
Trade
Trading Seabrook is completely unrealistic, and this is the one that everyone seems to jump to first. Seabrook is 32 years old and has six seasons left on his deal after this one. When he is making money like an elite player but only has 18 points through 62 games played, an opposing general manager would have to acquire a lot more to "sweeten the pot."
That brings me to my next point. In 2015, the Blackhawks and Hurricanes made a trade that involved a "sweetener." The Blackhawks traded forwards Bryan Bickell and Teuvo Teravainen to the Hurricanes in exchange for a second and a third-round draft pick. Teravainen, the Blackhawks' top prospect at the time, was thrown in as a sweetener to the deal so that a team would take on one year of Bryan Bickell at $4 million a year.
At that rate, what are the Blackhawks going to have to give up for six more seasons of a slow, overpriced, and declining Brent Seabrook? Two of Nick Schmaltz, Alex DeBrincat, and a first-round pick, among other prospects and picks? Yeah, no thanks.
Let's say that the Blackhawks were willing to move Seabrook, no matter the cost. Even with Chicago sending very valuable assets to a team along with Seabrook, what could the Blackhawks realistically expect in return?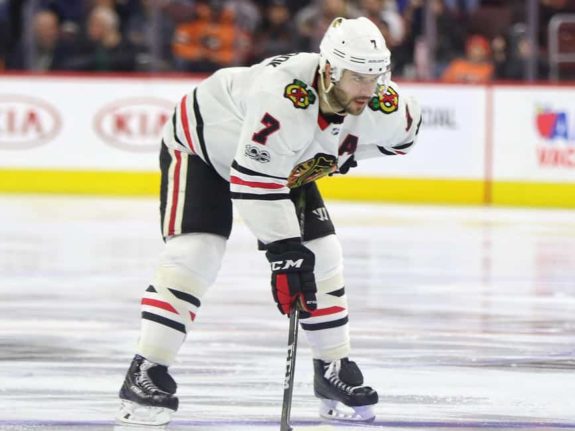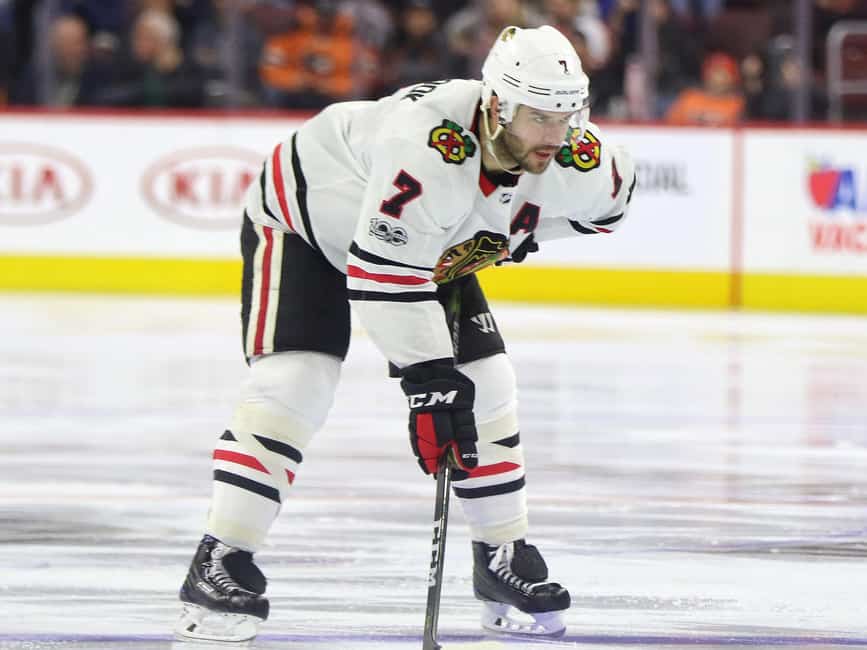 Likely they would get a veteran player on a similarly bad contract. Maybe they save a few million dollars against the cap, but is it really worth mortgaging the future?
Say after all of this, the organization STILL decide's its worth it. Remember Seabrook has an NMC, so he would have to be willing to waive it.
For what it's worth, the Blackhawks have said they're not interested in moving Seabrook, while Brian Lawton of NHL Network said Seabrook had a chance to be moved before this season's trade deadline.
Buyout
This is an option that not many fans fully understand. If you head over to CapFriendly, they have a buyout FAQ page that explains the context of a buyout very well.
In the case of any buyout, compliance or not, the process is spread out over twice the amount of term remaining on the deal. So if the Blackhawks were to buy Seabrook out over the summer, they would owe him money through the 2029-30 season. Yeesh.
But how it actually affects the team's salary cap situation is when things start to get dicey. While they are not allowed under the current CBA, a compliance buyout is what the Blackhawks really need here. Maybe compliance buyouts will be added to the CBA again when the next round of negotiations takes place?
Basically, under a compliance buyout, the money paid to the player does not count against the salary cap. So while the Blackhawks would still owe Seabrook money, it would not affect their salary cap situation.
But, with how the buyout process is set up under the current CBA, the money owed to the player will count against the salary cap, unless the contract was signed before September of 2012. Seabrook's deal was signed in 2015.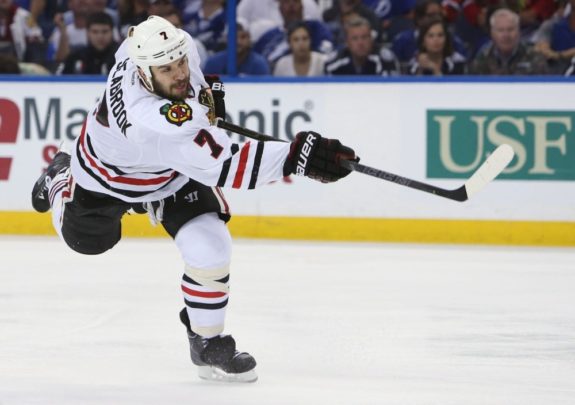 So, if the Blackhawks were to buy out Seabrook this summer, just how negative of an impact would that have on the team's salary cap situation?
In the 2018-19 season, his cap hit would be $3,319,444. In the 2019-20 season, it would jump up to $3,819,444. The 2020-21 season would see a bigger increase, up to $6,819,444. The 2021-22 season would see it drop back down to $3,819,444, and the 2022-23 season would see it jump back up to $6,819,444.
In the 2023-24 season, he would count for $5,319,444 against the cap, and then things get interesting. From the 2024-25 season through the 2029-30 season, Seabrook would count for $944,999 against the cap.
So, if the Blackhawks were to buy out Seabrook, not only would they be using between $3 million and $7 million dollars of cap space for six more seasons, but that number would fluctuate, and they would be required to have him on their books for six additional seasons.
Navigating the current salary cap and keeping a team under is already difficult. Could you imagine how difficult it would be to account for Seabrook's changing cap hit year after year? At that point, it would almost make more sense to just keep him and play him in a role that he can succeed in, which is what they have been doing of late.
Final Thoughts: Thank You, Brent…
Brent Seabrook is as real of a Blackhawk as it gets. He lives and breathes everything Blackhawks hockey. He's the heart and soul of the room. He seems to score every time the Blackhawks have a playoff game go to overtime, and he always seems to know what to say to turn a series around.
It's okay to hate the contract, but don't hate the player. The contract Seabrook was given by Stan Bowman was a reward for his past performance, and it seemingly was a statement that the organization wants Brent to retire as a Blackhawk.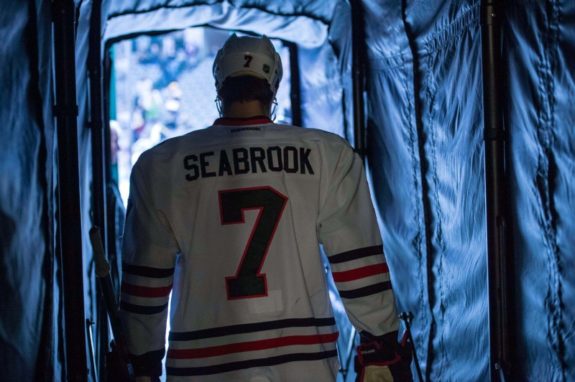 Seabrook could be traded and end his career somewhere else, or he could play through all remaining six years in Chicago. He could suffer an injury and be placed on LTIR, or he could be bought out. No matter how or when Seabrook's career ends, he should always be remembered as the heart and soul of the 2010-2015 near-dynasty-level Blackhawks group.
More importantly, he should be remembered as the guy who was here through it all. From the darkest of dark ages, to three cups in six seasons, Brent Seabrook has given everything in his power to this franchise, and they're beyond lucky to have him.
I am an undergraduate student at the University of Illinois at Urbana-Champaign, studying Community Health: Health Planning and Administration. I previously have covered the NHL at FanSided & BlackhawkUp.