David Poile has earned quite a bit of respect around the league as a trade wizard. He routinely sought out general managers with their backs against the wall, and made lop-sided trades with them. Pieces acquired through this practice are, but not limited to, P.K. Subban and Filip Forsberg. The Subban trade was quite the head-scratcher, and the Forsberg trade has gone down in history as quite possibly the most lopsided trade of all time.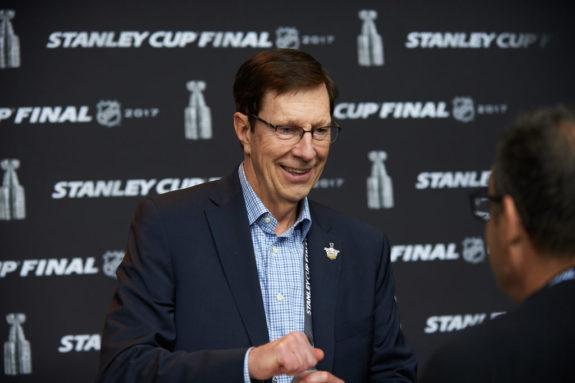 Despite this wizardry, teams still attempt to trade with Poile. On Sunday, the Edmonton Oilers, Nashville Predators, and Columbus Blue Jackets completed a three-way trade that has left many saying, "cool". Personally, I feel extremely whelmed by the trade, but overall it makes sense for each team. To better understand why this trade was made, let's go through what each team received.
The Columbus Blue Jackets
The Blue Jackets get Mark Letestu, who will immediately step in and play on the fourth line. He's been a great utility player, who has contributed on the power play and penalty kill. Letestu has eight goals and 19 points in 60 games so far this season while only averaging 13 minutes per night.
Points aren't where Letestu makes his mark though. His presence shows up more when you look at the in-depth stats. For reference, we're using unblocked shot attempts (Fenwick) percentage, high danger chances (HDC) percentage, and offensive zone start percentage.
The stats are quite reasonable, especially considering that he starts in the offensive zone less than 44% of the time. Sure, his high danger chance percentage is less than ideal, but look at the help he's getting. He often plays with guys like Zack Kassian and Iiro Pakarinen, so that's not a ton of skill. He'll be better matched in Columbus as he plays with Zac Dalpe and Nathan Gerbe, who are better offensively.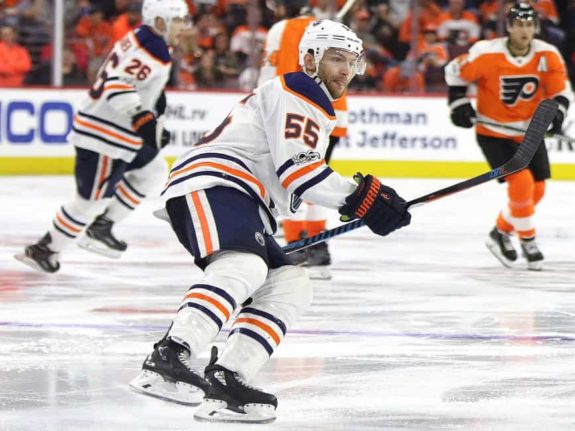 I'd expect him to put up a little bit better numbers with Columbus, but otherwise, his biggest impact will be felt on the penalty kill. Special teams have not been a bright spot for the Blue Jackets, so they're hoping Letestu will breathe new life into them.
Plus, it helps they only gave up a fourth-round pick, which leads to the next team.
The Edmonton Oilers
If disappointment could manifest itself as a team, it'd probably be the Ottawa Senators, but coming up on the rear is the Oilers. Wasting a cheap year of a generational player aside, the Oilers have had a rough go at it. As their year is coming to an end, Peter Chiarelli made a good move. Letestu's contract is in its final season and the Oilers got something for what was going to be nothing.
The Oilers acquired Pontus Aberg, a struggling scoring winger who was forced out of the line-up by competition. He could play alongside McDavid, although I probably wouldn't put them together unless it's on the power play. Aberg currently has eight points through 37 games, and isn't a possession driver. He controls 45% of the shot share, despite starting in the offensive zone 60% of the time.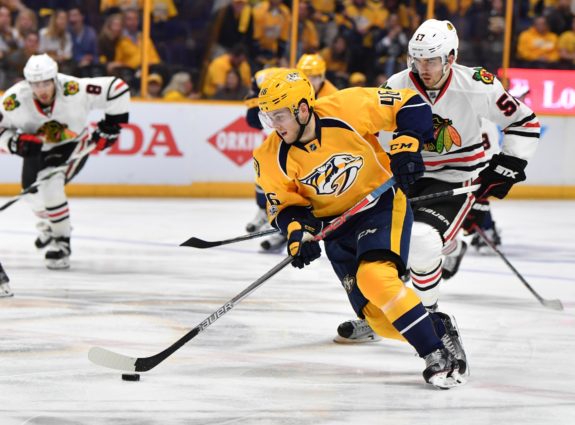 Aberg is a bottom six forward who won't thrive unless he's in a top six role. So even when the Oilers make a good move, the return is still underwhelming.
The Nashville Predators
Onto the real question, what do the Predators get? Well besides a fourth round pick, the Predators get a roster space. While the Predators made another move today to acquire Troy Grosenick and Brandon Bollig, the Aberg move was meant to free up an NHL space. It doesn't make sense at the moment, but it might Monday afternoon.
At the end of the day, what we know for sure is that the Predators acquired a fourth round pick. A fourth rounder isn't great, but it's as good as you can get for a bust.
Quite honestly, this is probably a move made in preparation for a big fish, most notably Erik Karlsson. The Predators are in the running for Karlsson, but probably sit behind Tampa Bay as the team that could offer the most for him.We'll see what happens after the deadline passes, but this could be the biggest trade ever, and the Predators just made room for it.
Is There A Winner?
This is one of those rare, win-win-win trades. The Oilers got something for nothing, the Blue Jackets addressed their special teams needs, and the Predators got rid of a roster spot to bring in Mike Fisher. All in all, it was a successful day for each franchise.
Hockey fan from San Jose, currently living in the cold north. I love all things hockey but I like to cover the Nashville Predators. If you want numbers and graphs, I'm your guy.