The Chicago Blackhawks have traded forward Ryan Hartman to the Nashville Predators in exchange for Victor Edjsell, a 2018 first-round pick and a 2018 fourth-round pick, according to Hockey Night in Canada's Elliotte Friedman. Hartman was absent from the Blackhawks' morning skate which triggered chatter and inevitably led to the move.
The Predators also acquire a fifth-round pick in the 2018 NHL Entry Draft along with Hartman.
https://twitter.com/FriedgeHNIC/status/968170893229740032
The Hawks have struggled this season to find consistency and currently sit 11 points out of the second wildcard spot in the NHL's Western Conference with little chance of grabbing a postseason spot this year.
In Hartman, the Preds acquire a 23-year-old forward who adds a physical element to their lineup. A first-round pick, 30th overall, in 2013 by the Blackhawks, Hartman has collected 57 points in 141 career regular season games for the Hawks. While his career numbers are an average of 0.4 points per game, he has averaged 0.44 per game this season – a slight increase over his career totals.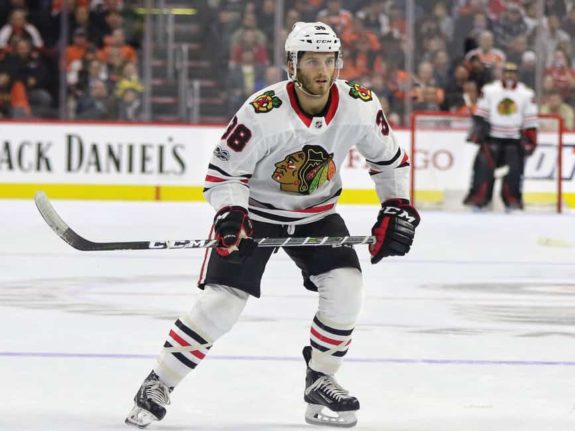 He has 8 goals and 25 points in 57 games this season, along with 58 penalty minutes. He averages 1.7 hits per game and has totalled 94 so far this season. On top of that, he's willing to sacrifice his body and block shots for his club and has a long way to go being so young.
As for possession numbers, he has a 54.2 CF% this season and a 52.4 FF% to go along with it which should play well in the hands of a Predators team that is already has good possession numbers.
Prior to the trade, Hartman did indicate that he enjoyed being a member of the Blackhawks.
"I love being here," he said, according to Mark Lazerus of the Sun-Times. "I haven't really thought of myself anywhere else."
That said, he will have to start seeing himself as a Predator as he will be a restricted free agent at season's end and will be calling Nashville home for the next little while.
Blackhawks Secure First
As for the Blackhawks, they secured quite a return for Hartman. While they did give up their fifth as part of the Hartman deal, Chicago still has Columbus' fifth from the Panarin deal.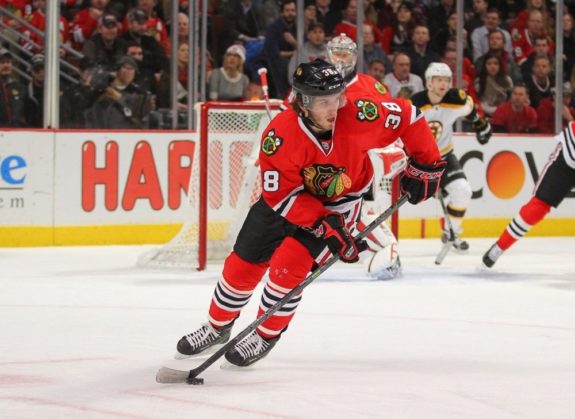 From Nashville, they locked up a fourth-round pick in the upcoming draft which will be their only pick of that round as it stands now and possibly the most surprising is that they were able to grab Nashville's first-round pick in the upcoming draft. That gives the Blackhawks two first-round picks in 2018 – including their own which will likely be a lottery pick.
On top of that, the Hawks also get 22-year-old Victor Edjsell – a Swedish forward who is having a good year in the Swedish League with HV71. In 44 games this season he has 17 goals and 30 points. While the undrafted forward signed with the Predators, he was a player the Hawks pursued last spring, according to Lazerus.
Either way, the first-round pick for Hartman might set the tone for other teams making a deal before the deadline.