"Shoulda, woulda, coulda." Those words are being uttered more these days than ever by fans of the Chicago Blackhawks due to somewhat questionable decisions by general manager Stan Bowman. Many fans like to think the organization would be headed in a different direction if they were the general manager, saying they would do things differently.
Today, I am going to address some of the most mentioned "mistakes" that Bowman has made, as well as how they could have been avoided.
Atrocious Contract of Brent Seabrook
Earlier this year, Brent Seabrook was scratched for the first time in his lengthy career simply because of a decline in play. This led to Mark Lazarus of the Chicago Sun-Times writing a story describing what Brent Seabrook means to the Blackhawks. How he is the heartbeat of the team, the vocal leader of the room, and the guy who would go to battle for anyone. But, is he worth his new contract?
In September of 2015, Seabrook signed an eight-year deal good for $55 million dollars in his pocket. This contract costs $6.875 million against the salary cap for all eight years. His contract consists of a full NMC through the 2021-22 season and is then reduced to a modified NTC starting in the 2022-2023 season.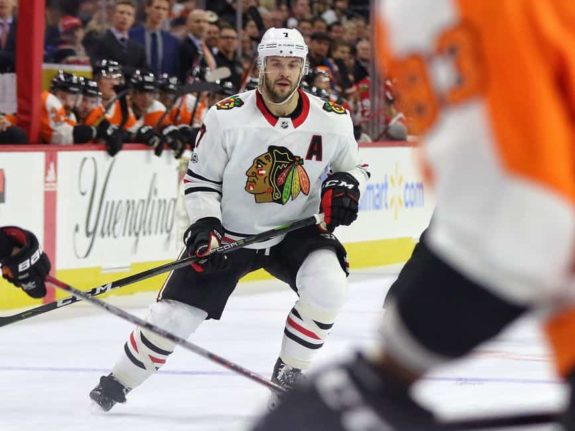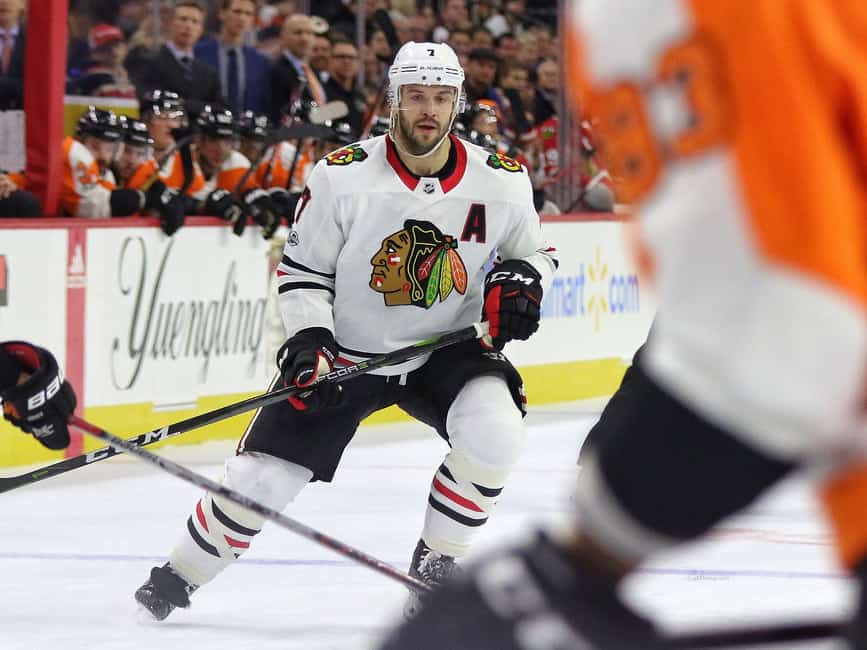 Obviously, a contract like this is risky for several different reasons. For one, Seabrook will be 39 years old by the time this contract expires. With how many miles he already had on his body at the time the deal was signed, was it really plausible to think he would be worth $6.875 million for eight more seasons? Especially when he was already starting to slow down? Was it really necessary to handicap yourself even more by adding a NMC to the contract? Consider that Seabrook had another year left on his previous contract before the current one kicked in.
So, how could this have been handled differently? This could have played out several other ways. The first would be to let Seabrook play out the remaining year of his current contract, see how he is playing, and, if he begins to decline, reassess. Another option would have been to move him when his value was at an all-time high, coming off of his third Cup in six years.
The last option, and the one that makes more sense, is to offer him a completely different contract. General manager Stan Bowman offered him a long-term deal with a high cap hit. How about one or the other?
Since he is older, maybe offer him a three ofour-yearar deal at $6.875 million, and then see after that if he is worth re-signing. This essentially would offer the Blackhawks an opt out opportunity. Or, on the flip side, offer him the eight-year deal, but at a much lower AAV. Would Blackhawks fans be complaining so much if he made, say, three to four million dollars a year instead? That extra few million could come in handy right now. Also, it goes without saying that a NMC was not necessary in this situation.
Why Was Brandon Saad Not Re-Signed?
In that off season, Bowman essentially had a choice to make. Brandon Saad or Brent Seabrook? Young power forward or aging veteran who has brought you three cups? My countering question there is, why not both?
The Blackhawks essentially refused to offer Brandon Saad the contract that he wanted, which is why he was shipped off to Columbus, who was willing to offer it to him. It's funny that a few short years later they ended up with the contract anyways.
But if the Blackhawks would have decided to hold off another year on the Brent Seabrook extension, or offered him a deal with a lower AAV, re-signing Saad would have been more likely.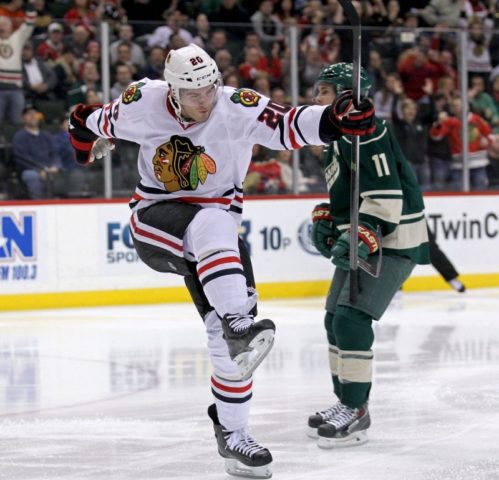 While re-signing Brandon Saad means Artem Anisimov would have never made his way here, that's not too big of a deal. He combined with Kane and Panarin to form one of the best lines in hockey there for a while, but I would pick Saad over him any day.
Artemi Panarin, who they sent to Columbus to re-acquire Saad, made his debut in the season following Saad being traded to Columbus. Could you imagine a team that had both Saad and Panarin on it?
According to Elliotte Friedman of Sportsnet, the Blackhawks may look to move Brandon Saad at the 2018 trade deadline as their rebuild begins. So, who knows, maybe Bowman knew something that we didn't back when he decided to trade him to Columbus.
Bickell and his Big Goals
In the 2013 Stanley Cup Playoffs, Bryan Bickell was an absolute monster. He scored some goals that will forever go down in Blackhawks history, such as the following:
That goal helped to complete the most improbable comeback in NHL playoff history, securing the Chicago Blackhawks their second Stanley Cup in four years. He was then rewarded in the following offseason with contract worth $16 million dollars over four years.
Similar to the contract given to Seabrook, Bickell's contract was yet another example of rewarding a player based on past performance rather than future projections. While Bowman obviously had no idea that Bickell's play would begin to decline due to multiple sclerosis, he should have taken advantage of the situation.
Bickell was at the height of his career, and not likely to improve any more. Coming off of an incredible playoff performance, his value was likely the highest it would ever be as well. Bowman should have dealt him during that offseason instead of re-signing him, as he likely would have been able to get a pretty decent return for him.
This would have eventually allowed the Blackhawks to keep Teuvo Teravainen, who they instead lost as a bribe to the Carolina Hurricanes for taking Bickell. Teravainen is currently leading the Hurricanes in points with 54, and has been playing red-hot all year.
Honorable Mention
In 2014, the Blackhawks signed forwards Patrick Kane and Jonathan Toews to identical eight-year contracts. Worth $84 million, the contracts each count $10.5 million against the salary cap per year.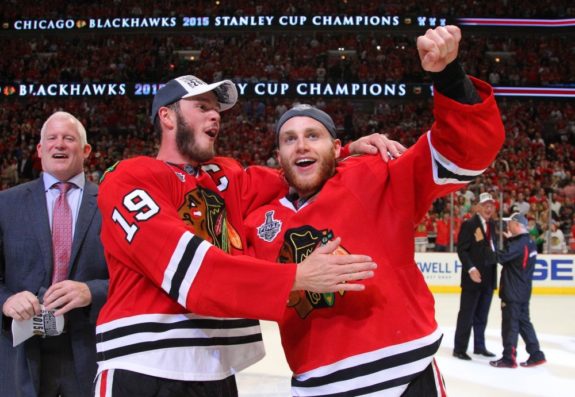 No, I'm not saying these contracts were a mistake. Just look at the picture above. Every detail, down to the respective no movement clauses, was completely worth it. Many are saying that the contract looks ugly because of how Toews is playing this year, but just take a look back at his career.
These two have brought the City of Chicago three Stanley Cups within a six-year period, and almost a fourth in the 2013-14 season. Both players are currently and will forever be Blackhawks legends.
But, what if both Kane and Toews took a little less per year? Looking at the Pittsburgh Penguins, Evgeni Malkin is locked up for several more years at an AAV of $9.5 million. Sidney Crosby is locked up even longer than Malkin, for an AAV of only $8.7 million.
Who knows what the negotiations looked like. If Kane and/or Toews threatened to walk if they weren't given the deals that they were, then it was absolutely a good deal. But, what if Kane made $9.5 million and Toews made $8.7 million? That would give the Blackhawks an additional $2.8 million to work with, which would be huge on the books currently.
What If….
For fun, let's just say all of this happened. Say Seabrook, Kane and Toews took less money. Saad was re-signed, Bickell was moved for assets, and Teuvo Teravainen was still a Blackhawk.
The forward group (in theory) could be composed of the following forwards today: Saad, Toews, Hinostroza, Panarin, Schmaltz, Kane, DeBrincat, Teravainen, Duclair, Hayden, Kampf, and Hartman.
Things change over years, certain decisions influence others, but could you imagine if that was the forward group the Blackhawks were rolling with right now? Their place in the standings, as well as the ticket prices, both would likely be much higher.
I am an undergraduate student at the University of Illinois at Urbana-Champaign, studying Community Health: Health Planning and Administration. I previously have covered the NHL at FanSided & BlackhawkUp.