Teuvo Teravainen, the great Blackhawk hope on Chicago's West Side, represents the astounding aspirations that consistently plague Chicago sports fans.
In Chicago, when it comes to sports, fans don't fear the unknown, they yearn for it. Bears fans obsess over the backup quarterback year after year. Cubs fans are more interested in the AAA Des Moines Cubs — "The Future"— this season than the actual Cubs. Bulls fans seemingly accept that Derrick Rose will be just fine after two major knee injuries. And White Sox fans, much like Cubs fans, just assume "The Future" is brighter than the present.
Through two Stanley Cup championships and two other trips to the Western Conference Final in the past six seasons, Blackhawks fans have bemoaned the team's inability to find a second line center to complete their already stacked squad of stars.
Enter Teravainen, the diminutive but dazzling young Finnish center whom Blackhawks fans anointed as the one to fill the void before 99 percent of the them had ever seen him tie on a pair of skates.
Finding a center to keep up with Patrick Kane has proved to be difficult
The consistent dilemma facing Blackhawks head coach Joel Quenneville was the fact that both Patrick Kane and Jonathan Toews are at their best when they're on the ice together, which allows the opposing coach to check both Blackhawks stars simultaneously. Quenneville decided enough was enough last season, so he split his two stars up for good.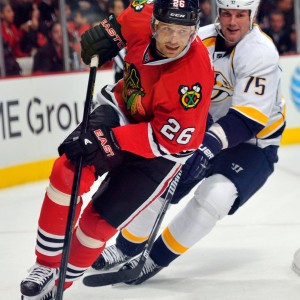 Kane was the odd man out, being forced into playing on a wing next to the deliberate Michal Handzus. Too many times last season Kane attacked through the neutral zone with his chin on his shoulder as he waited for Handzus to join the rush.
Queneville eventually gave up and desperately called on Andrew Shaw — a player who could actually keep up with Kane — to center Kane and Brandon Saad in the Western Conference Final, but going forward Shaw simply doesn't have the skill needed to center two highly skilled players like Kane and Saad.
Teravainen must wait for now, but for how long?
The Brad Richards signing means Teravainen will have to wait his turn for a shot at the second line center gig next to Kane, but Chicago fans want a long term solution for their long term problem. Simply put, they long for Teuvo and know Richards is a stopgap. So, what will he have to do to unseat Richards as the second line center?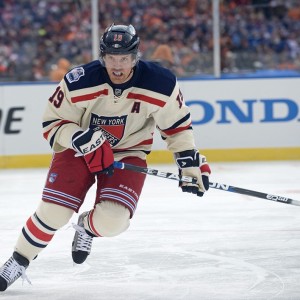 Nothing, perhaps.
Richards will defend his position well enough, and it's easy to see him ride the adrenaline to a good start. But, like Handzus, will he be able to skate with Kane and Saad for an entire season? Doubtful.
"I don't know what happened, I couldn't get out of my own way," Richards told ESPN after his demotion to the fourth line during the Stanley Cup Final in June, which came one year after then head coach John Tortorella scratched Richards for their final two playoff games.
Translation: Richards simply wasn't quick enough to skate against the speedy, skilled Los Angeles Kings. The Blackhawks like to play fast, too, and there's reason to believe Richards won't be able to get out of his own way with Kane and Saad blazing through the neutral zone.
Can Teravainen play Quenneville's game?
Teravainen has the speed, that much we know. And he certainly has the skill. In May, Hockey's Future named him their 2014 Prospect of the Year. He finished with 44 points in 49 games with Jokerit in Finland's top league. Then he led Finland to a World Junior Championship, assisting on all three goals in the gold medal game. (See highlights below. Teravainen is number 20 in blue.)
But to play for Quenneville, centers must play responsible hockey in all three zones. They must dig pucks out of corners. They must muck up the neutral zone. The must win face offs. They must show a willingness to make up for their mistakes. Offensively skilled Brandon Pirri was the perfect example of a guy who couldn't do it all, so he was shown the door, despite his knack for racking up points.
So when Blackhawks fans watch Teravainen in Rockford this season, they should keep a keen eye on how well he develops his overall game. We all know he can create offense. But how difficult he makes the game on his opponents will directly determine when he's ready to play for Quenneville.
And perhaps Quenneville is too picky. Perhaps he asks to much of his centers. Perhaps he gets caught comparing his candidates too much to Toews, the ultimate center. But with a team full of stars already, Quenneville is allowed to be demanding of his young players.
Signing Richards and shipping Teravainen to Rockford sends a clear message to the wunderkind that he's not well-rounded enough to play with the stars … yet.
It's easy … scoring = playing
But there is a trump card. If Teravainen does what he does best, puts up points, and does it at an alarming level, Quenneville, Stan Bowman and the rest of the organization will have no choice but to overlook the undeveloped aspects of the kid's game and find a place for him with the Blackhawks.
Barring a major injury, flexing his offensive muscles early and often is Teravainen's best shot at making the jump to the NHL before the All Star break. Teams don't just happen upon scoring potential like Teravainen possesses.
If Teravainen proves his scoring is too much to ignore, Richards won't have to worry about getting out of his own way, he'll be getting out of Teravainen's way.
Michael Szwaja is a Chicago Blackhawks writer and former sports columnist at the Daily Illini at the University of Illinois. Michael follows the Blackhawks and NHL closely, and has held Blackhawks season tickets for seven years now. Follow him on Twitter @ChiSportsTweetr