Nic Petan has been toiling in the AHL for most of the season after playing six games with the Winnipeg Jets. Now, he's finally getting a second look.
The news came down on Feb. 5 that with Adam Lowry, Matt Hendricks, and Brandon Tanev all headed to the IR for varying lengths of time, Petan and Brendan Lemieux were heading up. Now, it's Petan's time to show what he can do at the NHL level.
The Jets have been remarkably fortunate with their AHL call-ups, or perhaps remarkably good. Kyle Connor has been a revelation since returning, and Jack Roslovic hasn't looked at all out of place since joining the Jets top line. Indeed, it will be hard to justify taking either player out once the Jets are healthy.
Now, it's Petan's turn to do what Connor and Roslovic have already done – give Paul Maurice a perfect problem. If Petan plays well enough to earn his keep, he could force the Jets into a tough spot when they finally get their regulars back.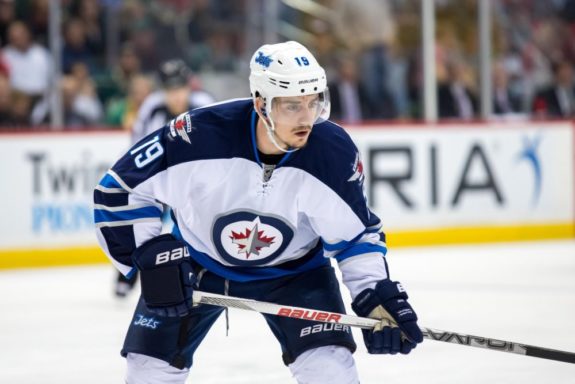 The Jets didn't give Petan much of a sniff when he was up at the start of the year. They sent him down to the AHL, where he could easily have pouted. Instead, he turned his offensive game up a notch and evoked memories of his WHL days.
The Jets have used their injury situation as an opportunity to show off their stockpile of young talent. So far, it's led to great success. Now, Petan has his best chance yet to be part of that success.
Petan Earned his Recall
As mentioned above, Petan could've pouted or floundered upon returning to the AHL's Manitoba Moose. Instead, he used it the way coaches want players to use a demotion. He turned it into motivation.
On a Moose team full of deadly weapons, Petan has been among the deadliest. He has 41 points in 39 games and sits just two points back of Mason Appleton for the team lead, despite having played seven fewer games.
Nic Petan is on a hot streak putting up three goals and seven assists in his last six games for the Moose. Overall his 41 points puts him second to Mason Appleton in team scoring. https://t.co/rWKzU7T5CA

— Dave Minuk (@ICdave) February 5, 2018
It was pretty clear who was the best candidate for recall once the injury bug started gnawing on the Jets. After all, Appleton is a rookie pro, and the Jets proved with Roslovic last year that they're inclined to let those players simmer a bit before bringing them up.
Meanwhile, Buddy Robinson, an AHL veteran and the Moose's leading goal scorer, is not likely part of the team's future plans up front. He was brought in to be a stabilizing force in the AHL, and he's achieved that wonderfully. The team likely wants him to continue on that path.
Roslovic is already up. Lemieux was called up at the same time. The above points on Robinson apply to Michael Sgarbossa and Patrice Cormier. There was really only one viable option.
Petan has teased fans with flashes of the skill that made him such a dominant junior player, but this year he's finally doing it at the pro level. Some of the goals he's scored with the Moose this year have been jaw-dropping. For that matter, so have some of the noted set-up man's assists.
Here we go again… Nic Petan doing Nic Petan things, and we're left speechless again. #GoMooseGo pic.twitter.com/fJiHHuvmKA

— Manitoba Moose (@ManitobaMoose) January 27, 2018
Having stood out on a team full of offensive standouts, Petan now gets a chance to show what he can do in the NHL. It may end up being his last chance, but it could also be his best.
Stars Align for Petan
A common critique of the Jets during Petan's stints there has been his usage. His linemates in particular have drawn flack. I don't care how brilliant a set-up man you are, chances are you're not wringing a ton of goals out of Tanev and Chris Thorburn.
Thorburn, however, has left for St. Louis, and Tanev is one of the men in need of an injury replacement. Matt Hendricks is also out. Petan has the chance to play with his best linemates yet.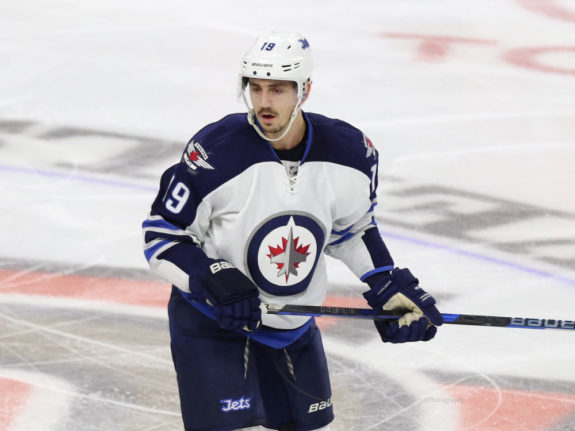 At worst, expect Petan to play with fellow call-up Lemieux and bubble forward Marko Dano. Neither player is an offensive dynamo, but both are competent offensive forwards. Lemieux has been having a great AHL season of his own.
It also wouldn't shock anyone to see Petan on the power play. Winnipeg's man advantage sits second in the NHL at 24.6 percent, and is easily the most lethal it's been in Jets history. That alone should give Petan a chance to put up some numbers.
Nothing is set in stone, but the ingredients are all there for Petan to have the kind of stretch Jets fans have often dreamed of him having. If the coaching staff has the patience to keep him around a little while once the Jets get healthy, which looks like it could be very soon, this could be the year he rewards that patience.
Petan is having a great year and is being put on a great team. If he's given an opportunity to succeed, this will be the year he most likely runs with it. And, after all the ups and downs, it would be quite a story for Petan to finally reach the potential he's always had but has missed out on for so long.
A long time hockey fan and player from Winnipeg, Manitoba. Play-by-play man with the SJHL's Estevan Bruins. Graduate of Red River College's Creative Communications program with a major in journalism. Former PxP man for the University of Manitoba Bisons. Lover of all things Jets and Avs related and always looking for a good hockey debate.