Larry Brooks of the NY Post has confirmed that the Arizona Coyotes are making Max Domi available, and Richard Morin of AZCentral.com explained that while the Coyotes are not desperately trying to trade the young forward, they are willing to listen to any offers.
In the past year, the Blackhawks have added nine players to their roster who are under the age of 25, according to GM Stan Bowman. This evident youth movement should make the 22-year-old forward very attractive to the Chicago Blackhawks.
But, what else makes Max Domi an attractive trade target for Chicago?
Domi's Experience & Production at a High Level
At age 22, many might assume Max Domi has been in the league for a year, maybe two. But, in fact, this is his third season in the league. In 192 games played in the NHL, all with the Arizona Coyotes, Domi has amassed 112 points, 82 of which are assists.
Blackhawks forward Alex DeBrincat has a lethal wrist shot, but he has been known to not generate possession by himself. Domi, with almost all of his points being assists, could be DeBrincat's setup man for years to come. Furthermore, Domi has both played and produced at the highest stage. In the 2011-2012 season, his first season with the London Knights of the OHL, Domi helped them win the OHL Championship.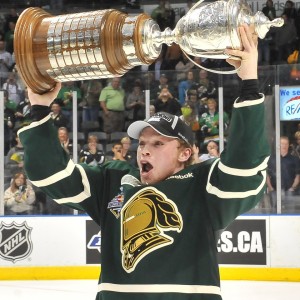 He quickly became a successful player in the OHL, being named an OHL All-Star for three consecutive seasons, spanning from the 2012-13 season to the 2014-15 season.
He had himself quite the year in 2014-15, when he was the captain of the Knights, and played like it. For starters, he was awarded the Mickey Renaud Captain's Trophy, given to the captain who best demonstrates leadership both on and off the ice. He also finished third on the team in scoring with 102 points in 57 games. Mitch Marner led the team with 126 points in 63 games. What a team that must have been…
But his success and winning at a high level does not stop there. It translates to the international stage as well. Domi helped Team Canada take home the gold in the 2012 Ivan Hlinka Memorial Cup, as well as in the prestigious World Junior Championship in 2015.
Contract Term and Risk
According to CapFriendly, Domi is currently on the last year of his entry-level contract, counting $863,333 against the cap this season. He will be a restricted free agent when his contract expires.
His soon expiring contract provides a low risk, potentially high-reward deal for Chicago, similar to the Anthony Duclair deal. If Domi was to really underperform as a Blackhawk, or he wasn't a fit in the room, the team could easily just not re-sign him at the end of the season. But, if both parties were satisfied upon the season's conclusion, he should be able to sign a very cap-friendly deal, something the Blackhawks are in dire need of.
Willingness to Use His Body and Fists
After the Blackhawks were thrown around and embarrassed during their sweep by the Nashville Predators, Blackhawks GM Stan Bowman stood in front of the media and was not shy about voicing his displeasure. He promised change, and that change came through making his group harder to play against. He backed his words up by the acquisition of Connor Murphy, as well as the signings of Lance Bouma, Tommy Wingels, and Cody Franson.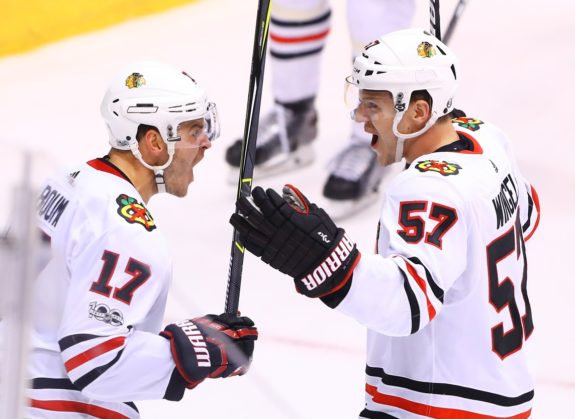 Surprisingly, the 5-foot-10 Domi has some grit to his game that could add to Bowman's philosophy. So far this season, he has 32 hits in 52 games. On the Blackhawks, the only players to have more hits than that are Brent Seabrook, Richard Panik, Ryan Hartman, John Hayden, Murphy, Bouma, and Wingels.
Furthermore, the beef that the Blackhawks have with Ryan Kesler, especially Jonathan Toews, is no secret. Kesler terrorized the Blackhawks in many vicious games against the Canucks, and he has kept that up since he joined the Anaheim Ducks.
So, naturally, Domi is a perfect fit. You can find many of his "endeavors" on HockeyFights.com, like this one with Ryan Kesler.
He dropped a player four inches taller than him in seconds. That's not his first fight either. In his NHL career, he has had eight fights, against the likes of Ryan Garbutt, Nate Schmidt, Marc-Edouard Vlasic, and more. Those are some pretty tough dudes. Tag on four career OHL fights, and he has 12 total in his career.
Familiarity with Blackhawks Players
The more tight-knit a team, the more success they will have. As seriously as the Blackhawks take their image and public relations, how well a player will fit in the room is something that is inevitably considered when discussing a trade.
Murphy was brought over from the Arizona Coyotes during the offseason – he was a member of the Coyotes from 2013-14 through 2016-17. Duclair was brought over from the Coyotes during this season – he became a member of the Coyotes in the 2015-16 season.
Domi made his NHL debut the same year Duclair made his Coyotes debut, so all three players played two full seasons together. Chemistry is real, and familiarity helps with comfortability.
Final Thoughts…
The Chicago Blackhawks need to take a run at trading for Max Domi. Offer up a prospect, picks, Franson, Jurco, Gustafsson, Kempny, even Hartman, do whatever it takes. He has the rare combination of skill and grit. He is young, cheap, and his next contract would fit very well on the books next season. He can play center or wing. He is familiar with a few guys in the room, and he has experience winning. He has the look of a potential future core piece.
What do you think, Blackhawks fans? Should the 'Hawks go after Max Domi?
I am an undergraduate student at the University of Illinois at Urbana-Champaign, studying Community Health: Health Planning and Administration. I previously have covered the NHL at FanSided & BlackhawkUp.