What's The Grind Line? Glad you asked. Apart from the once famous line of Kris Draper, Kirk Maltby, and either Joe Kocur or Darren McCarty, The Grind Line is also The Hockey Writers' weekly column about the Detroit Red Wings. Jacob Messing, Griffin Schroeder, and Tony Wolak are the muckers who make up THW's forechecking unit and sound off on Red Wings topics.
---
Compared to other franchises and markets, it's probably pretty difficult to be the starting goaltender for the Detroit Red Wings. Terry Sawchuk's No. 1 is in the rafters. Glenn Hall, Roger Crozier, and Dominik Hasek all starred in Hockeytown. And fans have had a love-hate relationship with three-time Stanley Cup-winner Chris Osgood.
That's a lot of history to compete with. For context, imagine that your significant other dated a celebrity, former President, iconic music star, and the Pope before meeting you. That's the sort of relationship Jimmy Howard and Petr Mrazek walked into.
For the two present Red Wings goaltenders, it's been an odd year, to say the least. Both have played well at times, but they've also had stretches of play that they'd like to forget. In addition, Mrazek and Howard have both been subjects of trade rumors while the team teeters between staying the course and committing to a full rebuild.
In this week's edition of The Grind Line, we share our thoughts on the current state of Detroit's goaltending and what's to come.
Tony Wolak
Generally, there have been two reactions to Mrazek's recent hot streak:
"This is fantastic – he's building his trade value!"
"This is fantastic – Detroit has its goalie of the future again!"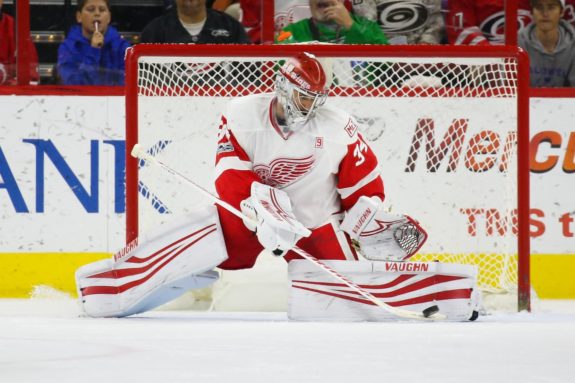 At the moment, the Red Wings are stuck between contending for a playoff spot and tanking for a top-five pick – they're six points out of both positions. Regardless of where the season is headed, the team needs to trade Mike Green before he hits free agency this summer. As for the goalies, Ken Holland must decide the team's fate ahead of the deadline and follow through accordingly.
Of the two, Mrazek would net the most in a trade. Howard's play has fallen off over the past couple months, while his young understudy has picked up his game.
The Mrazek we're seeing now is the goaltender that the Red Wings hoped he could be. He just needs to play this way consistently instead of in spurts here and there. Since the beginning of January, Mrazek has been able to control his aggressive nature and track the puck much better.
One factor to consider when thinking about trading a goalie is Detroit's lack of depth in net. Right now, the Red Wings do not have a long-term solution pushing for NHL work. Jared Coreau is older than Mrazek and may be better suited as an NHL-AHL tweener than a full-time NHL backup. Otherwise, Detroit's top goaltending prospects—Filip Larsson, Keith Petruzzelli, and Joren van Pottelberghe—are still years away from NHL action.
Related: State of the Red Wings Rebuild
If there's a trade to be had with Howard, the Red Wings should take it. Accumulate additional draft picks or prospects for the veteran netminder. However, if no team offers a decent deal for Howard, then Holland should strongly consider trading Mrazek before he has to commit more time and money to the goaltender. Mrazek still has value to the Red Wings as they rebuild, but he could serve them best as a trade chip.
Jacob Messing
The recent play of Mrazek has once again sparked a goalie controversy in Detroit. There is a lot of divisiveness between Red Wings fans when it comes to the crease. After a long hiatus from Mrazek, he appears to have rediscovered his game.
Mrazek is back playing like the future No. 1 he looked like in the first half of 2015-16. He was visibly off his game to close the season, yet still finished 27-16-6 with a .921 save percentage, 2.33 goals-against average, and four shutouts. It speaks to how well his first half went.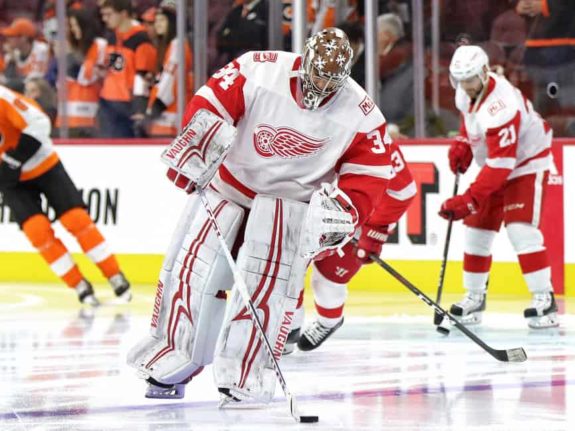 The inconsistency carried over into 2016-17, where Mrazek went 18-21-9, posted a single shutout, a .901 SV% and an ugly 3.04 GAA. There were rumors of his bitterness to still having Jimmy Howard around and that he felt the team didn't trust him. After the season, the passed through the expansion draft too easily and it looked like there was no market for a trade.
But it's important to remember Mrazek is nearly 26 and goalies often don't peak until roughly 30. He's still very young and feeling his way through with arguably the league's worst defense ahead of him.
He remains the future in Detroit and his current play shouldn't be highlighted as upping his trade value, but re-establishing himself. A strong close to the season will be important for him as Howard has just next year left on his contract and could be a better haul via trade. Howard is certainly a better trade option in terms of clearing salary cap space.
Griffin Schroeder
Let's put this quandary to bed.
It's highly unlikely the Wings will exercise a qualifying offer on Mrazek's $4.15-million price tag this summer. The chances of Howard getting dealt were already slim with his contract and have further declined with his recent swoon.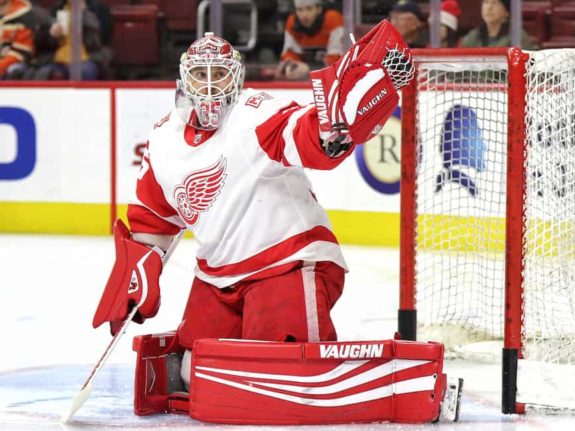 The Wings are shifting towards asset accumulation mode despite their "chance" at a playoff spot, and all hot commodities must be considered in order to expedite the impending rebuild. One of those budding trade chips is the between the pipes.
The last month, the Ostrava native has started in seven games (Mrazek had eight starts in the first three months total) and recaptured his 2015-16 form at the best possible time, going 4-2-1 while posting a .941 save percentage. The recent run has bumped up his Goals Save Above Average (GSAA) to plus-3.88 at even strength in 15 starts. In all situations last season, it was minus-18.48.
Earning His Way Out
While the sample size is minuscule, the improvements to the soon-to-be-26-year-old's game have been there. He's been, as pundits have said, "quieter" in net when moving from side-to-side in the crease, and his swagger has gradually returned.
The former Ottawa 67 is still relatively young as well, as he's only started more than 40 games in a season twice. A fresh start in a town where he would be the undisputed starter without a "1B" looking over his shoulder could restart his career.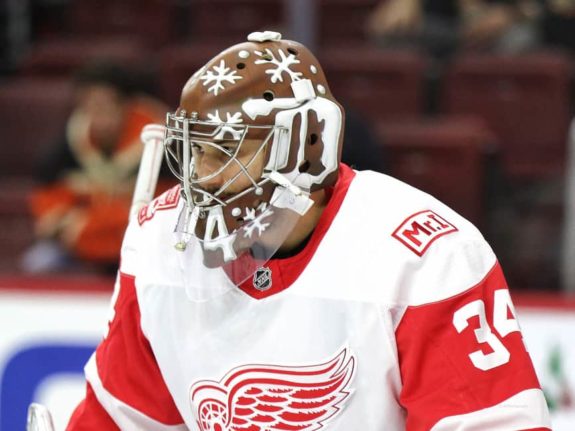 It wouldn't benefit the team or Mrazek to keep him around for the last quarter of the season. This would waste any chance he has to upgrade his value as a pending free agent and cause the team to miss out on potential assets.
Mid-round picks and lesser-rated prospects don't scream "blockbuster variety" in terms of a return, but they are a start. The Chicago Blackhawks may be getting Corey Crawford back soon and the New York Islanders may be content with Jaroslav Halak at the moment.
However, the young netminder is not a bad insurance option, especially come playoff time (.931 save percentage in 10 starts). As mentioned, he could be a solid reclamation project (see: Devan Dubnyk) and is still a ripe goaltender with prime years ahead.
The Wings should put their best foot forward and do their best to end the controversy and start anew.
What do you think the Detroit Red Wings should do with their goaltenders? Comment below.