"I saw a few highlights of him playing in Sweden. He's an interesting story – he didn't play in the Swedish Elite League, he played in the second league with AIK and had a really good year. He got the chance over here and I'm happy that they give players like that a chance – he's not the biggest guy but he has tons of speed and skill, and his vision on the ice is top-notch. But also he wasn't just given the chance, he had to take it too and he made the best of it."
That's what Detroit Red Wings star Henrik Zetterberg (37-years-old) recently told The Hockey Writers about his fellow countryman – New Jersey Devils rookie Jesper Bratt (19-years-old) – when asked if he was aware of the rookie. Like Zetterberg (1999 NHL Draft, 7th round/210th overall), Bratt was a late round pick (2016 NHL Draft, 6th round/162 overall) and had to earn his way into the NHL by developing his game and working harder than others in New Jersey's training camp.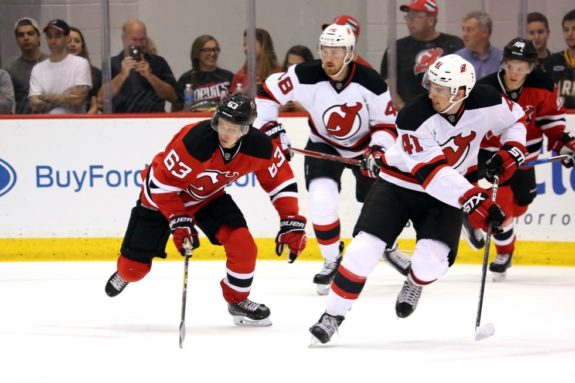 Swedish Hero
"Oh yeah, for sure," Bratt told THW when we asked if Zetterberg was a player he looked up to growing up in Stockholm, Sweden. "He's one of the biggest players back home. He was the guy that I had pictures on my walls of. I was always watching his highlights."
"The first time we played against Detroit I asked my equipment manager, who worked for Detroit for a couple of years, about his sticks. It was cool to play against him; he's a great player and I watched him as a kid," Bratt said grinning.
Bratt admitted that he has never met Zetterberg, but would like to someday soon. "Maybe I'll get the chance to meet him somewhere or sometime, but it was cool to play against him," he added, still grinning like the teenager that he is.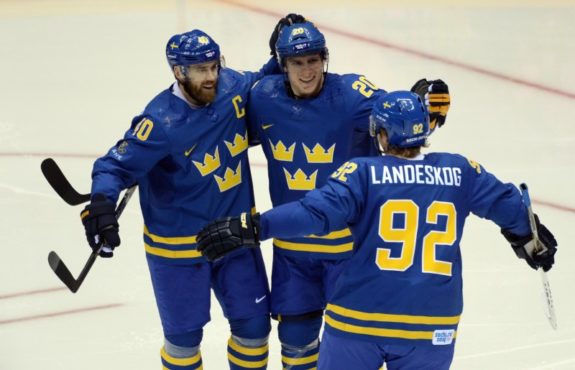 When THW relayed Zetterberg's quote to Bratt the rookie blinked his eyes a few times and gently shook his head in disbelief, barely uttering a, "Yeah?" So what does hearing those words mean to the first-year NHLer?
"That makes me smile," he said, unable to hide the ear-to-ear grin etched on his face. "To hear that from such a good player, and someone that you watched, looked up to growing up…to hear something like that he says about you is great. It's really nice when some player like that tells you that you are doing something well, that they like how you play."
He paused, still absorbing the news we had just revealed to him and then added, "It's cool that we have a similar story at the NHL Draft, I looked up to him so much when I was younger."
Bratt Pack
So far this season Bratt has played in all but one of the Devils' 51 games and his 31 points (12g-19a) is tied for second on the team with fellow rookie – and linemate – Nico Hischier. The two teenagers have formed a formidable trio alongside All-Star Taylor Hall who leads New Jersey with 51 points in 46 games.
"I think the three of us want to play the same way – with a lot of speed and always be hard on pucks, always be tough to play against for the other team. We want to be a line that no one on the other team wants to play against," Bratt said with an impish grin. "The games when we really have success are the games that we really work hard and are all on the same page. I think there's been a lot of games this season where we've had that."
"Both guys are really fun to play with, Nico and Hallsy are fantastic players with a lot of skill, it's a really nice opportunity for me to play with those guys," he added. As the season now creeps toward the playoffs and the Devils seemingly in the mix for a berth with 31 games remaining, they will need more production from their top line. Bratt isn't worried about hitting any 'rookie wall' as the games become more intense and the rest between them isn't always ideal.
"I feel pretty good," Bratt said of how his body is feeling past the midway point of his first season as a professional. "This is the best league in the world. Every game is tough – both physically and mentally. I think last year I played 48 games and maybe ten games with the National Team. This year is going to be a lot more, but it's fun."
Youthful Exuberance
"It's going to be nice to come to a really important, fun stretch with this team. Let's see how far we can go and how good we can do in every game," said the teenager who won a job out of training camp and has never looked back once after making the jump to the NHL without any AHL games, a year after he was drafted.
"The coaches work a lot with me, extra video, stuff to make sure that I am always consistent with my game; that I never fall away from the model of how I want to play my game, " Bratt said when asked how the coaching staff has helped him navigate this rookie season. "They're always there helping me with the details, making sure that I'm skating to the right spots. To have this (coaching) staff, the players too – with the help and support has been great. It's much easier when you get help from everyone rather than trying to do it yourself."
Bratt has been one of the biggest surprises in the league and the Devils really may have found themselves a late-round gem. It's not just the point production or fancy plays. He's stuck up for teammates who were knocked down by larger opponents. All of the generous 5'10", 175 lbs. that he's listed as hasn't backed down from any opponent all season, and that's also a big reason for his success. He almost plays with no fear.
Zetterberg's career is a pretty illustrious one that includes him capturing a Conn Smythe Trophy while leading the Detroit Red Wings to a Stanley Cup in 2008 and if that's the same path that Bratt finds himself on, the Devils might be okay with that.