Think of all of the instances in recent memory where an NHL team has had two no. 1 overall picks in their lineup. Obviously, the Edmonton Oilers had four (4!) at once, but that's an anomaly (and they're not all there anymore). There's the Pittsburgh Penguins obviously with Sidney Crosby and Marc-Andre Fleury (now with Vegas), the Oilers still have Connor McDavid and Ryan Nugent-Hopkins, and currently, the Colorado Avalanche have Erik Johnson, Nathan MacKinnon, and Nail Yakupov. Going back even farther the Atlanta Thrashers had Patrik Stefan and Ilya Kovalchuk, the Tampa Bay Lightning had Vincent Lecavalier and Steven Stamkos, and the New York Islanders had Rick DiPietro and John Tavares.
This past June the New Jersey Devils found themselves picking first overall for the first time in team history and as we all know they selected Nico Hischier, to add to Hall – whom they acquired from Edmonton a season prior. The 2017 and 2010 no. 1 overall picks now have a chance to be the best duo in Devils' history. Better than John MacLean and Kirk Muller, better than Patrik Elias and Petr Sykora or Scott Gomez, better than Kovalchuk and Zach Parise. A bold statement? For sure. But the 26-year-old Hall is just entering his prime and Hischier, who turns 19 on January 4, have been dynamic together through the first 30 games of the latter's NHL career.
Together Forever?
For Devils head coach John Hynes it's a nice luxury to have when you need a goal late in a game, or when you need a shift to get your team to take the pressure off of their goaltender, to roll out two players who are fast, skilled, and supremely talented. "As long as they continue to play well, it's not that you want to keep them together forever but, I will say that the way that the two of them – the speed at which they can play with, the way that they think the game. I think they really work well with each other because they're both so competitive on the puck," Hynes told The Hockey Writers. "Nico is on the puck in a puck battle and he can win that battle to give them possession and Taylor can do the same thing. It's been nice to see that combo work well together and hopefully, it continues."
Hall was a player that Hischier watched growing up, and in a lot of ways looked up to. (That was as weird for me to type as it probably was for some of you older folks to read). But Hall is a perfect player to have alongside a young man that is trying to navigate through an NHL season for the first time, with the pressure of being a franchise savior and no. 1 overall pick. "He helps me a lot; not just on the ice, but off the ice as well," Hischier said of his teammate and linemate. "He knows how it is, he's been through this. Obviously, he's a great player, and he's a great person as well."
"I don't think too much about lines. Coach does that work and we trust the coach, he makes the lines that he thinks will match together and I'll play with whoever my coach puts me out there with and try my best," the rookie said before adding, "for sure it's fun to play with Taylor."
His addition to the lineup has really seemed to energize Hall. Not that he wasn't great last season for New Jersey, but this season he now has someone on his level, and that's not a slight to anyone on the Devils' roster. "He's got some getaway speed when he wants to and you want to see that from a player, you want to see him take the puck from the neutral zone and get a scoring chance — really take it upon himself because that's what you gain confidence from and become a better player," Hall told THW after a home game. "He and Bratt are fun to play with; we're going to make mistakes, we're not going to be perfect but we made some plays at the end of the night tonight."
Hall Aboard
"He's a highly talented player. It's nice to see the consistency level that he's been able to play at and his work ethic. Guys like him, they get energy from points," Hynes said of Hall's presence on the team this season (31 points in 30 games). "They get energy from being able to produce, so it was nice to see him stay with it. It had been a few games where he hadn't gotten one but it was a nice goal that he got and he continues to be a leader in how we want to play, continues to help drive our team to be consistently competitive."
Night in and night out Hall has been the Devils' most consistent player – often scoring in bunches and rarely going more than a game or two without a point. Most of the games he hasn't recorded a point in (12), he's still been a presence on the ice, and he's been able to help his young protege too obviously.
"I knew he was a great player because I've seen him play, but I didn't know him," Hischier said. "Now that I've gotten to know him it's great to see that he, and all of the guys, are really nice; good people." He knows that anything he's going through this season, Hall has likely gone through — with even more scrutiny from the Canadian media. "I'll ask him about little details, and we'll discuss things. He tells me what I need to do if I ask him questions for sure."
Taylor Talks
Despite all that Hall has been through, he admitted he's not going to overload Hischier with information 24/7, that's just not his style and the kid is already pretty good as is with 20 points (5g-15a) through his first 30 NHL games. "To be honest we don't do a lot of talking throughout the game. I think with players like that you want to try to read-and-react as much as possible, and I don't want to cloud his mind with a bunch of stuff," Hall told THW.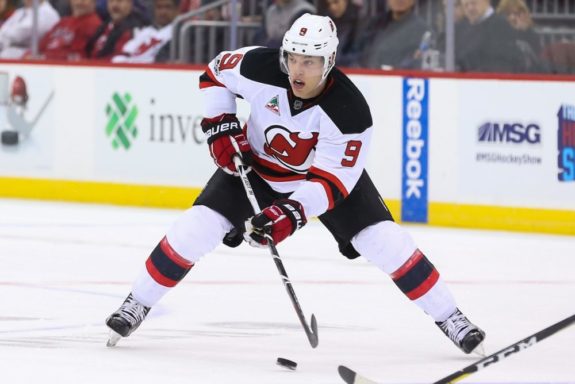 "I'd rather he just go out and play, and try to make plays all night. He's got a lot of skill, he's got speed, and you saw tonight (against Vancouver) he kind of took the puck and took it upon himself to make plays. I don't want to stand in the way of that, I just want to be a good contributor on the line with those two guys."
"If he asks me questions, yeah you converse and whatnot but I don't want to be that guy that comes back to the bench after every shift and tells him what to do," added Hall. "He's going to learn, and he's going to keep getting better and better on his own. You just have to let that happen."
New Era Devils
So far what's happened is that the Devils have surprised a lot of people by remaining in the thick of the race for the top three spots in Metropolitan Division, and a big reason for that has been the success of the two number one picks. They obviously haven't done it alone as the goaltending has been great, and two other rookies (Jesper Bratt and Will Butcher) join Hall and Hischier among the team's top four scorers through 30 games. But there are still 52 games left, and a lot can happen. "You're starting to see our team has playmakers and has skill all through the lineup," said Hall, "some nights that's going to carry you through."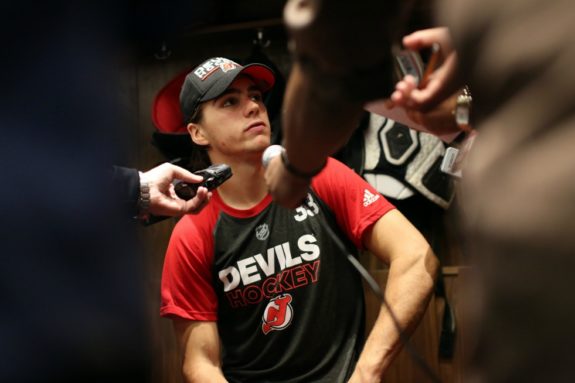 A positive is that this season, unlike in previous incarnations of this team in the post-Parise/Kovalchuk era, losses haven't lingered. Maybe it's because there are so many new faces on the roster this season, or it could be that they are really sticking together as a team, playing for one another. How many times have we seen this season New Jersey players stick up for one another on the ice? Without hard facts, it feels like it's been at least as many as the past two-three seasons combined.
In their 5-1 crowning of the Los Angeles Kings, Hall had a two-goal performance that was cut short when he left the game with what turned out to be a knee contusion after he banged knees with Kurtis MacDermid. Immediately following the questionable hit the two youngest Devils — Hischier and Bratt — were the first players to take exception with the Kings' defenseman who's 6'5", 235 lbs. That's about what the two teenagers add up to if you combined them, and it was a moment that has defined what this edition of this team has been all about.
"I just wanted to stick up for a teammate and Bratter was in there too," Hischier would say after the game when asked about confronting the much larger player. "Stepping up for teammates is a big thing here."
It would be a bigger thing here in New Jersey if Hall plays out the duration of his career at left wing for the Devils alongside Hischier and the devilish dynamic duo brings a lot of hardware home over the next ten seasons.