For the first time in a long time, the Montreal Canadiens received some good news.
Forward Artturi Lehkonen skated with his teammates on Thursday for the first time since sustaining a lower-body injury that held him out of 13 games. While it has already been announced that Lehkonen will not play Thursday night against the New Jersey Devils, there is a strong chance he could suit up on Saturday when the Canadiens face the Ottawa Senators outdoors at Lansdowne Park to celebrate the NHL's centennial season. The prolonged absence has been the longest of Lehkonen's professional career so far, and the Finnish native is excited to get back into game action.
"It sucks being injured, you always want to be there to help the team," said Lehkonen on Wednesday. "It doesn't feel good [being away from the team]."
The injury had been something Lehkonen was dealing with far before he was forced to leave the game against the Buffalo Sabres on Nov 11. According to the second-year pro, it was a nagging injury that he played through for "a while." Based on the decision made by a combination of Lehkonen and the training staff, it was determined that he would be shut down to fully recover.
"It wasn't getting better so we decided to take me off," said Lehkonen.
Lehkonen's addition to the lineup is a step in the right direction for the Canadiens, who have been running in circles all season. Aside from his ability to put the puck in the net, Lehkonen has demonstrated a proficiency to be an effective player at both ends of the rink. Averaging 1:28 shorthanded minutes per game this season, the 22-year old has become a key contributor on the team's penalty kill. Currently ranked 25th in the NHL in terms of penalty kill efficiency, the Canadiens will certainly benefit immediately from Lehkonen's return.
"He's a complete player," said head coach Claude Julien following practice on Thursday. "I think any time you can add a guy like that, it's certainly going to help your hockey club."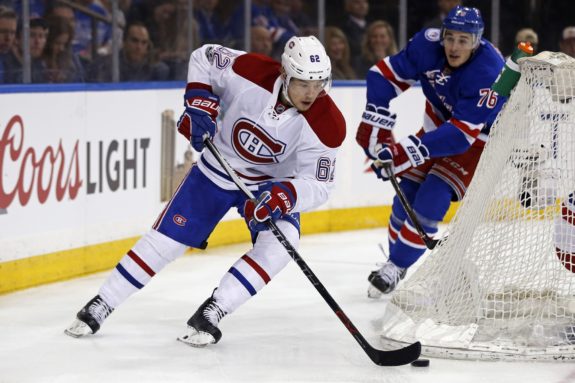 Lehkonen – An Important Teammate
Prior to his injury, Lehkonen played alongside two of the Canadiens' most skilled forwards in Jonathan Drouin and Alex Galchenyuk. With Lehkonen, Drouin's Corsi-For percentage at even strength (CF %) was 58.39, while Galchenyuk's was 57.14. Without Lehkonen, both players saw a decrease in puck possession, having their Corsi-For percentage (CF %) fall to 47.89 and 47.78, respectively. The dramatic difference shows the importance of Lehkonen being healthy and in the lineup for the Canadiens.
"I've got to play my own game and put my own effort in the line," said Lehkonen.
While his strong play has made the players around him better, Lehkonen's individual play has not been where most had expected it to be this season. After a rookie campaign where he scored 18 goals and 28 points in 73 games, Lehkonen has been unable to score consistently this season. With only two goals and five points in 17 games, he is producing 0.28 points per game compared to 0.38 last season. It is entirely possible that Lehkonen's lack of scoring is a result of the lower-body injury, but he doesn't want to think about it that way.
"You try not to think about it when you're playing," said Lehkonen. "I don't want to think about it like that because I was trying my best."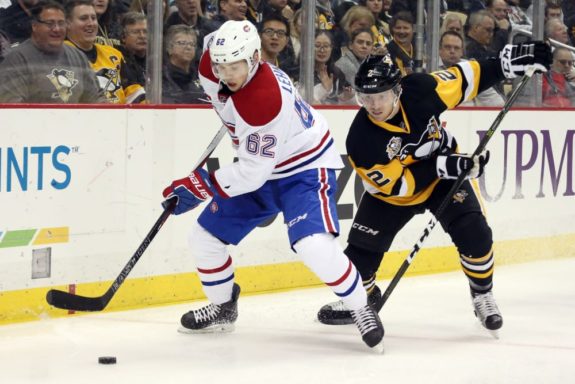 Currently the Canadiens find themselves four points out of the final playoff spot in the Atlantic division, and five points out of the final wild card position in the Eastern Conference. With only 51 games remaining this season, the Canadiens have some serious catching up to do, but if Lehkonen can return to the form that the team has become accustom to, along with other teammates like Max Pacioretty and Carey Price, the task does not seem as daunting.