The question of whether to trade Max Pacioretty was going to come up no matter how he played this season. However, with the Montreal Canadiens playing incredibly inconsistent hockey, a lot of eyes are looking towards Pacioretty. While a letter on your sweater isn't required to be a leader, players with them are still looked upon to act as such. Being the captain in Montreal is demanding and can weigh heavily on a player, especially during a difficult season.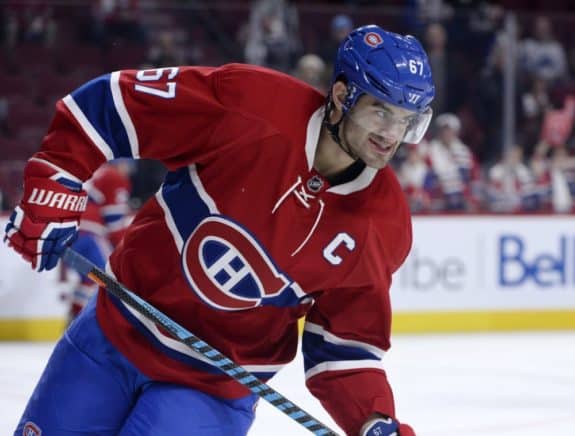 Left Wanting More in Montreal
Off the ice, Pacioretty has been an exemplary citizen for Montreal. He represents the team well in the community, at team events and with his own charity work (Max Pacioretty Foundation). He faces the media after every game, good and bad. However, all that good he does off the ice is forgotten when the team is losing. The issue lately has been Pacioretty telling the media how he needs to be better, but fans have yet to see the results. Too often Pacioretty gets a pass from the team when it comes to questionable play on the ice.
You can argue since the PK Subban trade, Alex Galchenyuk is now the scapegoat. Galchenyuk is in no way a perfect player. However, it makes no sense some nights when Galchenyuk's effort is fair game for criticism but Pacioretty escapes it. Perhaps it is a coaching tactic considering both Michel Therrien and Claude Julien have done this but it's questionable to say whether it works. 
This isn't a defence of Galchenyuk, more of an example of the captain going publicly unscathed from the coaching staff. It's not a case of Pacioretty making a ton of mistakes or just not producing. There are some nights you just don't notice him in any way. It's true that some players, their style is they kind of disappear before emerging to do something (ex. Calgary's Johnny Gaudreau). 
After 30 games Max Pacioretty has his highest shot total of the past 5 years, but his shots percentage is halved and he's 4 goals off of his previous pace. Obviously a correlation between the measures is inherent, but not to the extent to justify the lack of production. #Habs pic.twitter.com/641PIcS2bt

— Andrew Zadarnowski (@AZadarski) December 10, 2017
The next Deal or Moving on
In 2019, Pacioretty's very team-friendly deal ($4.5 million per year) comes to an end and he will be turning 31. By then, he will no doubt be looking at hitting it big on what could be his last chance at a long-term deal. This season has prompted questions of whether Pacioretty's game is on the decline – he has always been a streaky scorer but this season he has yet to really find his stride. In a recent piece from the Montreal Gazette, he mentions adapting his game without Alexander Radulov. Considering Pacioretty only played with Radulov for one season and has several 30-goal seasons under his belt without him, it's an interesting observation from the captain.  
Last year, Pacioretty didn't really get hot until early December but we've yet to see signs of that happening this season. Pacioretty may be injured, or in a slump, so his season to date might be an anomaly. However, he is also 29, an age when forwards usually begin to exit their prime.
Long-term deals are dangerous, especially when you are giving one to an older player based on past success. That's usually when contracts like those become an albatross. The Habs have already given that kind of deal to Carey Price because, as their best player and the guy they decided to build around, his play dictates how the team's season is going to play out.  The idea of giving a 31-year-old Pacioretty an eight-year extension at around $8 million per year is not a sound investment.
Pacioretty Trade Consideration
While still on his current deal, it may be time for Montreal to explore trading their captain. It may seem asinine to even consider trading a perennial 30-goal scorer off a team that struggles to score goals. In this case, giving Pacioretty a long-term extension at 31 or letting him walk for nothing are not ideal scenarios. A trade involving prospects or picks or at least another top forward or defenceman would benefit Montreal's future. For Pacioretty, he might be better off playing away from the spotlight without the weight of wearing the C.
I have a Bachelor's Degree in Journalism from Ryerson University. I am a freelance journalist and a Montreal Canadiens writer for The Hockey Writers. I previously wrote for Simcoe.com and Last Word on Sports as well as interned at TSN.