In a season where the Buffalo Sabres have failed to meet expectations, Robin Lehner has been a popular target of criticism. While his statistics resemble that of an average starting goaltender, Lehner hasn't proven himself as a player who can be leaned on to steal a game, but perhaps he bears too much of the blame.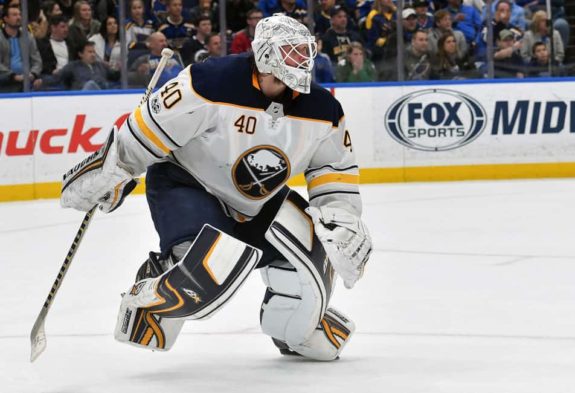 The Sabres struggles on defense have been well documented this season. An overly aggressive, underperforming blue line has left the 26-year-old netminder on an island far too often. When isolated, Lehner tends to struggle, often looking statuesque between the pipes.
The team seems to have turned a corner following a three-game western road trip, thanks in large part to stellar goaltending. In that stretch, Buffalo was out-shot 133-87. On Tuesday night, the Sabres bested their division rival, the Ottawa Senators, earning them six points in the past four games.
Lehner was arguably the best player on the ice in all four contests, making 149 saves, but can he keep it up?
The Sabres' Unquestioned Starter
At the beginning of the 2016-17 season, a string of uninspiring performances put Lehner's starting spot in jeopardy. With fans clamoring for backup Chad Johnson, the Sabres rotated between the two for over a month.
Johnson failed to seize his opportunity in net, and Lehner re-emerged as the superior goaltender, appearing in 10 of the Sabres' past 11 games.
As Lehner has tightened his grasp on the starting job in Buffalo, Johnson's name has started to surface in the rumor mill. Teams like Edmonton, Pittsburgh, and Philadelphia are in search of a reliable backup, making Johnson a lucrative trade option.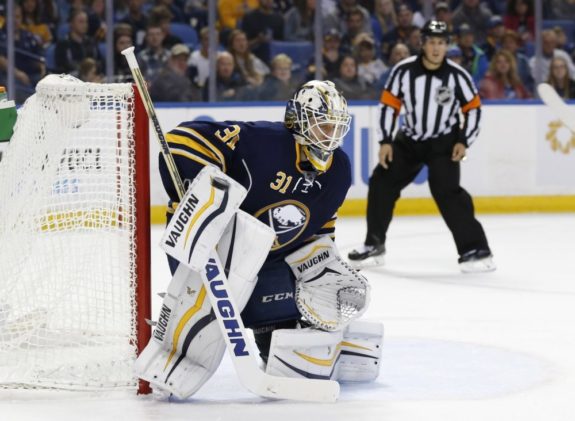 It has been speculated that, despite his strong performance as of late, the Sabres could opt to deal Lehner as well. It remains unclear whether or not Jason Botterill plans to extend him beyond this season. If he is not part of the organization's plans moving forward, Botterill could try to cash in and maximize his return.
If Lehner can maintain his current level of play, there is a good chance that he will command a long-term contract after settling for a one-year deal last summer. With fellow Swedish netminder, Linus Ullmark seemingly ready to make the jump to the NHL, the Sabres have flexibility in net heading into the 2018-19 season.
Shootout Shortcomings
Statistically, Lehner's save percentage of .920 ranks him among the top-10 goaltenders in the NHL over the past two seasons (with the ranking comprised of players with a minimum of 30 starts since the beginning of the 2016-17 season). Despite a stat line comparable to that of players like Pekka Rinne, Frederik Andersen, and Corey Crawford, Sabres fans have furiously debated his adequacy as a starter.
His detractors have a point.
One facet of the game that isn't factored into save percentage is the shootout. Lehner has made a grand total of two saves on 16 shots faced in the shootout since joining the Sabres. Unsurprisingly, he has never emerged victorious in this event as a member of the blue and gold.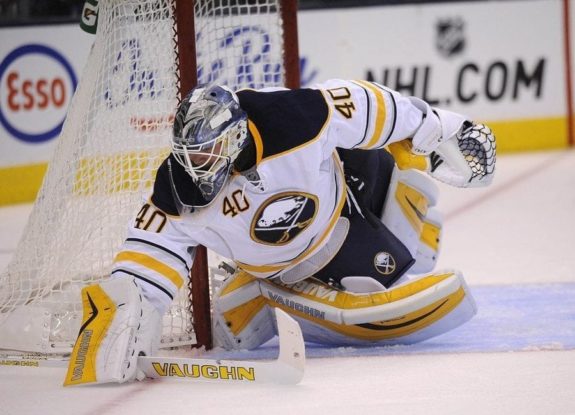 The seven potential points lost last season as a result of his post-overtime record certainly didn't cost Buffalo a playoff berth, but Lehner's one-on-one struggles have been evident in regulation time as well.
Time and time again, when faced with a breakaway or an odd-man rush, Lehner looks completely lost. It is incredible that he has managed to graduate through the NHL ranks with such a glaring hole in his game. Whether it be a first-line stud or a fourth line grinder, if a shooter hits the net on a breakaway, odds are that they'll walk away with a goal.
With a hulking 6-foot-4, 245-pound frame, Lehner also tends to struggle with positioning. On several occasions during his tenure in Buffalo, he has failed to seal the post, allowing opponents to jam home loose pucks from the wing. A lack of mobility paired with poor positional awareness has been an ongoing problem.
That being said, fans are quick to jump on Lehner when he makes mistakes, but rarely is he ever praised for his highlight reel saves, of which there have been many.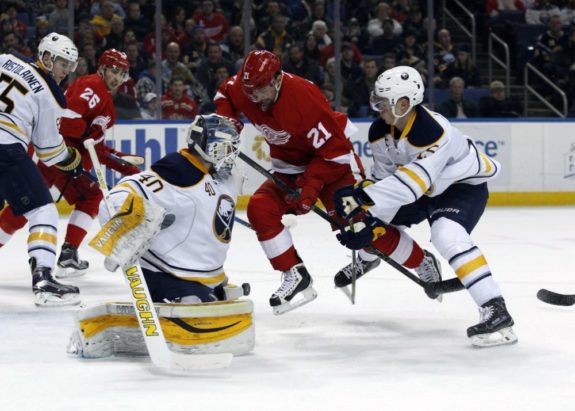 The truth of the matter is that Lehner was doomed to fail from the moment he arrived in Buffalo. Former general manager, Tim Murray gifted the Senators a first-round pick in exchange for their then third-string goaltender, a move that received a fair amount of criticism. Fans continue to bemoan the deal, and as a result, they remain especially critical of Lehner's performance.
Lehner's Explosive Demeanor
The Sabres' issues in the dressing room have been well documented. A lack of leadership and accountability has contributed to what is shaping up to be another losing season in Buffalo. On a team with very few defined voices, Lehner's has stood out the most.
On more than one occasion following a loss, he has been quick to criticize his teammates, rarely placing the blame on his own shoulders. When he first arrived in Western New York, fans were entertained by his unfiltered post-game tirades however, that act has lost its luster.
Aside from the occasional locker room rant, Lehner makes his emotions clear on the ice as well.
Last season, he executed his most famous meltdown to date after former head coach, Dan Bylsma pulled him from a game against the Vancouver Canucks.
One player who has shown his support of the short-tempered goalie is franchise cornerstone, Jack Eichel. Following a heartbreaking overtime loss to the Chicago Blackhawks last week, Eichel lamented over his team's inability to close a game where Lehner did everything he could to keep them in it.
"He played great. He was the best player on the ice for both teams, for us and them," said Eichel. "We've got to be better for him. We've got to find a way to get two points in this game. He kept us in it."
It's difficult to speculate as to whether or not his teammates share the same sentiment. Rarely does another Sabre rush to his defense like Eichel did.
Perhaps Lehner's words are meant to motivate his teammates, but it's tough to imagine players responding positively to the goaltender blasting their level of execution to the media.
Either way, on-ice performance speaks the loudest.
During his time with the Sabres, Vezina Trophy winning goaltender, Ryan Miller had his fair share of disgruntled soundbites. People tend to overlook these types of things when the team is winning.
If Lehner can remain consistent and help the Sabres turn their season around, the fanbase will become less critical, and Botterill will have a difficult decision to make next summer.