Take a moment and imagine a world where none of the Sabres' past misfortunes ever occurred.
Perhaps elsewhere in the multiverse (if there is such a thing) lies a version of Earth where Buffalo hockey devotees celebrate triumphs, of which we here have been deprived. Somewhere in the vastness of the cosmos, two fans sit in the 300 section at KeyBank Center, wearing "1999 Stanley Cup Champion" sweaters as they toast Chris Drury's retired number 23, suspended proudly from the rafters.
A timeline where Brett Hull does not wear a championship ring, and where the Sabres didn't lose two-thirds of their starting defense to injury during the 2005-06 Eastern Conference Finals. Franchise cornerstone Jack Eichel leads the league in goals as the Sabres vie for their third Stanley Cup. This is truly the "Hockey Heaven" Terry Pegula described when he purchased the team in 2011.
Now back to reality.
The Sabres have never won a Stanley Cup, and that likely won't change anytime soon. The blue and gold faithful are burdened with recantations of humiliating defeat, and opportunities squandered. If there are indeed infinite dimensions, ours is perhaps the darkest for Sabres hockey.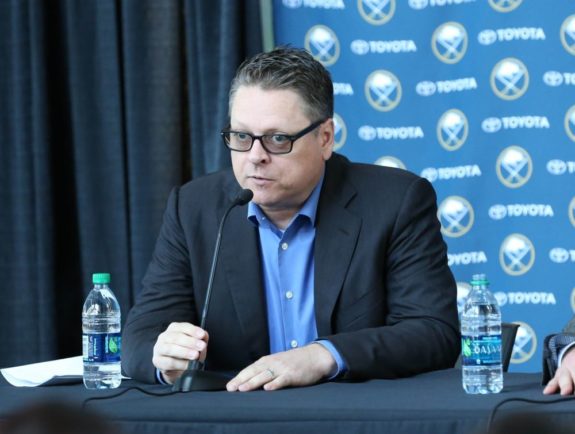 Following a failed rebuild attempt led by former general manager, Tim Murray, Buffalo currently sits in last place in the Eastern Conference at 5-12-4, in a season where many fans expected the team to contend for a playoff spot.
The situation in Western New York is a troublesome, cautionary tale of an expedited rebuild gone awry.
Related: The Sky is Still Falling in Buffalo
Tim Murray's Poor Asset Management
When Tim Murray took over the Sabres' front office in 2014, fans fell in love with his blunt, trenchant demeanor. His candid responses and no-nonsense attitude were a welcome change after nearly two decades of the perpetually milquetoast Darcy Regier.
Murray's plan was simple: Burn everything down, and start from scratch. After years of half-hearted attempts to re-tool an underperforming core under Regier, Sabres fans and media members alike were in full support of this new direction.
At the beginning of the 2014-15 season, it became clear that Murray had assembled a roster designed to intentionally lose games, and acquire a top pick in the upcoming draft, which included prospective elite players, Connor McDavid and Jack Eichel. In a matter of months, the rookie general manager took the Sabres from perennial fringe playoff team to total dumpster fire, an accomplishment for which he was unanimously praised.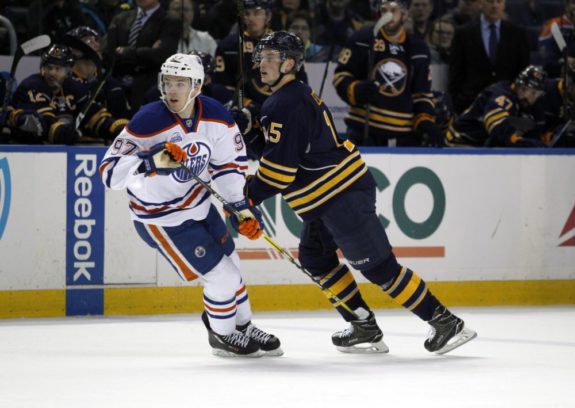 Murray supporters were so enthralled by the idea of McDavid and Eichel that rarely did anyone question the strategy set forth by the new-look front office.
Once "the tank" had reached its intended conclusion with the acquisition of Eichel that summer, Murray wasted no time establishing his new core. Moments prior to selecting Eichel second overall, it was announced that the Sabres had made a trade with the Colorado Avalanche to acquire Ryan O'Reilly. With Evander Kane already in the fold, it appeared Murray's master plan had been executed to perfection.
In fact, fans were so thrilled that they hardly batted an eye when he traded his second of two first-round picks that evening to Ottawa for an unproven Robin Lehner. With all of the shiny new toys in the organization, some of Murray's more dubious transactions were immediately forgiven as the Buffalo faithful anxiously awaited a new era of Sabres hockey.
They're still waiting.
The Sabres front office was so focused on sabotaging the roster to ensure a top-two pick that they accepted below market value for talented players. On top of his transactional blunders, Murray also managed to leave the Sabres in salary cap distress as a result of ill-advised free agent acquisitions designed to accelerate the rebuilding process.
His last-ditch effort to jumpstart the Sabres' offense by signing Kyle Okposo to a seven-year, $42 million mega-deal, has resulted in a restrictive albatross which new general manager, Jason Botterill must now work around as he tries to right the ship.
Related: Sabres: Love Them, Hate Them or Both
Pressure from Terry Pegula
When Terry Pegula officially assumed ownership of the Sabres, he made his intentions clear. The multi-billionaire vowed to bring swift and sustained success to the organization. During his inaugural press conference, Pegula issued a teary-eyed statement that sent chills down the collective spine of the Sabres' community.
"Starting today, the Buffalo Sabres' reason for existence will be to win a Stanley Cup."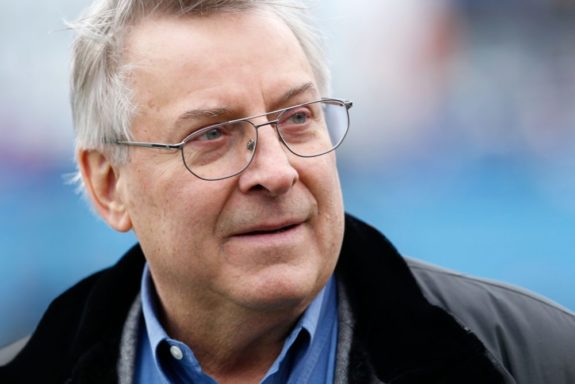 With that proclamation, he also promised to eliminate the internal cap restrictions put in place by Tom Golisano. The city of Buffalo immediately fell in love with the new owner who exuded passion and dedication to a franchise he had supported since childhood. He was a fan, just like us.
Following his introduction, Pegula stayed true to his word, allowing Darcy Regier to operate without financial restriction.
After failing to reach the playoffs since 2011, (the same year he purchased the team mid-season), Pegula relieved Regier of his duties during the 2013-14 season. Nearly three years removed from his promise of a Stanley Cup pursuit, Pegula felt pressured to make sweeping changes across the organization.
With championship aspirations, he turned to Murray, who had promised a quick turnaround, claiming that the Sabres were "not going to be a five-year rebuild."
That was all Pegula needed to hear.
When reviewing Murray's player personnel decisions, it's clear that this sentiment was one of the major selling points during his interview process with ownership.
Like any successful businessman, Pegula wanted a quick return on his investment. The only mistake he made was assuming that the Sabres lack of past success was strictly related to financial constraint.
Sabres Must Give Jason Botterill Time
While the current outlook appears bleak, Botterill is the perfect candidate to right the ship. Though he does not possess Murray's brusque demeanor, he is a calculated, patient tactician. It will take a great deal of effort to properly purge the current roster, but fans should rest easy knowing that there is a well-designed plan in place.
During his time in Pittsburgh, Botterill served as assistant general manager in an organization that stressed player development. Key contributors like Connor Sheary and Bryan Rust spent ample time in the AHL prior to cracking the Penguins' lineup.
The Sabres have been notorious for forcing players into NHL roles before they are ready. High-profile draft selections like Mikhail Grigorenko, Zemgus Girgensons and Tyler Myers certainly would have benefited from an extra year or two in Rochester.
If you look closely, new player development policies are already being implemented. In a season where the Sabres have fallen well short of expectations, Botterill realizes that placing young players like Brendan Guhle, Justin Bailey and Hudson Fasching in a losing environment will prove detrimental to their long-term success.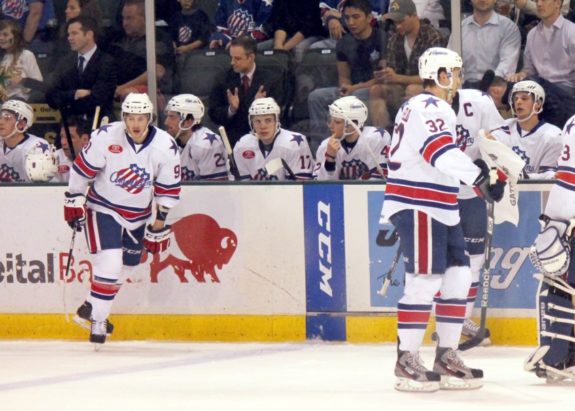 On top of new player development strategies, Botterill must flush-out the toxic culture that appears to have set in at the NHL level. Night in and night out, the Sabres are criticized for a lack of effort. At the end of last season, several players mentioned that they felt there were people on the roster who were content with losing.
The cycle can only be broken when young players are recalled from a minor league team that has experienced victory on a consistent basis.
In Murray's last two years in Buffalo, the Amerks finished near the bottom of the AHL standings. Rochester has already experienced an impressive turnaround as they currently sit at 9-5-1.
Goaltender prospect Linus Ullmark has already noticed a change in the Rochester defensive corps, a unit with several new veteran additions acquired by Botterill this past offseason.
"Every night they make it a lot easier for me than the last few years" said Ullmark. "They're sticking to the system, they're blocking shots and boxing out and you can see there's a good team out in front of me every night."
Slowly but surely, the organization is making progress.
In just one offseason, Botterill has made progress toward establishing a winning culture in Rochester under new head coach Chris Taylor. If he's given enough time, that culture will reach the Sabres as players progress through the system.
It's not the quick turnaround that Murray promised, but a job worth doing is worth doing right. Given the circumstances, Botterill is off to a good start.