The Buffalo Sabres placed two more defensemen on injured reserve yesterday. Taylor Fedun and Matt Tennyson joined Zach Bogosian and Rasmus Ristolainen, forcing the team to recall Casey Nelson from Rochester. If Nelson dresses when Buffalo squares off with Detroit tonight, he will become the 11th defenseman that has been called into action for the Sabres this season.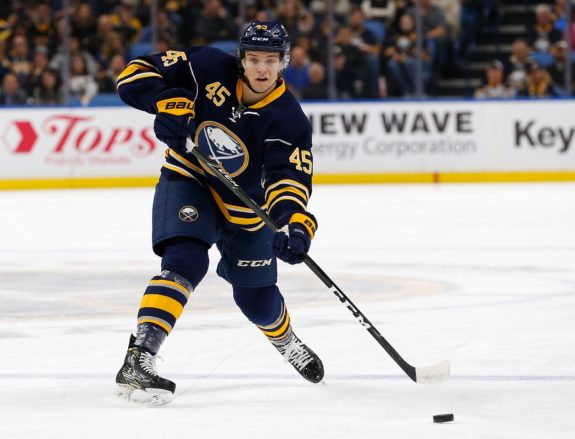 Yes, you read that correctly. Just 19 games into the season, Buffalo has called upon nearly every one of their starting AHL defensemen to some extent.
Everyone except Brendan Guhle.
Botterill Won't Rush Guhle
Sabres general manager Jason Botterill has been clear on his intentions with Guhle since the beginning of the season. During his time in Pittsburgh, Botterill served in a management group that stressed the importance of player development, and he's brought those policies to Buffalo. As injuries have mounted on the back-end, fans and media personnel have speculated as to whether or not the Sabres will expedite their plans for the 21-year-old. In an interview with WGR 550 in Buffalo last week, Botterill reiterated his commitment to keep Guhle in the AHL for the entire season.
'We're ecstatic about how he is progressing,' said Botterill. 'There's always discussions on player development and there's a lot of discussions in our own organization. Bottom line is we believe there is an element to Guhle staying down there, learn roles, gain confidence.'

— WGR 550 (@WGR550) November 10, 2017
Even with a healthy roster, Guhle could arguably be considered one of the top-six defensemen in the Sabres organization, worthy of a starting role in the NHL. Watching a group of career-journeymen fill two-thirds of the Sabres defensive slots has become frustrating. Very few of them seem to be a fit for Phil Housley's fast-paced game plan. Guhle's elite puck-carrying ability paired with his above-average speed would make him an ideal option for the rookie head coach.
In a season where the Sabres are falling well short of expectations, a first-time general manager might feel pressured to call upon a player of Guhle's skill level, but Botterill knows better. He's seen this movie before, and he won't let short-term struggles affect his long-term vision. It's what separates him from past executives Darcy Regier and Tim Murray, both of whom made the mistake of rushing young defensive prospects, expecting immediate results.
Related: Sabres Already out of the Playoff Hunt?
Sabres Have Been Here Before
Fans of the Sabres who have clamored for Guhle at any point this season should pump the brakes, and open their history books.
Tyler Myers burst onto the scene in Buffalo as a larger-than-life man-child, standing at six-foot-eight. After spending one season in Kelowna of the WHL, he skipped the AHL all together, starting the 2009-10 season in Buffalo.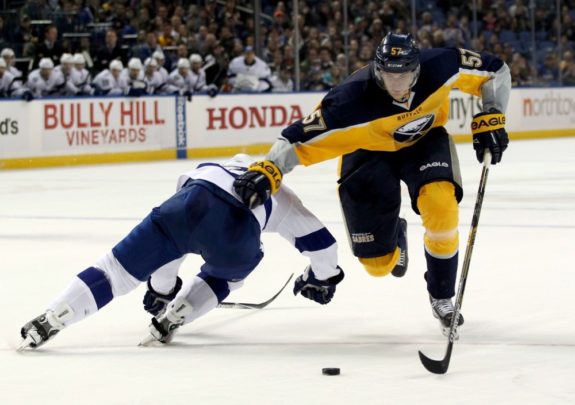 Myers registered 48 points as a rookie, earning him Calder Trophy honors. The future looked bright, and it appeared that the Sabres had found their very own version of Zdeno Chara.
Seven years later, he has failed to duplicate the level of production he experienced as a rookie. Leading up to his exit from Buffalo via trade in 2015, fans lamented the fact that Myers was never allowed to properly develop in the AHL. As injuries and poor play plagued him in the years that followed, it became abundantly clear that his inaugural season in the NHL was an apparition.
If fans need an even more recent reminder as to why defensemen require ample development time, they need look no further than the current roster.
While Ristolainen is arguably the best defenseman in the Sabres organization, he is far from flawless. During the 2013-14 season, Ristolainen was called into action as a 19-year-old, appearing in the Sabres first 19 games.
Here's where it gets a little wacky.
In November of 2013, Regier was relieved of his duties as general manager. Two games after Regier's firing, Ristolainen was sent to the AHL to continue his development.
Smart.
Three months later, Tim Murray took over following an exhaustive search by Sabres owner Terry Pegula and then team President, Pat LaFontaine. Between Regier's exit and Murray's emergence, Ristolainen spent 34 games with the Amerks, learning the North American game. Like his predecessor, Murray then decided to bring Ristolainen back to the NHL for the last 14 games of the season, and he's been on the roster ever since.
Ristolainen hasn't experienced the same statistical free-fall as Myers, but he has been over-encumbered by absurd time-on-ice averages, which has led to criticism from the analytics crowd. While he certainly passes the eyeball test, his abysmal Corsi numbers tell a different story. The value of advanced statistics is a debate for another day, but surely he would be better suited for his current workload with more development time.
Related: Restlessness in Buffalo
But Wait, There's More
Speaking of Ristolainen's defensive partners, who could forget Nikita Zadorov? This hard-hitting Russian juggernaut was also selected by the Sabres in the 2013 draft, just six slots after Ristolainen. These additions signaled a new era of Sabres hockey, highlighted by size and offensive production on defense, something the Sabres had historically ignored. Following a seven-game audition in Buffalo, Zadorov was sent back to London of the OHL for the remainder of 2013-14.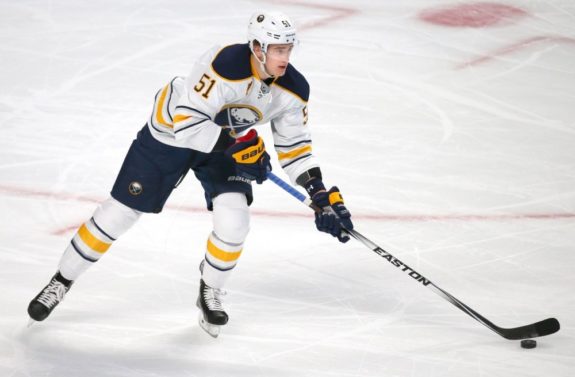 Good call, right? Not so fast.
Zadorov's situation is even more maddening than that of Myers and Ristolainen. The following year, he was slapped on the Sabres third pairing for the entirety of the 2014-15 season. Yes, the same season that was dubbed by fans and media alike as "the tank". Not only did the Sabres management staff fail to remain patient with yet another defensive prospect, they did it during a season where the sole objective of the franchise was to acquire a top draft selection in either Connor McDavid or Jack Eichel.
That's right, Sabres iced two teenage defensemen, forcing them to eat big minutes on an intentionally watered down roster in order to ensure a losing record.
Fortunately, Botterill is a different breed. He won't concede to calls for change from outside of the organization. He's being patient with Guhle, and other prospects like Justin Bailey, Alex Nylander and Nic Baptiste. Fans need to be patient alongside him in order to experience sustained success, something the Sabres haven't had in quite some time.