As the Buffalo Sabres yet again find themselves in the Eastern Conference basement, Evander Kane has been a rare bright spot, emerging as the perfect complement on Jack Eichel's wing, though his success is somewhat bittersweet. Kane possesses everything you hope for in a power forward, and his performance so far this season has justified the seemingly high price Tim Murray paid to obtain him from Winnipeg in 2015.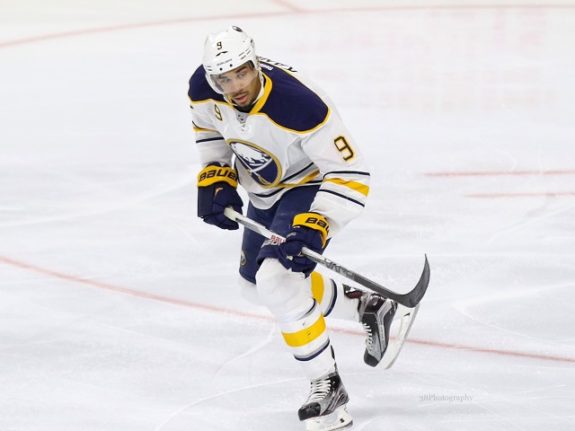 With 18 points in 18 games, the Sabres' leading scorer is on pace to shatter his career-best point totals, but the team may be hard-pressed to extend him. When Eichel's shiny new eight-year, $80 million contract kicks in next season, cap space will be tight. With $13.5 million already invested long-term between Ryan O'Reilly and an under-performing Kyle Okposo, another lengthy, expensive contract may not be appealing to new general manager Jason Botterill.
Related: Silver Linings to Sabres' Sluggish Start
Evander Kane Unfazed by Rumors
During a post-practice interview last week, Kane was asked about his mindset given the uncertainty surrounding his future in Buffalo. While his responses were predictably non-committal, Kane charismatically shot-down questions pertaining to recent trade rumors stating, "No, I don't really think about that. For some reason, it doesn't really bother me at all."
Evander Kane's future with the #Sabres has & will continue to be a topic of conversation but he doesn't seem to be paying much attention to the trade rumors @WKBW pic.twitter.com/yOgbpgEFUo

— Matthew Bové (@Matt_Bove) November 9, 2017
At face value, it's tough not to believe him. As the only Sabre that has produced beyond expectations this season, he certainly doesn't come across as someone who has been adversely affected by media speculation. In fact, amidst all of the chaos, he is thriving.
Beyond the stat sheet, Kane has flourished as a leader both on and off the ice. Whenever a teammate is involved in a scrum, he is the first one on the scene to defend them. For a guy who has been accused of being selfish, sluggish and inconsistent throughout his entire career, he sure isn't playing the part.
Salary and Term
On paper, a player producing at Kane's current clip would theoretically command a hefty contract on the open market. Currently making $5.25 million per season, he's undoubtedly expecting a substantial raise. The key to a new contract will be the term. During an interview on WGR 550 in Buffalo, TSN Insider, Darren Dreger expressed doubt that teams would offer Kane a maximum-term contract.
Dreger – I have not come across a team yet that would be willing to give Evander Kane a max-term contract (7-years) if he goes to unrestricted free agency. Things could change around the NHL if he continues to play the way he does and stay out of trouble. #Sabres

— WGR 550 (@WGR550) November 10, 2017
Apprehension regarding his past antics is likely the driving factor behind this speculation, though, for the most part, Kane has kept himself out of trouble during his time in Western New York.  On top of uncertainties pertaining to his behavior, durability could be a concern as well. Over the course of his eight-year career, Kane has never remained healthy for an entire season, a fact that could force teams to think twice before opening their checkbooks.
Despite the perceived blemishes on his record, Kane will likely command a salary in the neighborhood of $6.5 million AAV as a free agent. If teams are unwilling to invest in him long-term, the Sabres may be more inclined to open contract dialogue before actively pursuing a trade.
Related: Rumor Rundown: Sabres, Red Wings, Rangers, More
Trade Winds Blowing
There has been no shortage speculation of regarding whether or not the Sabres will attempt to trade the 26-year-old winger before his contract expires. The popular belief is that the team intends to deal Kane prior to the trade deadline rather than re-sign him to a pricey extension. Year after year, teams in contention for a playoff spot have paid premiums to obtain offensive reinforcements. If Kane can continue producing near a point-per-game pace, a rebuilding team like the Sabres could stand to gain substantial futures in return for his services.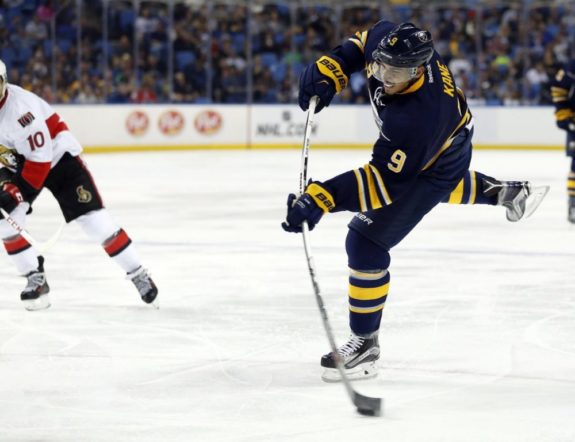 Buffalo needs reinforcements at nearly every position throughout the organization, but their most glaring need is on defense. The Sabres currently field a defensive corps that consists of mostly fringe NHL talent. Aside from stalwarts Rasmus Ristolainen and Marco Scandella, nobody on the blue line has played up to their potential as we approach the quarter mark of the season.
The situation on the farm isn't exactly promising either. While top prospect Brendan Guhle has the makings of a productive top-four defender, the cupboard is essentially bare behind him. Over the past few years, Buffalo has failed to add young talent to the back-end. Since 2014, they've invested just one draft pick in the first two rounds on a defenseman. If the Sabres can acquire a high-potential, young defender in exchange for Kane, losing one of their most productive forwards may become more palatable.
Maybe.
From a financial standpoint, a trade might make the most sense, but if the Sabres' brass is convinced that this version Evander Kane isn't just a contract year apparition, then they need to find a way to retain him.
This organization has spent the better part of two decades searching for a power forward who can hit, skate and most importantly, score. It would be a shame if the slew of bad contracts left behind by Tim Murray causes an elite player to slip away.
A passionate supporter and lifelong fan of the Buffalo Sabres. Former Admin and Staff Writer at buffalohockeycentral.com.