With a 3-0 victory over the Philadelphia Flyers Tuesday night, Minnesota Wild goaltender Devan Dubnyk posted his third straight shutout. He has turned back 103 shots against the Montreal Canadiens and a back-to-back against the Flyers, with a shutout streak of more than 195 minutes.
There's obviously not a hotter goalie in the league right now, and Dubnyk's shutout streak will come to an end at some point. But can he sustain this high level of play long-term?
History of Ups and Downs
The Wild were on the ropes in 2014-15 when they acquired Dubnyk from the Arizona Coyotes. Over 39 games after the trade, he went 27-9-2 with a 1.78 goals-against average and a .936 save percentage. Dubnyk provided much-needed stability between the pipes, and an obvious high level of play, as he took a lead role in saving Minnesota's season. That elite run also basically forced general manager Chuck Fletcher to fork over a long-term contract, and Dubnyk is in the third year of a six-year, $26 million deal at 31-years-old (he'll turn 32 in May).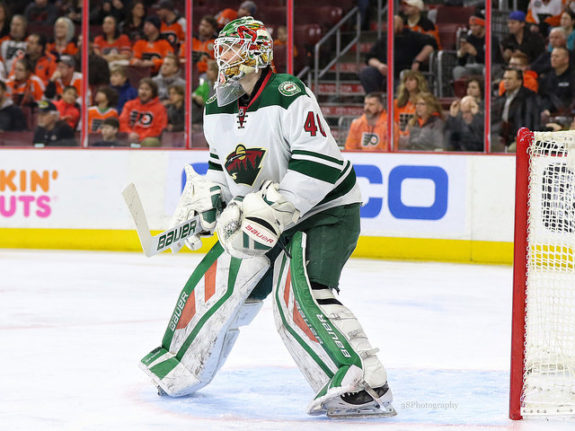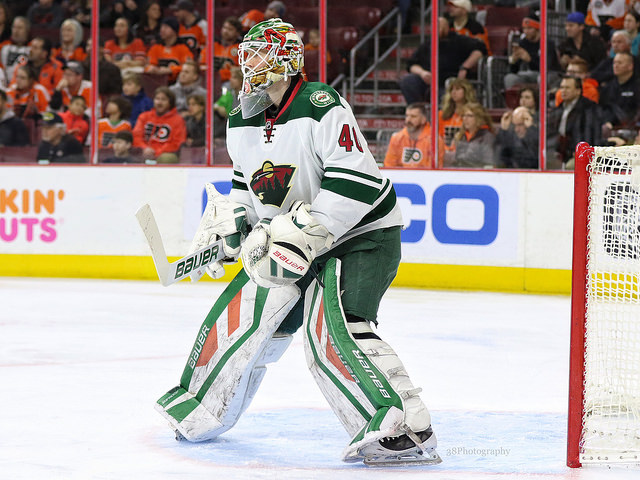 Prior to the All-Star break last season, Dubnyk had a 1.88 goals against and a .936 save percentage. But after the All-Star break, over 27 games, his save percentage dropped to .904 with the expected rise in his goals-against-average over that span (2.82).
Dubnyk played fairly well in a first-round playoff loss to the St. Louis Blues last season, before allowing four goals on 27 shots in Game 5 as the Blues sent the Wild home early yet again. But overall, Dubnyk was not the problem last postseason.
In 2015-16, his first full season with the Wild, Dubnyk's drop-off after the All-Star break was only slight. But that history of late fades in play and generally lackluster play in the playoffs could be an issue of fatigue, more than any major red flag.
In the four games prior to his recent run of shutouts, including three straight losses for the Wild, Dubnyk allowed at least three goals three times. Some middle ground would be nice to see Dubnyk settle into, but he has not shown a history of doing so.
Here's a look at just how unique's recent streak is, and he's actually done this before.
Per @EliasSports: Devan Dubnyk is the third goaltender in the League's expansion era (since 1967-68) to post three consecutive shutouts multiple times in his NHL career, joining Brian Elliott (3x) and Roberto Luongo (2x). #NHLStats pic.twitter.com/JQTfLMNDUN

— NHL Public Relations (@PR_NHL) November 15, 2017
So How Can Dubnyk Avoid a Drop-Off?
Backup goalie Alex Stalock has made four appearances (three starts) so far this season. His last start came on Oct. 31 against the Winnipeg Jets, and his last appearance was in relief of Dubnyk on Nov. 6. Stalock recently had a child, which removed him from an expected start last week, but getting him back in action has to be on coach Bruce Boudreau's radar.
Dubnyk will surely keep starting until his shutout streak ends, as should be the case, barring an injury. But, games on back-to-back nights down the road will be a good opportunity to get him a little rest, while keeping Stalock sharp in case he is needed.
Dubnyk has not been injury prone, but he is on the wrong side of 30 playing a physically and uniquely mentally demanding position. So, getting him some occasional rest, once his shutout streak ends of course, will only benefit the team when they try to get over the hump in the postseason next spring.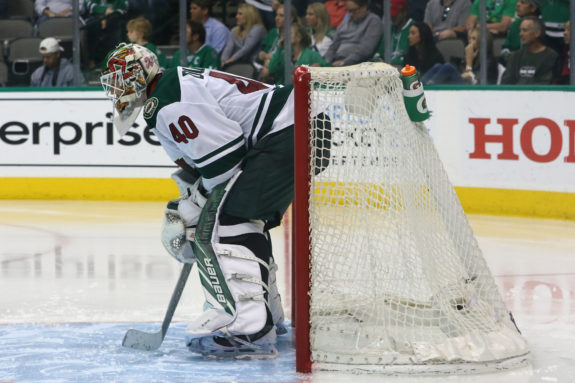 A hot goalie in the postseason makes a huge difference, and the Wild can only look at their own history of good and bad playoff runs to see that with themselves and opponents. A well-rested Dubnyk has a better chance of staving off a late-season slide, in theory. Making sure he hits the most important time of the season healthy and on an even keel, if not on an upswing, will go a long way in deciding if the Wild at least win a first-round playoff series this year.