It's been nearly two weeks since the Ottawa Senators, Colorado Avalanche and Nashville Predators hooked up on the trade market for a three-way deal that included the likes of Matt Duchene and Kyle Turris.
By all accounts, the Senators got a player they'd been after for quite some time in Duchene, the Preds received a high-end center and the Avs cashed in with a handful of prospects and picks. Maybe the waiting game did work for Joe Sakic after all.
While it's far too early to analyze this trade in any depth to decide an ultimate winner, it isn't too early to discuss the players involved. With that said, the question that has plagued me since the trade is whether or not the Senators actually got their guy.
Carry On Kyle
Part of acquiring Duchene meant moving on from Turris – a 28-year-old center who'd spent the majority of the last seven seasons with the Senators. Over that time, he collected 274 points in 407 regular season games.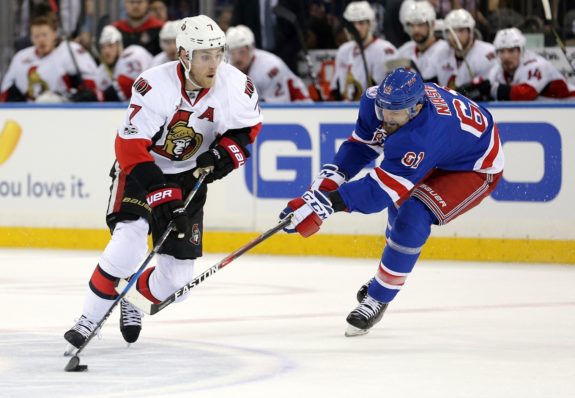 He added a physical aspect to his game and played well in his own zone – something the Senators thrived on during his time with the team. He carried a 51.1 Corsi For Percentage (CF%) in the 407 games and defined what it meant to be a Pesky Sen.
He was part of the team's playoff runs in four seasons and recorded 24 points in 42 games in a Senators jersey. Still, what the team needed was scoring. With guys like Zack Smith, Jean-Gabriel Pageau, Alexandre Burrows, and Derick Brassard, the Sens needed more offence and less two-way type players.
With Turris' contract up at the end of this season, he was the easy candidate to include in the deal that saw the Senators acquire their much-needed offensive piece – especially when it became clear that an extension wasn't going to come easily.
"To be honest, a six-year deal was never put on the table," said Turris regarding the chances of re-signing with Ottawa, according to Elliotte Friedman's 31 Thoughts column. "It was very apparent things weren't going to work out in Ottawa."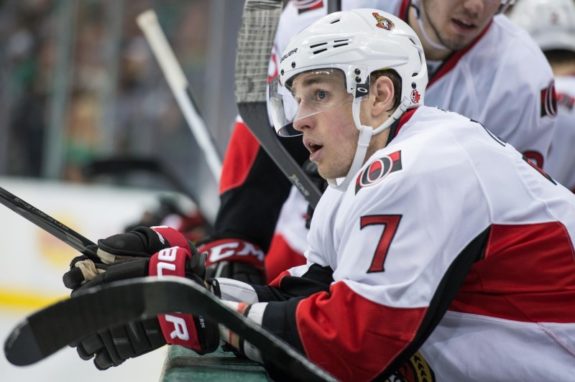 So, the Senators and Pierre Dorion decided to move Turris. In exchange, they brought in Duchene – a third overall pick and a player praised for his abilities on the offensive end.
The Making of Matt Duchene
When he was first drafted by Colorado in 2009 as the third overall pick, many praised his pure skill. Coming out of the Brampton Battalion organization (a former OHL club) he exhibited great hands and used his speed and size to push the pace of play. Hockey's Future even compared his raw talent to that of Steve Yzerman.
Fast forward nine seasons and Duchene has lived up to expectation – most would argue. He has 428 points in 586 regular season games and is a career 52.9 percent in the face-off circle. But for Duchene – a player who reportedly requested a trade out of Colorado – it was about seeing playoff action.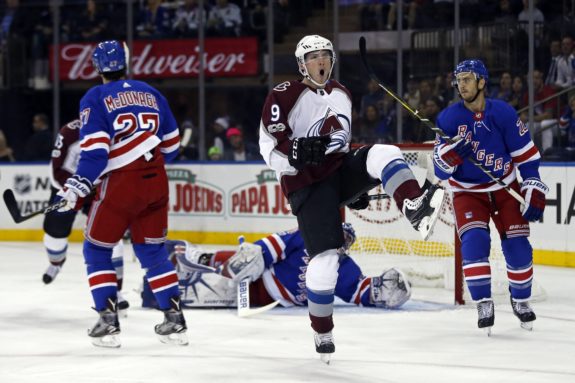 With the Avs, he played just eight games of postseason hockey and collected six points, but never made it out of the first round. On top of that he experienced long stretches between playoff appearances – with his two coming in 2009-10 and 2013-14.
Duchene's Drop-Off
So, he wanted out. While it wasn't easy and was made into a very public breakup, Duchene finally got his wish on November 5. But with the trade, comes new expectations. With the Senators looking for more offence, his career 48.5 CF% is acceptable.
But is Duchene the game changer that the Senators were looking for? His offensive stats would certainly defend their thinking.
But I don't see Duchene as a primary player – a guy that you can rely on when you're in desperate need of a goal. Sure, he can put up solid numbers as his career would show, but he's a player that seems to thrive off secondary expectations.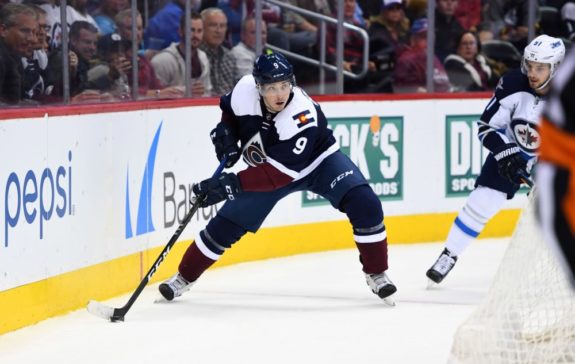 On top of that, after reaching his career-high 70 points in 71 games in 2013-14, Duchene's seen a steady decline in production. He notched 55 points in 82 games in 2014-15, 59 points in 76 games in 2015-16 and finally 41 points in 77 games in 2016-17. Additionally, his CF% over those three seasons dropped to just under 47% with his ice-time remaining relatively unscathed.
While he is still just 26, Duchene also carries a cap hit of $6 million for this year as well as 2018-19, which carries expectations within itself.
Are We Talking Expectations?
For this to be a win for the Senators, there are a number of things that will have to happen. Firstly, Duchene will have to out-produce Turris in Nashville. The Senators, as a team, will have to flourish with Duchene in the lineup and find a way to make this season a success.
Above all else though, one of the biggest expectations for the Senators will be to re-sign Duchene ahead of the expiry of his contract – something Friedman writes the team is prepared to do without a doubt.
"No doubt the Senators will do everything to re-sign Duchess before free agency in 2019," writes Friedman. "There are a lot of big decisions to make. Cody Ceci and Mark Stone are restricted this July. Ceci does the dirty work on the blue line, while Stone is quietly turning into a franchise cornerstone. Then come Duchene, Brassard and some guy who wears 65."
While Dorion and the Senators truly believe they got their guy in Duchene, fans of the club need to temper expectations. After all, he might not be everything that the team's expecting him to be.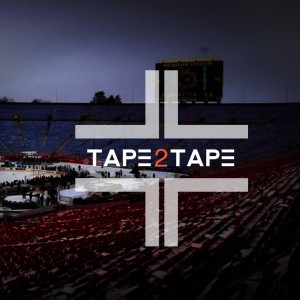 Have thoughts about the column? Let me know on Twitter at @AndrewGForbes or @Tape2TapeTHW.
Tape2Tape is a column looking at some of the biggest stories from around the world of hockey. Discussing different topics, it focuses on delivering some opinion to hockey's biggest fans. Whether you agree or disagree, we would love to hear your thoughts.