Adam McQuaid has returned to practice this week, as the Boston Bruins continue to inch closer to full health. Accompanying the return to health has been a resurgence in play, with the Bruins winning nine of eleven contests.
The team's top line of Patrice Bergeron, Brad Marchand and David Pastrnak has been unstoppable. A second line of David Krejci, Jake DeBrusk and Anders Bjork has played well enough to justify Boston loading up on its top line. The new-look third line of Riley Nash, Danton Heinen and David Backes has given Boston the depth scoring and three-zone reliability they've craved on that line since the 2013-14 Season.
Equally impressive (if not even more so) has been the team's goaltending and overall team defense. They've conceded just 22 goals over their last 11 games, including five games wherein they allowed one goal or less.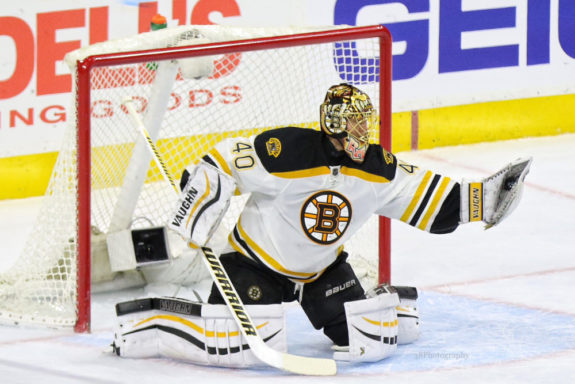 To date, 30 different skaters have dressed for the Bruins this season. Moreover, the majority of those players have not looked one step out of place at the NHL level.
With the team clicking on all cylinders as they return to health a considerable logjam has formed; the team simply has more healthy, productive skaters than they can dress nightly.
It's an enviable problem, but an issue nonetheless.
Of late, the play of defenseman Matt Grzelcyk has been particularly notable. Despite dressing on opening night, the Charlestown native was listed as the organization's ninth defenseman as recently as one month ago, ceding playing time and call-ups to Paul Postma and Rob O'Gara.
Fast-forward three weeks and 10 games and it's difficult to justify removing him from the starting lineup. The diminutive rearguard has looked confident and composed to the tune of one goal, three points and a plus-6 over that stretch.
With Grzelcyk playing so well and McQuaid on the fast-track to return, it begs the question: Should the Bruins consider dressing seven defensemen?
The Case For
Grzelcyk Making His Own Case
Were it not for the play of Grzelcyk himself, I would not be writing this article.
As an "undersized" puck-mover, Grzelcyk's play in transition and on the team's second power play unit are somewhat of a foregone conclusion. His 95 points over 125 games at Boston University were a testament to both his willingness and ability to join the rush and quarterback a power play.
The thing that has impressed me the most however has been his decision making without the puck.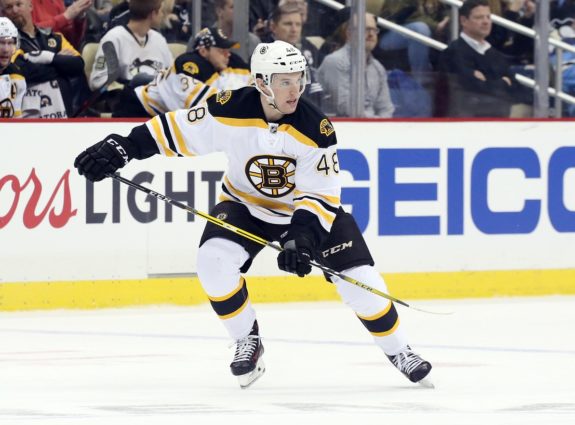 The 23-year-old seems to have an innate ability to know when to pinch along the wall to keep a puck in the offensive zone and when to retreat. I can count on one hand how many times over 10 contests he has made the "wrong" choice, and that number dwindles to one or two when excluding the moments in which he chose to play it safe.
Consider, for comparison's sake, how many times you have witnessed the similarly-styled and sized Torey Krug make a bad pinch. How many times over the season's first ten games did you witness Charlie McAvoy get caught flat-footed at the offensive blue line, partially paralyzed with indecision?
It may seem insignificant, but sometimes that split-second decision is the difference between a goal-for and a goal-against. Or a win and a loss. Possessing the ability to make the correct choice time and again with just 12 career NHL games on one's resume is impressive, and indicative of how well he processes the game.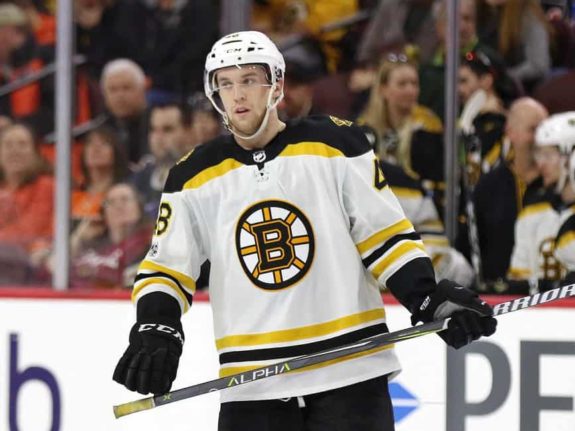 Furthermore, Grzelcyk's outlet passing is as crisp as an autumn leaf. Tape-to-tape, and never through a "danger area." He makes heady, decisive plays with the puck in his own zone; an area in which the Bruins have struggled since….always.
As such, it would be difficult to tell a rookie who figures to be a part of Boston's future, "Great job. You've done everything we've asked, and more. Now put your suit back on and grab some popcorn."
McQuaid's In-Demand Skill Set
As well as Grzelcyk has played, it would be equally difficult to tell Adam McQuaid to take a seat.
With 430 regular season games and a Stanley Cup ring under his belt, "Darth Quaider" has earned the reputation of being a heart and soul player. An imposing physical presence who will happily and regularly put himself in harm's way for the betterment of the team. A steely presence, and a leader within the room.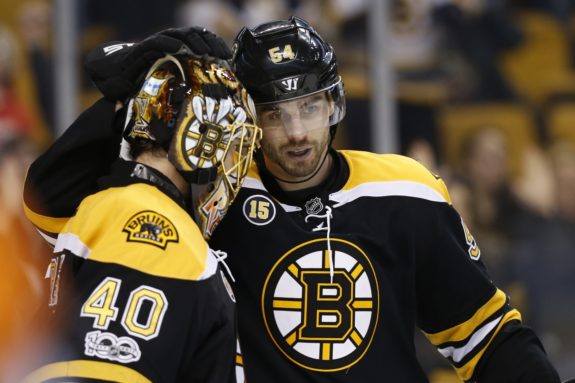 Head coach Bruce Cassidy recognizes the extent of his importance to the club:
He plays hard every night and he's a guy that blocks more shots than anybody. I love the guy. The game needs players like him, and the team needs him if you want to be hard to play against. Guys like that are necessary.

-Bruce Cassidy (Joe Haggerty, NBCSportsBoston) Decmber 11, 2017
In his absence, the Bruins have greatly missed his physicality and malevolence. So much so that Bruins beat writer Joe Haggerty opined that perhaps the team should explore adding an "enforcer" to protect star players who were seemingly being targeted by the opposition.
With McQuaid out of the lineup, Kevan Miller's own ability to police the ice has been greatly mitigated as well. His presence on the ice (and not in the sin bin) with a thinned-out blue line has been magnified to the point where it seems he has been actively instructed to avoid fisticuffs at virtually all costs; he has fought just twice during McQuaid's 22-game (and counting) absence.
As great as it is to see guys like Jake DeBrusk and Frank Vatrano stick up for fallen comrades, the two are hardly the ideal candidates. It's one thing to stick up for a teammate. Doing so in a manner that serves to actively discourage future incidents is another altogether.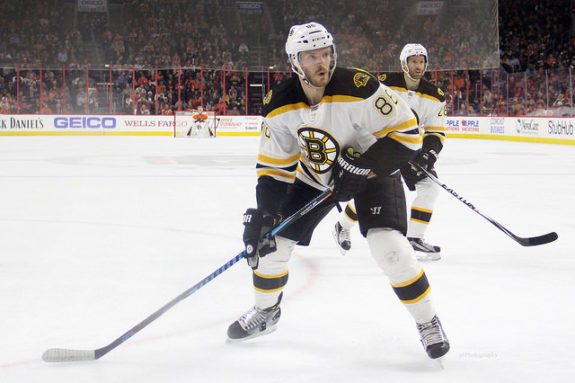 Were Boston to dress seven defensemen, McQuaid (and Miller) would be free to play to the full extent of their skill sets. When the league inevitably levies another one of its preposterous and counter-productive 17-minute penalties on the Bruins for instigating after a dirty, borderline or predatory incident, the Bruins will still be able to roll-out six defensemen as opposed to just five.
Protecting your star players is paramount to success. The two-time defending champion Penguins thought so when they gave up the 31st overall pick to acquire Ryan Reaves.
Seven defensemen in the lineup would enable the Bruins to protect their stars without handcuffing the blue line for an entire period's worth of hockey.
McQuaid's Injury & Grueling Road Ahead
A broken fibula is no joke. Even a "tough hombre" like Adam McQuad will need time and reps to fully get back into the swing of things.
Furthermore, Wednesday's tilt versus Detroit kicked-off a stretch in which the Bruins play 10 games in 17 days, including three sets of back-to-backs. Not exactly the ideal time to be returning from a broken leg.
Dressing seven defensemen would enable the Bruins to carefully monitor McQuaid's minutes as he returns to form. Judicious and occasionally sparse deployments and matchups would be the best way to utilize his talents, specifically on the penalty kill and prior to face-offs in the defensive zone against an opposing bottom six.
Splitting minutes between the eight-year veteran and the red-hot rookie for the upcoming stretch  seems like the best way to get the most out of each player.
Loss of Forward to Lineup Easily Absorbed
While Ryan Spooner remains on the shelf, the players most likely to cede their spot to a seventh defenseman would be Noel Acciari and, to a lesser extent, Frank Vatrano.
Vatrano's name is currently popping up in trade rumors. His inconsistency, coupled with being passed by numerous first-year players on the organizational depth chart have rendered his services obsolete.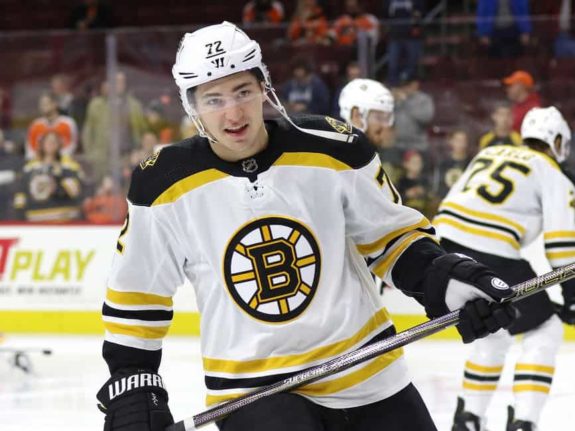 Personally, I love Noel Acciari. I'm a fan of his compete level, physicality and his work on the team's penalty kill. But he doesn't bring quite the same level or kind of physicality as Adam McQuaid. He's not a deterrent.
Furthermore, his work on the penalty kill (though commendable) would be easily replaced by Boston's deep stable of capable forwards. Patrice Bergeron, Brad Marchand, Riley Nash, Tim Schaller, Sean Kuraly, Danton Heinen and David Backes all kill penalties, and well at that. Even David Krejci has been utilized in a pinch.
Eleven forwards on the ice, in this scenario, sends Acciari and Spooner to the press box.
Further injuries will occur down the road. Players will cool off. A team could be in worse shape than having those two as spare parts until further notice.
The Case Against
Logjam At Forward
With Ryan Spooner day-to-day, the team's forward group is one-body shy of full-strength. With so many healthy forwards capable of producing, it's hard enough to find playing time for 12 of them, much less 11.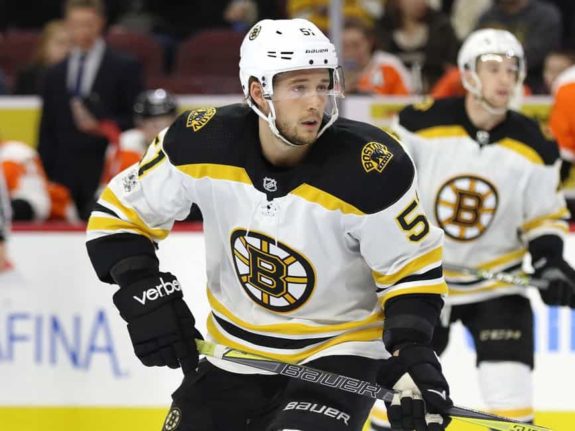 Despite playing through a nagging groin injury, Spooner has looked pretty sharp over his five games-played since missing over a month. With three points over that span, he's scoring at a rate in-line with his career-best 49-point season in 2015-16. It could just be a spike or aberration, but if it is a sign of resurgence it could be difficult to justify keeping his speed and creativity out of the lineup.
Corresponding Roster Moves
Matt Beleskey was finally, inevitably placed on waivers Thursday morning. Having dressed just once since November 15, he was the first casualty to Boston's current roster crunch. Frank Vatrano has sat for four of the last five games and may well be on his last legs in Boston as well.
Ryan Spooner, for all of his talents, appears to be a man without a home as of this writing, especially considering how well Riley Nash has played on the third line in his absence.
Additional corresponding moves will need to be made once McQuaid returns, regardless of how many defensemen Boston decides to dress.
Trading Frank Vatrano or Ryan Spooner however could pave the road to regret.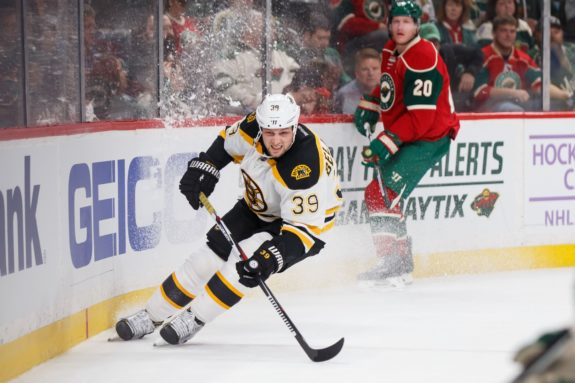 Matt Beleskey (Brad Rempel-USA TODAY Sports)
With their backs to the wall, General Managers seldom receive market value in a trade. Opposing GM's rightly take advantage of their counterpart's tricky situation; look no further than the Johnny Boychuk trade several seasons ago. Peter Chiarelli had painted himself into a corner and was forced to swap-out a legitimate top four defenseman in his prime for two second-round picks.
Picture it now: The Bruins trade Ryan Spooner for a draft pick. Several weeks later the team loses David Krejci to another injury. Once again the team is paper-thin down the middle with the playoffs approaching.
Spooner goes on to record multiple 50-point seasons with his new club, while the pick acquired for him never really pans out.
On defense, Paul Postma also takes a trip through waivers in this scenario. Though he hasn't made much of a mark in Boston (less than 10 minutes ice time in each of his four starts) and can be seamlessly replaced by Rob O'Gara, it's never a good thing to lose a player for nothing. The Bruins run that risk should they try to pass him through waivers.
Verdict
Give it a shot. The team is under no obligation to adhere to the 11/7 structure for the long haul, and the benefits (at least in the short term) seem to greatly outweigh the cost.
It's a system that the Tampa Bay Lightning have employed for several seasons now, and the results speak for themselves (with last year's Stamkos-less squad being the lone exception).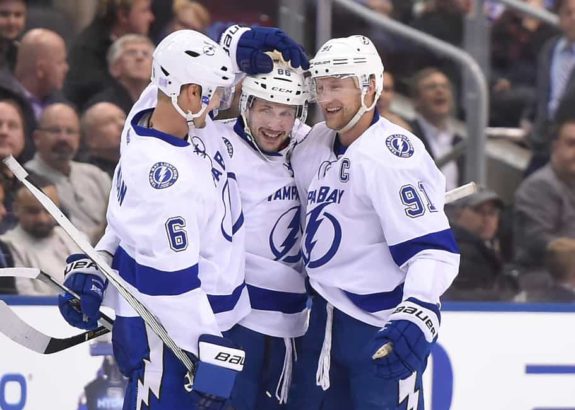 There are worse things than rotating forwards to play on the fourth line with Tim Schaller and Sean Kuraly, while simultaneously keeping Spooner and Acciari as spare parts for when players inevitably cool-off or get nicked-up.
And for the record, sitting an incredibly useful veteran defenseman or his younger, heady, playmaking counterpart classify as "worse things."
Despite being New England's Son (hailing from the Great State of Connecticut), Joe currently resides in Los Angeles, California. One of his earliest memories is of the Bruins losing in the 1990 Stanley Cup Finals, setting up a lifetime of crushing disappointments. He feels genuine sadness for those without a passion to rival his unwavering love for the greatest game on earth.