Edmonton Oilers General Manager Peter Chiarelli has been named a finalist for this season's NHL GM of the Year Award. Overseeing a professional ice hockey team is full of prideful moments and tough decisions, but that didn't stop Boston fans from defaming and blaming their former GM throughout his tenure with the Bruins.
This season, Chiarelli built a team in Alberta that made the playoffs for the first time since the 2005-06 season. While Edmonton has had promising young players in recent years, they were an incomplete puzzle. Chiarelli added former Bruin Milan Lucic, among others, to a roster that featured young studs like Connor McDavid, Leon Draisaitl and Ryan Nugent-Hopkins.
The last time Edmonton was in the playoffs prior to the drought that ended this year, Chiarelli was inking a four-year deal with the Bruins. With them, he built a team that went on to the win the Stanley Cup in 2011.  During his nine-year stint with the original six club, Chiarelli made a number of trades – good and bad – that directly resulted in the state the team finds itself in today.
Andrew Raycroft for Tuukka Rask
Chiarelli's first major move came on June 24th, 2006 when goaltender Andrew Raycroft was shipped to Toronto for the rights to young prospect Tuukka Rask.
While Raycroft appeared in 57 games for the Bruins during the 2003-04 season, he appeared in just 30 the following year. Chiarelli deemed that the 25-year-old's time in Boston was up, and acquired Rask who was a young, lanky kid from Finland.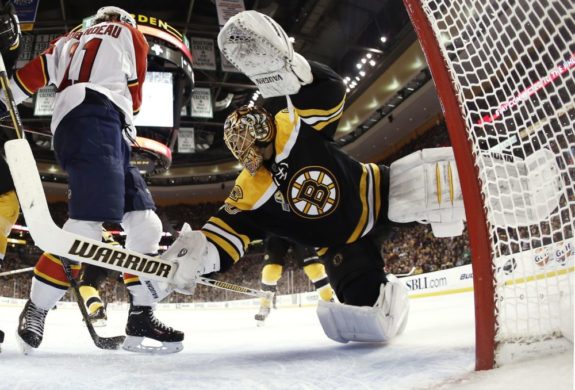 The 2016-17 season marked Rask's tenth in Boston. During the regular season, Rask has managed a 204-123-48 record. At the age of 29, his career totals feature a .923 save percentage and 2.24 goals against average accompanied by 38 shutouts. That does not include the 53 playoff appearances he has made in which he has a record of 30-23.  Rask has obviously woven himself into the Bruins roster, having started for the team since the 2013-14 season.
After playing in 72 games for the Maple Leafs following the trade, Raycroft appeared in more than 21 games only once in the years that followed.  He retired after the 2011-12 season with Dallas at the age of 31, with a career .900 save percentage and 2.89 goals against average and a record of 113-114-27.
Johnny Boychuk and Mark Recchi
On the two-year anniversary of the Rask trade, Chiarelli sent Matt Hendricks to the Colorado Avalanche in exchange for defenseman Johnny Boychuck.
Boychuck was a major contributor to the Bruins' championship run in 2011, appearing in 69 games that season as well as 25 playoff matches. Bruins' play-by-play announcer, Jack Edwards, coined Boychuck's vicious slap shot as the "Johnny Rocket" which helped him score 43 goals to date.
Boychuck was eventually shipped off to Long Island in 2014 for a slew of draft picks, mainly due to cap struggles. The Bruins would have liked to keep Boychuck, and fans expressed their distaste for the decision.
No matter which way you slice it, Chiarelli is to blame for Boychuck's departure. No one in their right mind would have traded Boychuk coming off a plus-31 season through 75 games. It was Chiarelli's mismanagement of the Bruins' salary cap that sent the defenseman packing, though the GM should be praised for bringing Boychuk into the organization in the first place.
Mark Recchi was another key acquisition for the club. In exchange for Martins Karsums and Matt Lashoff, Chiarelli received the veteran winger along with a second round pick. Recchi's stats speak for themselves: 577 goals and 956 assists in 1,652 regular season games – oh, and three Stanley Cup Championships.
Recchi mentored Bruins' Patrice Bergeron during his stint with the club and had a lot to do with Boston's success in 2011.
Phil Kessel for Tyler Seguin, Dougie Hamilton
In September of 2009, it became apparent t hat the Bruins would not be able to re-sign star forward, Phil Kessel to a deal in time for the 2009-10 campaign. Chiarelli decided to trade Kessel for two first round picks and a second round pick that brought Tyler Seguin, Dougie Hamilton and Jared Knight to Boston.
Kessel represented a $5.4 million salary cap hit for the Toronto Maple Leafs while his contract with the Bruins hit the cap for just $850,000.
Through three seasons with the Bruins, Kessel scored 66 goals and registered 60 assists in 222 games. He went on to score 181 goals in six seasons with Toronto before scoring 49 goals in his first two seasons with the Pittsburgh Penguins.
The Bruins bolstered their ranks with the prodigies of Tyler Seguin and Dougie Hamilton. While Seguin was supposed to be the best player in the league within a few seasons, Hamilton was promised to be the next Bobby Orr, even wearing the number Orr wore in training camp, 27.
While Chiarelli was not responsible for Hamilton's departure from the team, the general manager made the most questionable decision of his career when he shipped off Seguin to the Dallas Stars in the summer of 2013. The Bruins received Loui Eriksson, Joe Morrow, Reilly Smith and Matt Fraser while also ridding themselves of Rich Peverley and Ryan Button in the trade.
While locker room problems were reportedly an issue for the young forward, Seguin's best performances came in the years following the trade. He has scored 133 goals and 173 assists in four seasons with Dallas.
We'll find out soon whether Chiarelli's most recent duties have earned him an award, fans in Boston might be shocked to hear their former GM is doing so well after a questionable tenure with the Bruins.
I cover the Boston Bruins and NCAA Hockey here at The Hockey Writers. Born and raised 10 miles north of Boston, I developed a love for the game of ice hockey at a very young age. There's really nothing better than this sport, though steak is a close second.