After two months of buildup, two months of speculation, and two months of debate the New Jersey Devils finally revealed their plan when they selected Nico Hischier with the first overall pick in the 2017 NHL Draft. New Jersey should have been selecting sixth overall but won the Draft Lottery and selected the Swiss-born Hischier.
Nico or Nolan
Hischier rose up the draft rankings all season and by season's end, some pundits had him ranked first overall in this draft class, while others had tabbed Nolan Patrick as the top prospect. Patrick didn't fall far though, as he was selected second overall by the Devils' Metro Division rivals the Philadelphia Flyers.
HISTORIC: @NicoHischier first Swiss drafted 1st overall, by @NJDevils, followed by @Nolan_Patrick19 & Heiskanen. https://t.co/fqG1Y87zEX pic.twitter.com/9bhRjLdCBg

— IIHF (@IIHFHockey) June 24, 2017
New Jersey had never selected higher than second overall (Kirk Muller, 1984) and kept everyone guessing who they would select right up until the final moment that GM Ray Shero made the announcement on the draft stage in Chicago. There was some talk of the Devils trading back in the draft to acquire more picks, players or assets, but adding a player of Hischier's status could be a big boom for a franchise that has been stuck in neutral since losing in the 2012 Stanley Cup Final.
Hischier told the media moments after he was selected that he had no idea what the Devils had planned, but the smile on his face told everyone how ecstatic he was to go first overall. "Hearing my name called was unbelievable," said the 18-year-old. "There is a lot of emotion. There are no words to describe it."
So will he be in the NHL on opening night in October when the Devils host the Colorado Avalanche? "That's my goal," he said with a grin. "It's great, I'm joining an amazing team with a lot of history. I'm really happy to be a part of the organization."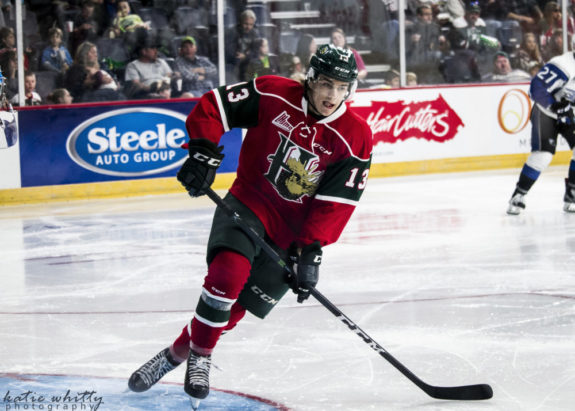 Hischier played last season in the QMJHL with the Halifax Mooseheads and racked up 86 points (38g-48a) in just 57 games, which led all rookies and was tenth overall among the league's scoring leaders.
Devilish Destiny
Maybe it was destiny? A picture started circulating after his selection of Hischier sporting a Devils jersey at nine-years-old. Reminded some of us of two years ago when New Jersey drafted Pavel Zacha and a few moments later he revealed he had taken a picture with fellow Czech Patrick Elias when the recently retired Devil brought the 2003 Stanley Cup back to his home country.
Make no mistake about it, there will be pressure on Hischier. Pressure to perform nightly. Pressure every time he plays against Nolan's Flyers. Pressure when he plays against last year's no. 1 pick Auston Matthews. Pressure when he plays against Connor McDavid, Nathan MacKinnon, and every other player still active that was taken first overall.
Wow! Have you heard about that? #Swiss ice hockey player @nicohischier selected by the @NJDevils with top pick in the 2017 #NHLDraft! 🏒🇨🇭👍 pic.twitter.com/9WvuKqHC6k

— House of Switzerland (@HofSwitzerland) June 24, 2017
Previously the highest drafted Swiss player in the NHL was Nino Niederreiter (5th overall, 2010 NHL Draft by the New York Islanders). Hischier is also the second player from Halifax to be drafted first overall (MacKinnon, 2013).
Shero never expected Hischier to be available where New Jersey was originally slotted to pick, so there wasn't much scouting done on him, but he was well aware of the high-end talent he possessed. The Devils GM met with Hischier in Switzerland following the lottery and after a five-hour lunch (yes, five hours) and talking things over with his staff, he knew that this was the player he wanted to bring in to help revitalize his franchise.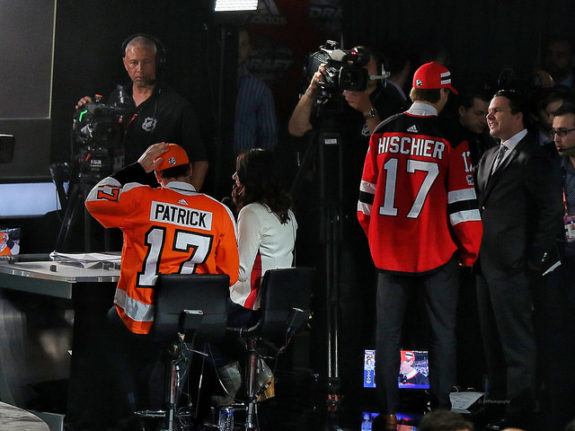 Whatever happens, however, his career unfolds. Enjoy it. Embrace the moment. Nolan Patrick could very well become a very good player. But the Devils organization believes that Nico Hischier can be a special player. Only time will tell, but the future of the New Jersey Devils just started.