Understatement of the summer: It's been a whirlwind last few months (and especially weeks) for Pavel Zacha — from the end of his team's season in the OHL, to the NHL Scouting Combine, to the NHL Draft, to a Q&A with New Jersey Devils season ticket holders, to the recently completed Development Camp in New Jersey. But the 18-year-old Czech has taken it all in stride and with no signs of fatigue he is now looking forward to the next two months to prepare himself for his first NHL Training Camp in September.
At development camp Zacha was roommates with the most experienced player in camp — Damon Severson, who played 51 games last season with the Devils and was on the NHL roster all season. Severson, one of the most mature and levelheaded 20-year-olds you'll ever meet, has enjoyed the role of mentor (and roomie) with the franchise's prize jewel. "It's been good so far; he's a nice guy. He's quiet at times but also likes to ask questions; he'll go through spurts," Severson explained to The Hockey Writers. "He'll be quiet for an hour or two and then the next hour or two it's question, question, question, question. It's good to ask questions though, it's good (for him) to learn; he wants to be here (in New Jersey) next year to play on the team."
"Pavel's really good, he's only had to ask me a few times 'what does that mean?' and slowed me down a little bit. Hopefully," he added with a smile, "he's a future teammate — we're already rooming together this week, so he could be my roommate down the road too; that's a good thing."
As one savvy fan pointed out, the two roomies could both have a very close competition for best hair on the team and they wanted to know which player had more hair products with them. "He definitely has more hair products than I do; I think he'd be able to tell you that too," Severson said of Zacha with a chuckle. "I'm pretty simple with the hair, it just works for me somehow I guess (shrugs). But he's definitely got a good flow going, he's got a little bit of hockey-hair; he likes to show it off a little bit. It looks good," he said with a grin, "Pavel does it right. (In conclusion) he definitely has more hair products than me."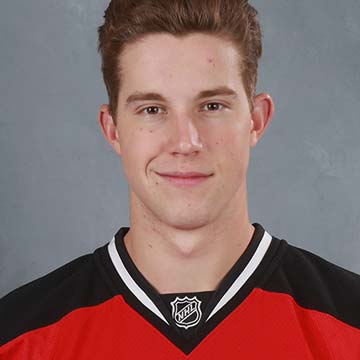 After day three of the development camp (which was a series of 3-on-3 scrimmages) THW sat down with Pavel Zacha to find out if his head is still spinning since it hasn't even been a month since draft day, how things have gone during camp and about making a cultural change to play the game he loves.
The Hockey Writers: After the last month or so you must be happy to be here at this camp and able to just focus on playing hockey and improving right?
Pavel Zacha: Yeah, it was a fun time at the draft, fun to be drafted by the Devils; that's always what I wanted. I was working out after that, and talking to my agent and now I am here. I'm practicing here, I'm here in this locker room and this is what I always dreamed about. This is a great experience for me and there are so many skilled other players here, like today playing against them in the 3-on-3 tournament. It was a great tournament for the fans and for everyone; we've had a lot of fun here, off the ice too. Everyday we get to do something different; we got to see New York City from the boats and we get to know each other more (away from the rink). It was really fun, especially for me since I've never been to New York or seen the Statue of Liberty; that was great for me. Everyday here gets you more ready and more familiar with these guys — I think we will be better people and players after this for sure, and that's what this is all about.
A highlight package of what Devils fans can expect in the near future from Pavel Zacha:
THW: Last season was your first year/experience in North America, playing for the Sarnia Sting of the OHL; can you tell us what it was like for you, not only on the ice, but the culture change as well?
PZ: It was great for me; I always wanted to play in Canada and playing in Sarnia was cool. Two years ago they didn't have a good team because they were last or something, but we drafted some really good players there and I think next season will be great for us (if I'm there) because we'll have (defenseman) Joshua Jacobs, who is here with us at camp and I got to know him a bit already. I think last season we had a great group of guys, coaches too, and management; I like talking to the coaches and the GM all the time, and they try to help me a lot. I was practicing with them as much as I could (on and off the ice) and we had a good season, we made the playoffs and I think, we played a pretty good series. I know I had some injuries and suspensions, but it's past me now and I've learned from it. I think I will be stronger because of these things because I was never injured (before) so it was good and I am stronger now.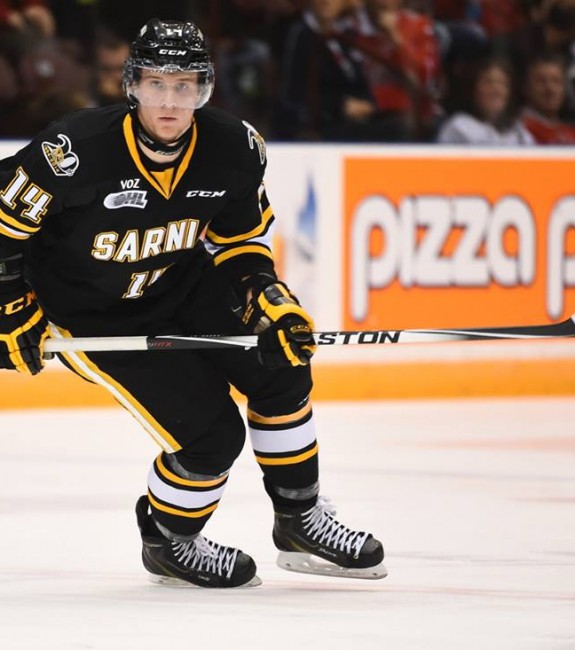 THW: You were quite a big deal when you came overseas, as the first overall selection in the CHL Import Draft; was it expected and did you feel a lot of pressure?
PZ: I was talking a lot with the Quebec Remparts, because they were picking second. But Sarnia called (the) day before the draft and they told me they were picking me so I changed my plans and I was really excited to go there. I was really happy to be there in Sarnia and it was a good year for me.
THW: Is there anyone here in camp that you knew before you arrived here this week?
PZ: Not really, but I texted (with defenseman Vojtech) Mozik when we were coming here because he is also from Czech. We texted a bit after the draft and we met each other here for the first time. But no, I didn't know anyone here, I just knew (of) Jacobs because he traded to Sarnia and I knew he would be here; but I never met him before. It's nice to meet these other players and get to know them. I'm a roommate with Severson, and it's great — he played here (in New Jersey) last season and he is helping me a lot with everything here, and how things go here. I am enjoying spending time with these guys and getting to know them for sure.
THW: Have you been asking Severson a lot of questions about being here in the NHL during the season and stuff like that?
PZ: Yeah, of course; I'm excited because he played last season here (in New Jersey) so he knows how it goes here, he knows the players. I'm just asking him how was the season? How do you get ready for games? He's teaching me how to get ready, eat healthy and all the things that pro players do. That's why he is here (at this camp) because we need to learn a lot of these things; I'm still 18, I still need to learn so many things. It's great to have help from a guy like Damon who played last season and I truly appreciate his help. He's been great.
Dan Rice can be reached via Twitter: @DRdiabloTHW or via Email: drdiablo321@yahoo.com
Dan Rice is in his 9th year of reporting for THW & has covered NJ Devils home games for 15+ years at various websites. He began his journey working for legendary broadcaster/writer Stan Fischler from 2002-04 & completed an internship at the ECHL; he also has been writing features for the NWHL (nwhl.zone) website since 2016.