Beginning this season, the NHL will initiate a three-on-three sudden death overtime lasting five minutes during the regular season, replacing the previous four-on-four format. Though moving from five-on-five in regulation to three-on-three in overtime is ridiculous, it is sure to be an exhilarating five minutes of hockey.
The Nashville Predators, including the 29 other teams in the league, will face the difficult decision of who to put on the ice in three-on-three situations. Unlike most teams, the Predators' strength is its defense. While two forwards and one defenseman will be a common combination in overtime among many teams, Nashville will likely roll one forward and two blueliners a majority of the time.
Take a look at the lines I've come up with below.
Line 1: Filip Forsberg, Roman Josi and Shea Weber
The opponent on any given night is going to begin overtime with its best players. With that being said, Josi and Weber — the best defensive duo in the league — can shut them down. In addition to being a force defensively, Josi and Weber can contribute offensively. They combined for 100 points last season. Among all NHL defensemen, Josi ranked fifth in points with 55 (15 goals, 40 assists) in 81 games, while Weber tied for sixth in goals with 15.
RELATED: Nashville Predators Have Best Defense in NHL
With the extra space in the offensive zone, Weber's 108.5 mph slap-shot could be taken from below the top of the circle, which is a frightening thought for any opposing goaltender.
Also, Josi is one of the best puck-moving defensemen in the game, which is perfect in three-on-three.
Forsberg was the team's best offensive player last season, scoring 63 points (26 g, 37 a) in 82 games, and is expected to produce similar numbers in 2015-16, too. He possesses a lethal wrist shot that can amount to a goal any time space is given to him.
Line 2: Mike Ribeiro, James Neal and Ryan Ellis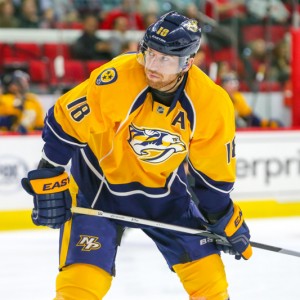 Separating Neal and Ribeiro from each other in the lineup rarely produced positive results. Neal, a natural goal-scorer, needs a play-maker like Ribeiro to set him up for goals. According to DobberHockey.com, 22 of Neal's 37 points last season came when him and Ribeiro were on the same line. Given the space available, Ribeiro will be able to dish the puck to Neal for scoring opportunities.
Ribeiro ranked tied-for-third in the league in even-strength assists with 36 last season.
The downside to having Neal and Ribeiro as a line is the lack of accountability on defense. Ellis will have his work cut out for him on the back end. As another great puck-mover, Ellis can use his speed to chip in offensively.
Line 3: Colin Wilson, Seth Jones and Mattias Ekholm
Ekholm's name on the third line may be surprising, but he is a strong, quick two-way defender and a safe choice in three-on-three play. Last season, Ekholm led all Preds and tied for fifth among all NHLers with Nick Leddy of the New York Islanders in shot attempts with 282, in addition to amassing an impressive plus-12 rating.
Though Jones' assigned role will be at defense, he will probably be mistaken for a forward for the amount of times he will take the puck from end-to-end. Jones is an excellent skater and has an incredible shot from perimeter scoring areas.
After having a career year offensively last season, totaling 42 points (20 g, 22 a) in 77 regular season games and scoring five goals in six playoff games, Wilson is expected to have an even better year under a new contract. His deceptive speed and accurate shot will be deadly in overtime.
If Wilson fails to produce, there are several forwards including Mike Fisher, Cody Hodgson and Craig Smith who can take his place.
Agree or disagree with these three line combinations? Comment below.
Subscribe to our Predators stories to get email updates every time a new story is published.
Colin Fitts is a Nashville Predators staff writer for The Hockey Writers. You can follow him on Twitter, @FittsTHW.