"Offense wins games; defense wins championships." The late, great former University of Alabama head football coach Bear Bryant said the truest quote in all of sports. Though Bryant was referring to football, it applies to essentially every sport — even hockey.
Since the Nashville Predators entered the league in 1998, the organization has stressed building a team from the back end on up. After years of drafting and acquiring the right defensemen, the Predators may have the best defense corps in franchise history for the upcoming season.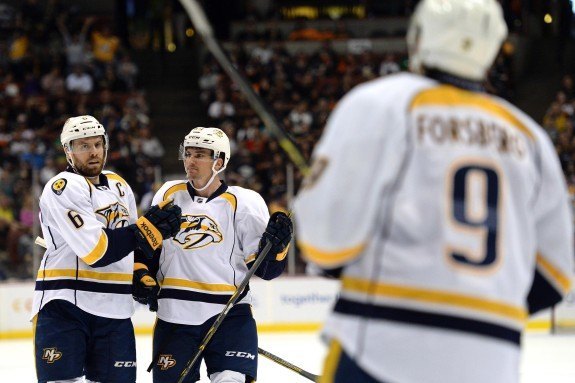 Nashville's defense is headlined by Shea Weber and Roman Josi, a duo that combined for 100 points last season and logged the team's highest average ice time per game.
Weber, captain of the Predators, scored 45 points (15 goals, 30 assists) in 78 games last season. Those 15 goals, most of which came from his blistering 108.5 mph slap-shot, tied for sixth among all defensemen in the NHL. Though Weber has dazzling statistics offensively, his strength is on the defensive side. His 166 hits ranked first on the Preds and placed in the top-25 among all defensemen. Heavily relied upon as the team's top blueliner, since 2010-11, Weber has played the second most minutes in the NHL. Last season, his 26:22 of average time on ice per game ranked fifth among all skaters.
While Weber had a memorable season, his counterpart Josi had a year worthy of the Norris Trophy. Josi had the fifth-most points among all defensemen at 55 (15 goals, 40 asssist), but he did not shine until the second half of the season. His 27 points (eight goals, 19 assists) after the all-star break ranked second-most among all defenders. Much of Nashville's offense is generated by Josi's ability to take the puck from end-to-end with ease. Defensively, Josi is not too physical, but he is not afraid to block shots. He recorded the second-most blocked shots in the league at 209. His average time on ice per game was the highest on the Predators and ranked fourth-most in the league at 26:28.
Nashville's bottom four in Victor Bartley, Mattias Ekholm, Ryan Ellis and Seth Jones are young but have tremendous upside. Ellis and Jones highlights the list, but because they are both right-handed, they will rarely ever be paired together unless on the power play.
Ellis, 24, tied his career high point total of 27 and set a career high in goals at nine despite missing 24 games because of a lower-body injury. It has taken time for Ellis to transition from dominating the OHL for the Windsor Spitfires to the big leagues, but he appeared more comfortable than ever last season.
Jones, 20, had an incredible sophomore campaign, scoring a career high 27 points (8 g, 19 a) in 82 games. His +3 rating last season was an improvement from the -23 rating he recorded his rookie year.
Ekholm, 25, played his first full NHL season in 2014-15, tallying 18 points (7 g, 11 a) in 80 games. Though Ekholm does not have a natural scoring instinct, he can generate offense. His 282 shot attempts was a team high and tied for fifth-most among all NHL blueliners with New York Islanders defenseman Nick Leddy.
Bartley, 27, was the team's seventh defenseman, playing in just 37 games tallying ten assists. As opposed to the three aforementioned, Bartley is a pure defender. He racked up 77 hits and 53 blocked shots last season. When Bartley keeps the game simple, he is playing at his best.
After letting Cody Franson and Anton Volchenkov become free agents, the Predators needed to add one more piece to the team's already loaded defense corps. Nashville signed Barret Jackman to a two-year, $4 million contract on the first day of free agency.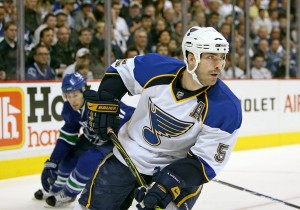 Jackman, 34, played 803 games — his entire NHL career — for the St. Louis Blues. Last season, he scored 15 points (two goals, 13 assists) in 80 games. At 6-foot, 203-pounds, Jackman is as physical as they come. His 108 hits led all St. Louis defensemen.
Physicality is one aspect the Predators' defense lacked, but another part of the game Nashville needed was a go-to penalty killer outside of Josi and Weber. The Predators have not had a pure penalty-killing defenseman since Hal Gill in 2012-13. With the addition of Jackman, he will be able to relieve Josi and Weber for much of their shorthanded duties.
"[Jackman's] biggest asset to us is that he kills penalties," Poile said. "In theory, he should be the first one to go out and kill penalties. I can't tell you how important that will be to us, allowing Weber and Josi to rest."
For everything Nashville lacked last season, Jackman fills the voids for 2015-16.
Though the Calgary Flames bulked its defense with the addition of Dougie Hamilton, and the New York Rangers will return in October with essentially the same corps led by Dan Girardi and Ryan McDonagh, the Predators will have the best defense in the upcoming season.
For Nashville's sake, hopefully coach Bryant is right.
Subscribe to our Predators stories to get email updates every time a new story is published.
Colin Fitts is a Nashville Predators staff writer for The Hockey Writers. You can follow him on Twitter, @FittsTHW.