Last season was a struggle offensively for the Boston Bruins.
The club finished in a tie for 22nd in goals scored with 209. Brad Marchand led the Black and Gold with 24 of those. The only problem was that the winger scored just twice in Boston's final 17 games, including a month-long goal drought at a time when the team could have used his offense.
The need for that elite, goal-scoring winger to play up to alongside play maker David Krejci is a pressing one. The absence of Milan Lucic opens the door for someone on the left side to be the sniper the club desperately needs.
Enter unrestricted free agent Alexander Semin. The former Carolina Hurricane was bought out last week just two years into a five-year contract extension worth $35 million. His poor attitude and performance earned Semin a one-way ticket out of PNC Arena and on to the open market.
It opens the door for the Bruins to pursue the guy that could cure their scoring problems.
Career Synopsis
Semin fits the definition of a sniper. The 10-year NHL veteran has scored at least 20 goals in seven of his nine full seasons and scored over 30 three times (all with Washington). Paired up with Alex Ovechkin, they led a prolific Capitals attack for six seasons burning out the goal light many times in the nation's capital. Semin then went to Carolina in the lockout-shortened 2012-13 campaign and scored 44 points in 44 games, earning him a wealthy contract extension.
Fast forward to this season when Semin fell off a cliff scoring just six goals in 57 games played for the fifth-worst team in the league. People wondered whether the Canes would accept a veteran player who did not fit in with their culture. Sure enough, general manager Ron Francis cut bait with Semin just days before free agency.
Why Boston?
Sweeney has been no stranger to controversy in his short two-month tenure as Boston's general manager. Signing Semin would be a much-discussed, yet smart move for the Bruins. Even with the signing of Matt Beleskey last week, the club still needs that sniper-type winger on the top line alongside Krejci.
The former first-round pick in 2002 fits the bill as a scorer in need of a change in scenery to rediscover the form that made him such a deadly weapon in Washington.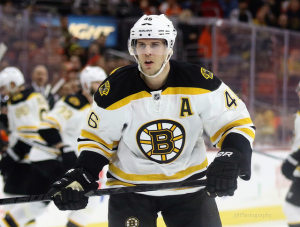 Semin would instantly see top-line minutes and become the Bruins' purest shooter. The six-foot-two-inch forward has one of the best shots in the game and is a threat to score every time he touches the puck.
He is still in the prime of his career at 31 years old and is capable of playing around 18-20 minutes a night alongside one of the underrated play makers in the NHL. Furthermore, it would give the Bruins three legitimate scoring lines coach Claude Julien can roll out every game.
Another underrated part of Semin's game is puck possession. Many people do not think he is a defensively responsible player but they would be badly mistaken. Semin's Corsi-For percentage at five-on-five was just a shade under 56-percent (55.9%) this season, third-highest on the team. In addition, his CF is at 54.3% in his ten-year career.
Julien is fond of two-way players and Semin's stats show he is more than capable of both generating and preventing scoring chances.
Attitude Adjustment?
One of the biggest knocks on Semin after his departure was his poor attitude last season. Canes owner Peter Karmanos Jr. told Chip Alexander of the Charlotte News & Observer that the move was not motivated by money or cap space.
"We didn't buy him out to save cap space or anything. We bought him out because he was a distraction, he wasn't going to perform and we wanted to get on to building a team that could win."
Even with Semin on their roster, Carolina has been rooted near the bottom of the NHL standings for the past three seasons. This year, they were the fifth-worst team in the league with just 71 points and had the second-worst home attendance, averaging just 12,594 fans per game.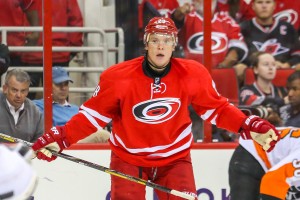 Does anyone think Semin would want to waste a year in his prime playing on a bad team in front of 5,000 empty seats 41 times a year?
That would not be the case in Boston. Semin would find himself playing in front of a sellout TD Garden crowd on a team with more talent than his former employers 722 miles to the southwest. The Bruins have a brighter outlook when it comes to the playoffs than the Hurricanes do and a burning passion for their hockey club year-round.
On a personal level, Semin needs to come out and prove to doubters he is not what Karmanos claimed. The combination is there for perfect match between player and franchise.
What Should Sweeney Spend?
According to generalfanager.com, Sweeney and the Bruins have around $5.5 million in cap space for this season with no pending free agents left to sign after Jimmy Hayes and Brett Connolly signed contracts with the club on Monday.
Alex Semin on a relatively inexpensive short-term contract is a risk I'd be willing to take.

— Аrpon Basu (@ArponBasu) June 30, 2015
The news that Semin would be open to a one-year contract is great news for Boston. As presently constituted, the Bruins need some help on the blue line but a sniper to play in a top-six role is ideal. The club is a borderline playoff team and Semin could be that guy to propel them into the postseason.
A one-year contract around $3-4 million is what Sweeney should aim for. Semin still has a ton of talent but needs the right situation to present itself. In Boston, he would have the chance to give the Bruins a legitimate scoring threat on the wing and resurrect a career that is currently in limbo.
As the old adage goes: one man's trash is another man's treasure. Boston has the potential to strike gold by giving Alex Semin the perfect opportunity to show he still has a lot of gas left in the tank.