The Boston Bruins have signed recent acquisition Jimmy Hayes to a three-year contract, as well as doling out one-year deals for both Brett Connolly and Brandon DeFazio.
Jimmy Hayes' three-year contract is worth an annual cap figure of $2,300,000; Connolly's one-year deal is worth a cap figure of $1,025,000

— Boston Bruins (@NHLBruins) July 6, 2015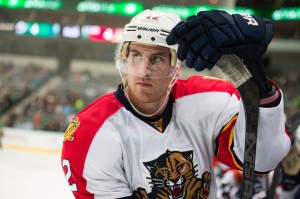 The team has shared the financial terms on the deal, with Hayes getting an AAV of $2.3 million and Connolly's deal getting an AAV of $1.025 million. Hayes' contract represents a sizable raise from his $925K one-year deal he played under last season.
Hayes, a 6-foot-6, 221 pound forward, has played for the Florida Panthers over the last two years, but was acquired by the Bruins this summer in a trade that sent Reilly Smith to the Panthers, as well as Marc Savard's albatross contract.
At 25, Hayes posted career-best numbers in both goals (19) and assists (16) last season, the first season of his career where he played more than 55 games. It was also the first time Hayes posted positive relative possession with a 0.3% score-adjusted CF%Rel. His combination of size and skill makes him a nice fit for the Bruins style of play and a piece of the puzzle as they try to replace Milan Lucic, who was traded to the Los Angeles Kings before the 2015 NHL Draft.
The Bruins also re-upped Brett Connolly, who they acquired from the Tampa Bay Lightning via trade during the season. Unfortunately, injury kept Connolly from being able to help the team last year, only finding his way into five games before the Bruins failed to make the playoffs.
Connolly was a restricted free agent and this one-year deal will help the Bruins get a sense of what they want to give him if they're to retain him long-term. The 23-year-old wing had a nice season last year, scoring 12 goals and 17 assists through 55 games last season at age 22.
The team's final signing was DeFazio, who will be 27 at the start of the season, played his first NHL games last season, grabbing two with the Vancouver Canucks. He's a veteran of 288 AHL games, scoring 60 goals and 58 assists over that span.
A couple of nice contracts there from new Bruins GM Don Sweeney, who, prior to his first season with the team, is giving Bs fans more ups and downs than a James Brown dance routine.
RELATED: Boston Bruins Emerge Victorious After First Day of Free Agency
[catlist categorypage="yes" numberposts=3 excludeposts=this]
Sign up for The Hockey Writers' Boston Bruins newsletter.