Colleague Larry Fisher recently revealed his standings predictions for the entire NHL. He has the San Jose Sharks once again finishing among the bottom five teams in the Western Conference. Lets just say yours truly strongly disagrees with that assessment. Today, I will be predicting the one division I know far better than the others, the Pacific. And before you call me a homer, let me explain why I have the Sharks finishing first.
Sharks > Ducks
Fisher seems quite convinced that the Anaheim Ducks are the team to beat, not just in the Pacific, but in the entire Western Conference. Again, some can call me bias, but I've never been sold on the Ducks since Chris Pronger and Scott Niedermayer left. While a lot has been made about their young defense, they didn't exactly post a great team goals against average in 2014-15. Anaheim finished 20th in the league with a 2.70 GAA and it's not like their goaltenders in John Gibson and Frederik Andersen were to blame. The year prior they were better at 2.48 GAA, good enough for top-10 but not as strong as San Jose that year. The Sharks in 2013-14 were fifth overall in GAA at 2.35.
The Sharks certainly fell flat on their faces last season, with poor goals for and goals against. However, just two seasons ago that fifth overall GAA ranking came via a blue-line group that was much worse talent wise than their 2015-16 projected group. Dan Boyle had the concussion that derailed his season and Brad Stuart regressed big time. Only three defensemen in Marc-Edouard Vlasic, Justin Braun and Jason Demers were above average in 2013-14. When Vlasic went down in the playoffs against the Kings, everyone saw how the Sharks lacked the depth to recover. This year they will have depth in spades.
While the fourth year on Paul Martin's contract is somewhat risky, in the near term, the Sharks basically managed to clone Vlasic. Martin is considered a top-pair shut-down defenseman that can play big minutes. Pittsburgh colleague Michael Pityk raved about Martin's performance last season. Not only do the Sharks now have a second-pair shut-down defender who can fill in if Vlasic were to be injured, but they also have new found depth on the left side. Brenden Dillon is just 24-years old and is slated to start on the third pair, despite having top-four potential. Then, of course, there is 2013 first-round pick Mirco Mueller, another lefty with top-four potential. San Jose has two stud veterans on the left side of their top-four and two young guys with potential eager for ice time. Another great thing about Martin is he can also play the right side. So if either Braun or Brent Burns go down, Martin can slide over and either Mueller or Dillon can slide up.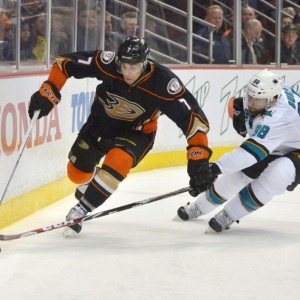 Anaheim colleague Felix Sicard also likes the Ducks defense a whole lot. However, if I'm looking at the top-four going into this season, I will definitely take the Sharks pairs over Anaheim's. Vlasic and Braun have historically made for a terrific top unit shut-down pair and Martin and Burns have the makings of a dominant second pair with the ideal offensive and defensive balance. While I like Sami Vatanen and Hampus Lindholm a lot, I have big concerns about Cam Fowler, Kevin Bieksa and Clayton Stoner. Stoner is simply not a good defenseman, Bieksa is a shell of his former self, and while Fowler provides some offense, he isn't exactly a defensive stud.
No doubt Simon Despres also brings potential to the Ducks' blue line but if we are going to compare the two worst defensemen in projected lineups, I will take Dillon and Matt Tennyson, two solid young skaters playing third pair minutes over Bieksa and Stoner any day of the week and twice on Sundays. Case in point, I like the Sharks defense better than Anaheim's.
I also like the Sharks forwards more than the Ducks. Joe Thornton, Logan Couture and Chris Tierney up front are, at worst, on par down the middle with Ryan Getzlaf, Ryan Kesler and Rickard Rakell. Joe Pavelski and Corey Perry are comparable top wingers. As for other wingers, I'll take the Sharks' group of Tomas Hertl, Matt Nieto, Tommy Wingels, Patrick Marleau and Joel Ward over Chris Stewart, Carl Hagelin, Patrick Maroon, Jakub Silfverberg and Jiri Sekac.
Goaltending is pretty much a wash with both teams having highly touted young goaltenders without much in the way of NHL track records. Clear edge to San Jose overall. The Ducks went to the Western Conference Final last year with the Sharks and Kings each having off years. That's not going to happen again.
Sharks > Kings
Again, this may sound silly, but think about this logically for a moment. If any team is more motivated than another, it would be the Sharks, and when it comes down to rosters, the Sharks are far more capable of repeating or surpassing their 2013-14 success than the Kings.
LA isn't what they were in 2013-14, not without Willie Mitchell and Slava Voynov on the blue line anymore. Dustin Brown had a second straight miserable year in 2014-15 and Mr. Game 7 is now in Washington. The Kings added Milan Lucic, but he's a dying breed of player who had his worst season since 2009-10 last year (just 44 points). Los Angeles simply doesn't have the defense depth, nor the bottom-six depth to outpace the Sharks. Right now, Trevor Lewis is slated to center LA's third line. He is much more suited for fourth-line duty. The Sharks have the up-and-coming Tierney centering their third line. Tierney finished the year with 14 points in his final 18 games by showing off elite play-making abilities.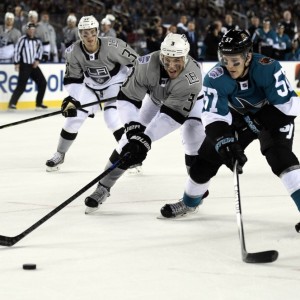 There is no question Drew Doughty and Jake Muzzin are a better top-pair than Vlasic and Braun. But behind those two, the Kings blue line doesn't have the depth from years past. Alec Martinez, Matt Greene and Brayden McNabb don't compare to Burns and Martin. The Kings' goals against last year was a solid 2.40; a great mark, top five in the league. But it wasn't nearly as dominant as the previous year when they won the Stanley Cup. I fully expect the Sharks and Kings to both finish around 2.40 GAA this upcoming season. The Sharks have a chance to be even better, though.
Offensively, I'll take the Sharks, defensively a wash, and netminding a wash between these two teams. Martin Jones' AHL track record suggests he will be average at the very worst and Jonathan Quick has proved to be just that during the regular season, average.
Sharks > Flames > Oilers > Coyotes > Canucks
The Canucks managed to make the playoffs last year but little about them that makes me think that wasn't a fluke. Going into last year, many predicted them to take a step back, and this is the year that actually happens. There are too many question marks up and down that lineup. The Coyotes have a lot of young prospects coming up but, similarly, possess too many concerns throughout the roster.
Edmonton got a whole heck of a lot better with Connor McDavid, Cam Talbot and Andrej Sekera, but still not sold they have the depth at any position to truly compete just yet. McDavid may be awesome, but so are Sidney Crosby and Evgeni Malkin and those two haven't done much since Jordan Staal left Pittsburgh.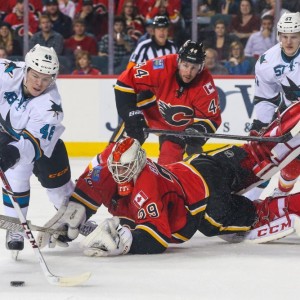 And finally, there is Calgary. A number of Flames fans came down hard on me via social media last year when I tweeted they weren't interesting to watch. They were a bad possession team, and for an analytics guy, their overall success, including at the hands of the Sharks, didn't sit well with me.
Possession wise the Flames should be much better this year with Dougie Hamilton, Michael Frolik and Sam Bennett added, Calgary will be much stiffer competition than either the Ducks or Kings. In fact, I don't really have any arguments to say why the Sharks will be better than the Flames. These two teams are pretty darn equal. Bennett and Frolik give Calgary the extra boosts up front, and Hamilton gives them one of the best blue lines in the league. These two teams are very comparable on paper. My hunch tells me it will come down to head-to-head record between Calgary and San Jose for the top spot in the Pacific. My bias tells me the Sharks will get some revenge from last season and win the season series after the Flames dominated it last year.
Therefore the Pacific division will finish as follows:
1. Sharks
2. Flames
3. Kings
4. Ducks
5. Oilers
6. Coyotes
7. Canucks
Andrew has been credentialed to cover the Sharks since 2010 and the 49ers since 2012. He graduated with his BA in Broadcast Electronic Communication Arts in 2013 from San Francisco State University.