The big question has been answered — the Windsor Spitfires are selling off. General manager Warren Rychel made the first move on Thursday by sending a key member of the 2017 Memorial Cup roster to the Eastern Conference.
Late Thursday morning, Rychel traded veteran forward and team captain Aaron Luchuk to the Barrie Colts in exchange for 17-year-old forward Curtis Douglas, Sudbury's second-round pick in 2021, Barrie's second-round pick in 2022 and Barrie's third-round pick in 2024.
In Luchuk deal, the Spitfires receive @curtisdouglas17, SUD's 2nd in 2021, BAR's 2nd in 2022 and BAR's 3rd in 2024. On our way to meet up with Looch for some video before he leaves (shortly). Full story a little later on.

— Windsor Spitfires (@SpitsHockey) December 14, 2017
It was a sudden and difficult move, but not an unexpected one, and it's a clear indication of the Spitfires' upcoming rebuild.
Luchuk Was Mr. Everything
Luchuk's time in Windsor was everything a fan and team could hope for. Drafted by the Spitfires in in the fourth round of the 2013 OHL Draft, Luchuk spent a season in LaSalle Jr. B to develop his craft.
In 2014-15, he came onto the scene with 23 points in 67 games for the Spitfires. Luchuk followed that up with a 27-goal campaign in 2015-16 and a 28-goal campaign in 2016-17. He also scored the 2017 Memorial Cup-winning goal against the Erie Otters.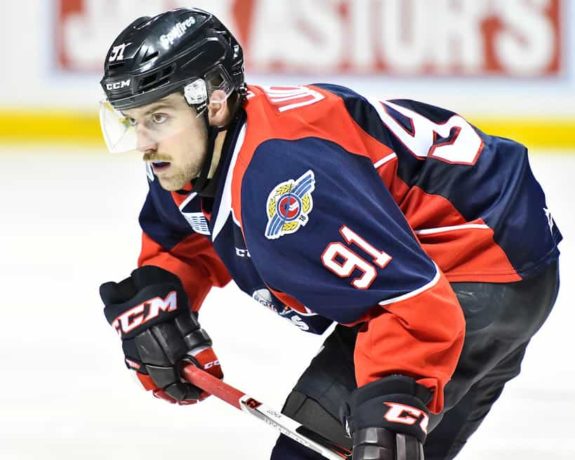 Luchuk was named the Spitfires' captain at the start of the 2017-18 season and immediately showed he could live up to the billing. Through 30 games, he was already at 28 goals and 51 points. Those totals include 17 points on the power play and four points while shorthanded. Add in his league-leading 478 faceoff wins and you've got a complete player.
Not only was Luchuk a wizard on the ice, but he was consistently in the community. He routinely got involved in team events and was always approachable. This was his team, the players and fans adored him, and he's certainly going to be a hard person to replace, in all aspects.
Make no mistake; while he gets a chance at a second Memorial Cup, it's not an easy situation for anyone in Windsor.
Teach Spitfires How to Dougy
While the Spitfires lose a lot, they also gain plenty. Coming back is a player that was sorely needed.
The 6-foot-8, 234-pound Douglas comes in as a prospect for the 2018 NHL Draft. After nine points and 19 penalty minutes in 53 games for the Colts in 2016-17, he has broken out with 18 points and 37 penalty minutes in 28 games this season. He's a power forward who's not only able to score but also hit and protect with enthusiasm.
After the Spitfires traded veteran Hayden McCool to Oshawa earlier this season, they were without a grinding power forward. Now, they have their guy.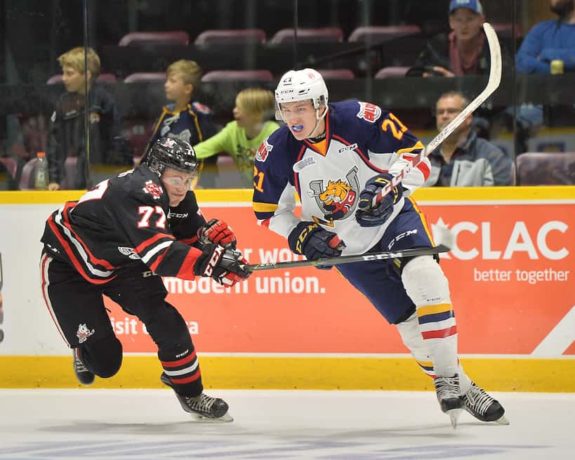 The picks were a big part of the deal for the Spitfires, too. Rychel went big for the Memorial Cup last season, dealing away several picks. As a result, they were lacking second and third-round picks from 2018 through 2022.
The deal gives Windsor three valuable picks in the long term that could be used in a variety of ways. The picks are well into the future but it's expected that any picks acquired before the Jan. 10 trade deadline will fill in the gaps.
Tough but Necessary for Future
Deals like this show the tough, human side of the business. Nobody wants to see a player leave when he means this much to a city. Luchuk was everything the Spitfires had hoped for and he was a fixture in the region.
There are some positives for the Spitfires to look at, though. They gain a highly-touted prospect who was listed as a 'C' prospect (expected to be drafted in rounds 4-6) in the November edition of the NHL Central Scouting's "Players to Watch" list, on top of much-needed picks. Those will bode well for the future.
It's a tough day in Windsor but the start of a new era. It's also likely the first of many moves before the deadline. The first domino has fallen.