As we approach the 2018 NHL Trade Deadline, the Detroit Red Wings once again find themselves trending toward the "sellers" designation. A wild-card spot is in reach, but the organization has higher priorities, namely the development of its young players and adding quality assets for the future.
Now in the last year of his contract, Red Wings general manager Ken Holland has at least one more trade deadline to advance the rebuild. After failing to fully commit in previous years, Holland took the plunge around this time last year when he dealt a handful of players for prospects and draft picks. He'll likely be doing the same this season, keeping Detroit's best interests in mind.
Related: Ken Holland Needs This 2018 Game Plan
So where do the Red Wings stand with regard to their organizational facelift? Let's delve into the rebuild by reviewing organizational depth of quality players aged 23 and under.
Red Wings Goalies
Depth: Filip Larsson (19), Keith Petruzzelli (18), Joren van Pottelberghe (20)
In net, the jury is still out. The trio of Filip Larsson, Keith Petruzzelli and Joren van Pottelberghe has NHL potential, but each player is still years away from seeing action with the Red Wings. Of the three, Larsson and Petruzzelli are the most intriguing.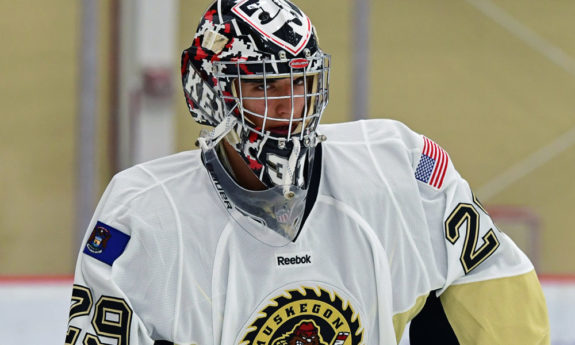 Like Petruzzelli last year, Larsson has been dominating the USHL and will transition to college hockey in the fall. Detroit's hope is that Larsson can lock down the University of Denver starting job right away and continue his development. They had the same hope for Petruzzelli, who has sat behind incumbent Quinnipiac starter Andrew Shortridge for most of the season.
While there's still time to improve Detroit's goaltending depth, the Red Wings do not have an NHL-ready prospect. In fact, their present goaltending situation may be behind on the rebuild timeline. But if Petr Mrazek can find his game and provide decent goaltending over the next three to five years—or Detroit finds a short-term solution on the free agent market—they'll be fine until one of Larsson, Petruzzelli, or van Pottelberghe arrives in Hockeytown.
Related: How the Red Wings Should Proceed with Mrazek
Red Wings Defensemen
Depth: Dennis Cholowski (19), Joe Hicketts (21), Filip Hronek (20), Kasper Kotkansalo (19), Gustav Lindstrom (19), Vili Saarijarvi (20), Jordan Sambrook (19), Malte Setkov (18), Libor Sulak (23)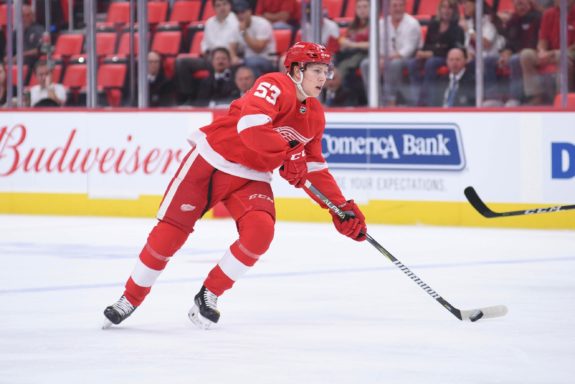 Detroit's blue-line pipeline is certainly in better shape than its goaltending depth. While none will be truly elite in the NHL, there is talent to go around.
In addition, Detroit's defensive prospects are part of readiness waves. Joe Hicketts, Filip Hronek and Vili Saarijarvi may see some NHL action this season and will push for roster spots next year. Though their overall skills vary, the next wave of Dennis Cholowski, Jordan Sambrook and Libor Sulak is only a couple of years away from seeing playing time in Hockeytown as well. Finally, Detroit has long-term depth in Kasper Kotkansalo, Gustav Lindstrom and Malte Setkov, who most likely won't be NHL-ready for another five years.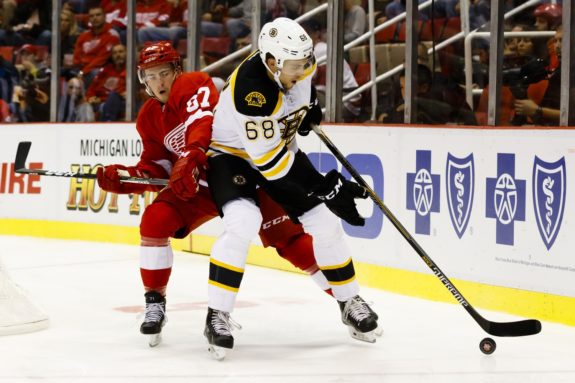 To supplement this already deep group, the Red Wings have a few long-shot prospects who could still pan out. Patrick Holway, Alfons Malmstrom, or Reilly Webb could crash the party in a few years. Holway, in particular, has had an impressive sophomore season at the University of Maine, leading the school's defensemen with a near point-per-game pace.
Overall, Detroit's depth on defense is great, but not spectacular. However, selecting a quality defenseman with a top-five draft pick (*cough* Rasmus Dahlin *cough*) would instantly give the Red Wings one of the best defensive prospect pipelines in the NHL.
Red Wings Forwards
Depth: Andreas Athanasiou (23), Tyler Bertuzzi (22), Zach Gallant (18), Axel Holmstrom (21), Dylan Larkin (21), Anthony Mantha (23), Michael Rasmussen (18), Givani Smith (19), Evgeny Svechnikov (21), Dominic Turgeon (21), Lane Zablocki (19)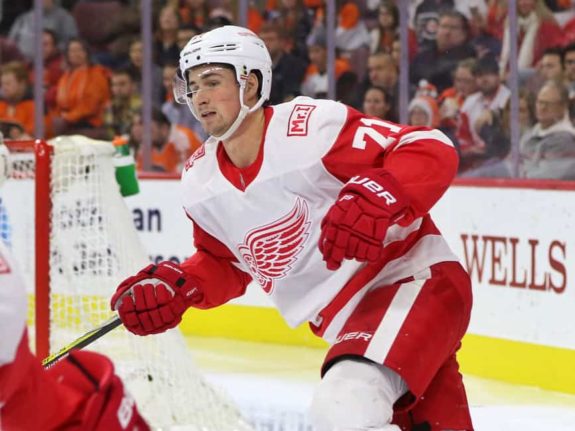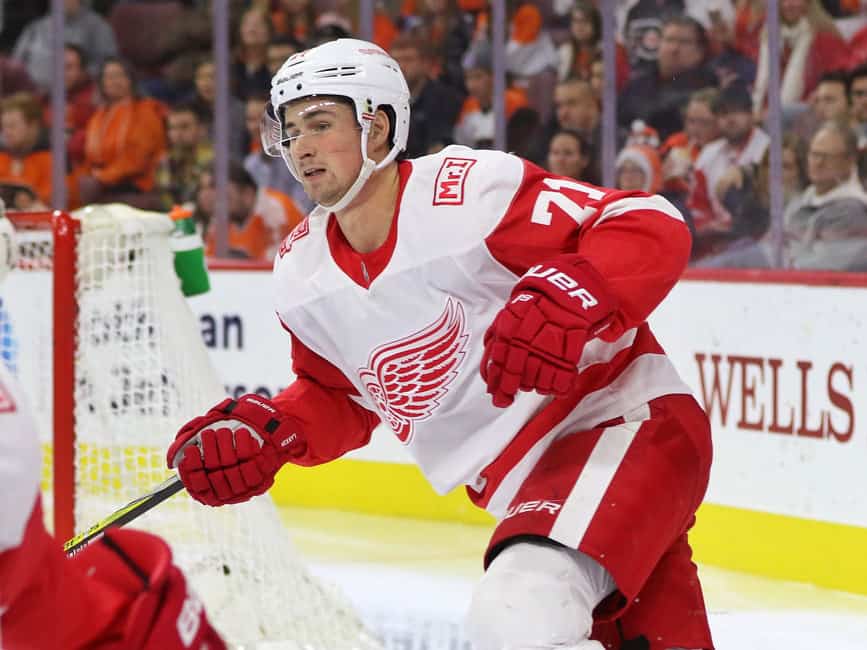 With Andreas Athanasiou, Tyler Bertuzzi, Anthony Mantha and Dylan Larkin already in the NHL plus Michael Rasmussen and Evgeny Svechnikov not that far off, Detroit has some solid depth up front. However, these six will need help to carry the team and there's not much in the pipeline behind them.
It's true that the Red Wings have veterans and depth players who will also be in the lineup for years to come. Justin Abdelkader, Frans Nielsen, Tomas Tatar and Henrik Zetterberg will be mixed in with Detroit's young stars at the very least. Martin Frk and Darren Helm could be there as well. Even with these players in the lineup, the Red Wings still need more on offense to compete at a high level night-in and night-out.
Like their defense, the Red Wings do not presently have truly elite forwards. Mantha and Larkin are close – maybe a new coach could elevate their play to that level. But otherwise, they lack that every-night game-breaker on offense. Spending their first-round pick on a forward like Andrei Svechnikov, Brady Tkachuk, or Filip Zadina would bring the organization a little closer to having that sort of player. Having an additional first-round selection to add further depth would be even better.
2018 NHL Draft
As it stands now, the Red Wings have the eighth-worst record in the NHL. However, third-worst Ottawa only has four fewer points than Detroit. It's entirely possible that the Red Wings end up with a top-five pick in this year's draft, if not a top-three pick.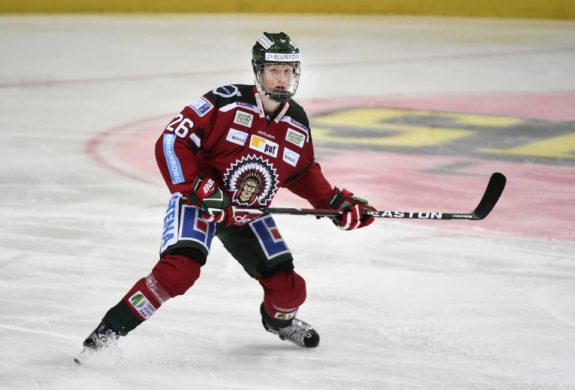 In addition to the likely lottery selection, Detroit will also have its early second-round pick, plus Ottawa's second-round selection, which was acquired from the New York Rangers in the Brendan Smith trade. If you factor in a late-first-round pick they could receive in a Mike Green trade, it's very possible that the Red Wings could end up with four draft choices within the first 40 selections. Those four picks will go a long way in improving Hockeytown's respectable depth considering the talent available in this year's draft class.
Related: Red Wings Trade Partners for Mike Green
Final Word
While Detroit's rebuild phase officially started a short while ago, they've made great progress, and the upcoming draft could make it that much better. Moving Mike Green just as they did with Brendan Smith the year before is exactly what the doctor ordered for a full franchise recovery. Depending on the return for Green, this could be the Red Wings' most important draft since 1989, when they selected Nicklas Lidstrom, Sergei Fedorov, Vladimir Konstantinov, Mike Sillinger and Dallas Drake.
It will still be a couple of years before the Red Wings are true playoff contenders again. Young players need to develop and adapt to the NHL game. However, they're at least laying the foundation to sustain a decade-long run. It may be bleak at the moment, but the future of Hockeytown is bright.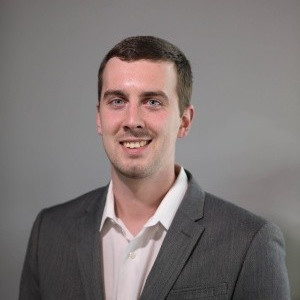 Tony Wolak is based in the Washington D.C. area and covers the Detroit Red Wings for THW. As a former junior and college hockey player, Tony has a unique perspective on Red Wings topics.