If it hasn't already been determined, the long-term partnership between Ken Holland and the Detroit Red Wings is likely headed toward an impasse. Detroit's long-time general manager is in the last year of his contract and extension talks have yet to surface. Further, the franchise is at a crossroads – stuck between making the best of it and committing to an all-out rebuild.
Before the 2017-18 season ends, and Holland's contract expires, it's his duty to make the Red Wings a better team. There's a lot of work to be done to restore the historic franchise to its previous strength.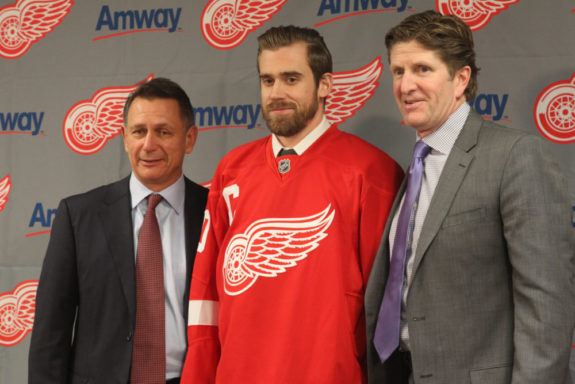 Whether or not he's part of the complete turnaround, Holland has the ability to push forward with the rebuild. He has a few months to complete trades and prepare for the fully loaded 2018 NHL Draft. And if solid progress is made over the remainder of the season, Holland could buy himself a contract extension with the Red Wings – the only organization he's known over the past 35 years.
Setting the Stage
As Holland and the Red Wings head into their bye-week, they sit in 12th place in the Eastern Conference, five points back of the final Wild Card playoff spot. A return to the postseason is unlikely given Detroit's paltry record and the teams in front of them.
In addition to the their present spot in the standings, there are a few other factors to consider when determining how Holland should approach the second half of the season:
As mentioned, this is the final year of Holland's contract with the Red Wings.
This is also the last year of coach Jeff Blashill's contract with Detroit.
Mike Green is a coveted addition for playoff contenders.
Given the tight standings, there figures to be fewer sellers this year.
Above all else, Holland's number one priority is to improve the Red Wings organization.
The human element of having an uncertain future could play a role in decision-making.
With these forces in play, time is ticking to get the job done. Here's how Holland can progress the rebuild and possibly save his own skin.
Red Wings Coaching Changes
Blashill's mantra as head coach of the Red Wings has been to "trust the process." For a younger team learning the NHL game, this is a fine approach to take. However, the Red Wings have a mix of veterans who've seen Stanley Cup Finals action and youngsters adjusting to the rigorous 82-game NHL schedule.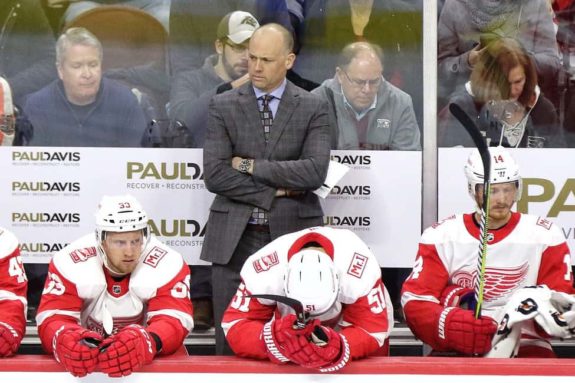 More importantly, the Red Wings have regressed throughout Blashill's tenure. Last season's team performed worse than the year before. This year's team is already looking less promising than the 2016-17 team that failed to make the postseason for the first time since the George H.W. Bush Administration. And, even though Blashill and Mike Babcock aren't on the same level as NHL coaches, Blashill's first year paled in comparison to Babcock's last with the organization.
The loss of Pavel Datsyuk has certainly contributed to this downfall. As did the reliance on older players who were past their prime. The main issue, though, is that the younger players did not improve year-over-year as you'd expect. Tomas Tatar, Riley Sheahan, Andreas Athanasiou, Danny DeKeyser, Petr Mrazek, Gustav Nyquist, Justin Abdelkader and others plateaued or regressed under Blashill's watch. Dylan Larkin did as well before a stronger 2017-18 season.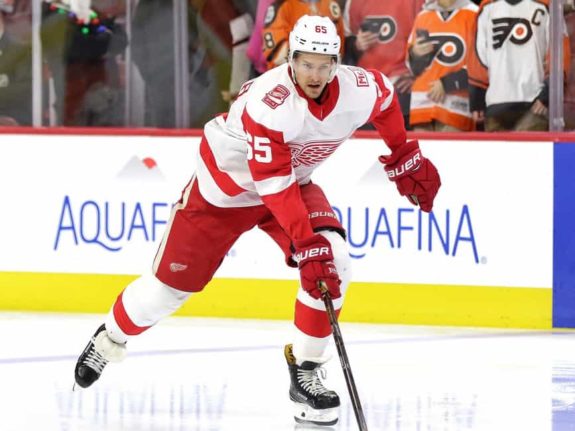 With that being said, Holland should not fire Blashill, yet. He should give the third-year coach a chance to turn the team around in the second half. Blashill should be judged on the progression of players, rather than wins and losses. If there's more of the same, Holland should let Blashill go and give John Torchetti or Todd Nelson a couple months to audition for the head coach role.
Once the season is over, Holland and the Red Wings could look to hire Barry Trotz — who is also in the last year of his contract — or Dave Tippett to guide the rebuilding team next year and beyond (if Holland is still the decision-maker). This would be Detroit's version of how the Maple Leafs hired Babcock to coach the team through their own rebuild.
Selling Before the Trade Deadline
Heading down the stretch, the Red Wings look like they'll be sellers once again. Even if the team continues to win, Holland should follow St. Louis' approach from last season. The Blues were in playoff contention, still sold at the deadline (traded Kevin Shattenkirk), and continued to push for the postseason after.
Unlike last season, Holland only has a couple of pending unrestricted free agents to sell off, including coveted defenseman Mike Green. This spring's primary goal will be to aid the rebuilding process, with a secondary goal of opening up cap space given this summer's free agency outlook.
There are a few players who Holland should consider dealing: Green, Nyquist, Mrazek and David Booth. While he's working the phone lines, Detroit's GM does have the benefit of being one of the few selling at the trade deadline. Less sellers equals more demand, which means Holland can push premium prices on the buyers.
Mike Green
First and foremost, Holland absolutely needs to trade Green for picks and/or prospects. He'll likely be looking for greener pastures — get it? — after the season concludes and the veteran once again reaches free agency. Detroit does not have the cap or roster space to retain Green, so they should move him and get something in return.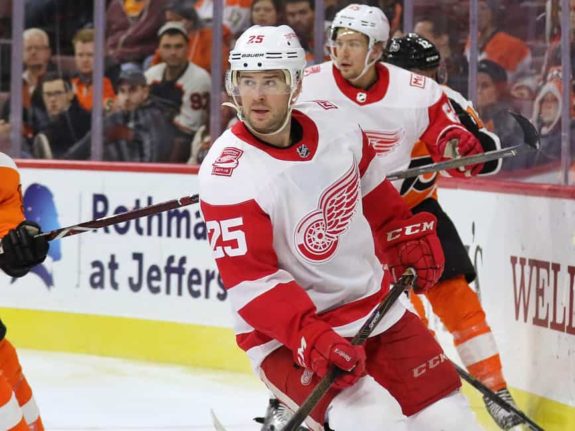 Of the teams looking to add a defenseman before the trade deadline, Edmonton appears to be a good trade partner for Green. Holland should start the asking price at a first-round pick plus a prospect, if he hasn't already been kicking tires on Green. While that return is entirely possible, the likeliest scenario is Detroit receiving only a first-round pick in exchange.
Given the strength of this year's draft class, it's imperative that Holland grabs a Day 1 selection in exchange for Green. That additional first-round draft choice will go a long way as Hockeytown restores its roar.
David Booth
As the other pending unrestricted free agent, David Booth should be dealt later this season, but it's unlikely that he'll have very many suitors. Nonetheless, Holland should still aim to pick up a sixth or seventh round pick for the former training camp invitee.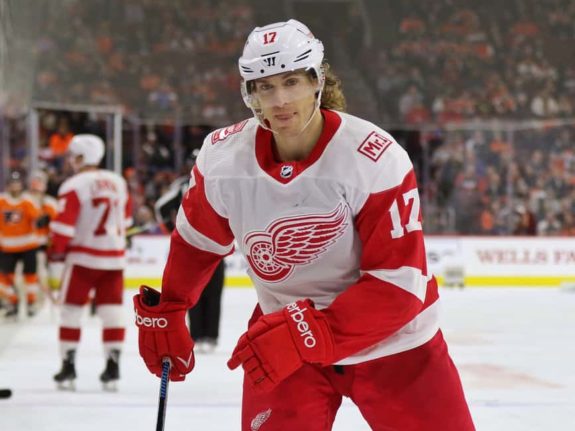 Late-round picks are typically long shots, but they're better than letting Booth go at the end of the year for nothing. Holland pulled off a similar trade last year with Montreal when he dealt Steve Ott for a 2018 sixth-round pick.
While it's not a high priority to move Booth, the additional draft choice would be nice. It's just another chance to progress the rebuilding process and find a late-round gem.
Petr Mrazek
Dealing Petr Mrazek depends entirely on who or what teams are willing to give up. If Holland can convince a fellow GM to part with a second-round pick or quality prospect for the young goaltender, he should definitely trade Mrazek this year. If not, then Holland needs to retain him for the time-being.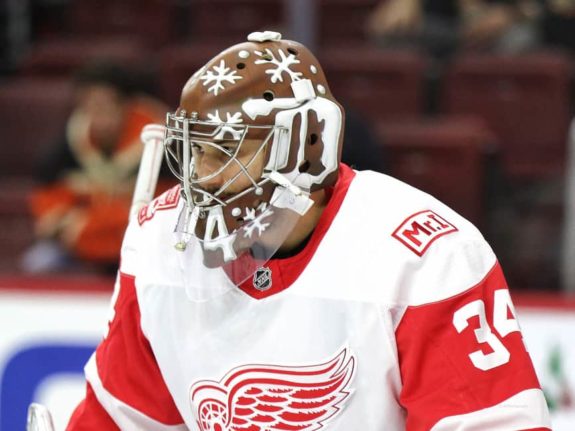 Unlike Green and Booth, Mrazek is not a rental player. He's a pending restricted free agent and can likely be re-signed to a team-friendly deal this summer. Holland knows his value is down compared to previous years and should take a page out of a stock market analyst's playbook: don't sell low. The Czech netminder can always be re-signed and dealt next season if his play pick up – or held onto as a co-starter.
Gustav Nyquist
For the long-term health of the franchise, Holland may want to unload some bigger contracts. Gustav Nyquist represents someone of that nature and could bring back a significant return. He's been producing for Detroit, too. Since Dec. 1, Nyquist has led the Red Wings with seven goals and could be a great top-six addition to a contending team.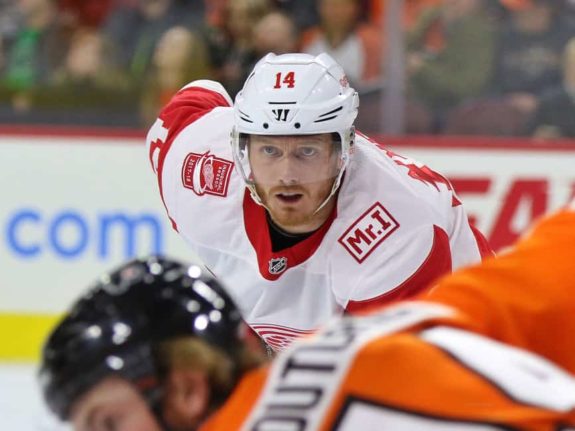 If Holland makes the executive decision to fully commit to the rebuild, he should strongly push to trade Nyquist. With only one more year left on his contract, Detroit could retain salary if it meant receiving better compensation for the Swedish winger. As for what Holland should ask for in exchange for Nyquist, another first-round pick would be the goal, but a top prospect plus a second or third-round pick would also work.
Trading former 28-goal scorer would certainly be a difficult decision. However, Nyquist's value likely won't get much higher – he'll be an unrestricted free agent next summer and is already 28-years-old. If Holland can pull off a deal to ship Nyquist out of Hockeytown for a fantastic return, he may earn more trust from ownership and the fanbase and, more importantly, earn the opportunity to guide the Red Wings through the rebuild phase over the next couple of years.
Others on the Trade Block
In addition to the players listed above, Holland should listen to any and all offers proposed. With the exceptions of Dylan Larkin, Anthony Mantha, Andreas Athanasiou and Henrik Zetterberg, all roster players should be made available.
In the event that John Tavares actually hits the market in July, Detroit needs to have the cap space to make a legitimate offer to the star center. They'll barely have enough to sign their own pending restricted free agents at season's end if no other contracts are shipped out.
While signing Tavares has a low likelihood of happening, adding the center would instantly fast-forward the rebuild. Detroit would have their true number-one center and face of the franchise, plus their 2018 lottery pick. Add those components to Larkin, Mantha, Athanasiou, Michael Rasmussen, Tomas Tatar, plus depth players and the Red Wings' future would look a lot brighter.
Post-Trade Deadline Management
Let's say Holland trades Green and Booth ahead of the deadline. Additionally, Holland also decides to relieve Blashill of his duties and give Nelson a shot at the head coach job. Then what?
Holland and the Red Wings should do everything they can to develop their younger players and better position themselves for the draft. Next year, Larkin, Mantha, Athanasiou, Bertuzzi and Detroit's other young guns will absolutely need to carry the team. To do so, they'll need to learn to play against top competition night-in and night-out and prove that they can perform regardless of who else is on the ice. While it's ultimately the coach's decision, Holland should push for his young players to play top minutes for the remainder of the season and make sure no corners are cut.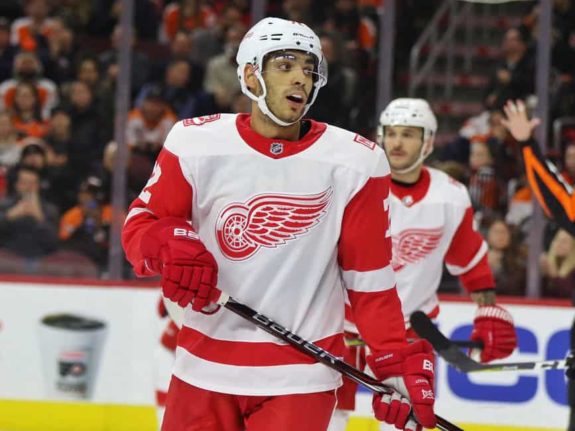 With roster spots open after the Green and Booth trades, Holland should give prospects a few NHL games to boost their development. In place of Green, Joe Hicketts and/or Filip Hronek would be recalled and ideally given some power play time to showcase their quarterbacking skills. Up front, Holland should give a few Grand Rapids Griffins forwards a chance to crack the NHL lineup, including Evgeny Svechnikov, Dominic Turgeon and the recently acquired Matt Puempel. Some of those five prospects — if not all — could find themselves on the 2018-19 Red Wings team if more players are moved.
Off the ice, Holland's scouting team needs to do their homework (and then some) ahead of this year's draft – possibly the most important draft over the last quarter-century. By trading Green and other players, the Red Wings could have as many as five picks in the first two rounds. Holland and company will need to hit on those picks to advance the rebuild. Having a great scouting report and plan of attack will give them a leg up in accomplishing that goal.
At this point in time, the chances of landing the first overall pick are slim, but that could change over the next few weeks. Drafting Rasmus Dahlin would be a fitting move for the franchise, but they'll need a few more losses and some luck to do so.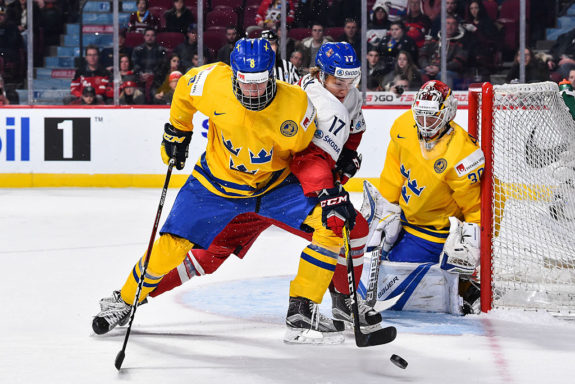 If Detroit acquires an additional first-round pick, Holland should also consider pairing the two — maybe more — to move up and select Dahlin if they end up picking outside of the top-five. The slick-skating blueliner has been compared to Erik Karlsson and represents a potential top-pairing, cornerstone defenseman that could lead the Red Wings for a decade-plus.
Final Word
Holland's time in Detroit may be coming to a close. He has a few more months to improve the Red Wings on and off the ice, and he'll certainly be feeling the pressure to do so.
However, there is a lot of potential for Holland to accomplish these goals. The Red Wings have quite a few moveable assets and opportunities for their long-time general manager to show why he was once considered one of the best. If Holland can acquire a handful of picks and prospects, unload a big contract or two, and overseas the development of Detroit's top young players, then he'll put himself in good position to receive a contract extension.
How do you think Ken Holland should proceed with the Detroit Red Wings? Comment below with your take.