It appears that the Detroit Red Wings and Mike Green will be parting ways in the near future. The defenseman is in the last year of his contract and is a coveted asset. His present organization is on the outside of the playoff picture and is looking to rebuild.
Given the haul for Matt Duchene and the limited number of quality defensemen on the trade block, Red Wings fans are salivating at the thought of what a Green trade would bring back to Hockeytown. Clearly, the veteran defenseman is not a young star like Duchene, but still has the potential to net Detroit a solid return to add to their already impressive collection of 2018 draft picks. And if you haven't heard, the 2018 NHL Draft class will be stacked in terms of top-end talent and depth.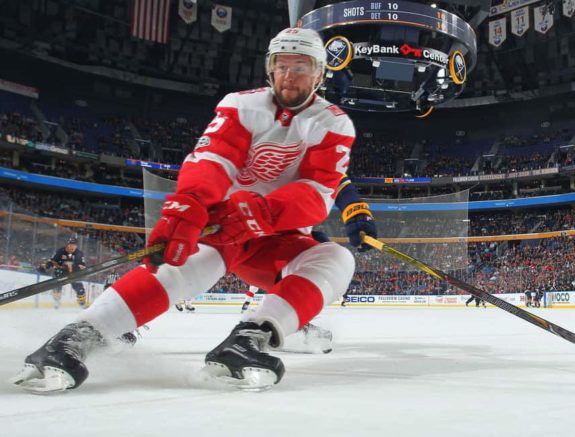 With a trade imminent, let's take a look at Green's value and the possible suitors for him and the Red Wings.
Mike Green's Trade Value
Even though the Red Wings will be trading a quality player in Green and losing a big chunk of the offense generated by their blueliners, fans can take solace in knowing that teams will pay a high price for the defenseman's skill set, including:
Offensive mindset and touch
High-end mobility
Right-handed shot
Ability to quarterback the power play
Playmaking vision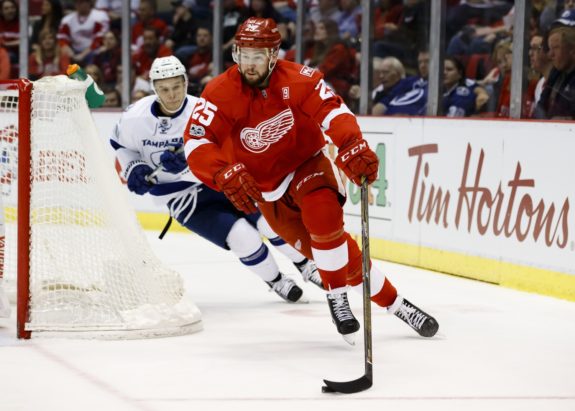 In addition, Detroit has the ability to retain up to half of Green's salary if need be. By saving another team $3 million in cap space, the Red Wings could receive more from his new team in exchange. Acquiring a player of Green's talent with only a $3 million cap hit would be a fantastic acquisition for the playoff stretch.
Mike Green's Suitors
It's no secret that the Red Wings will want to maximize their return for Green to aid the rebuilding process. So which teams make the most sense with regards to their available assets? Here are a few potential options:
Edmonton Oilers
After a breakthrough 2016-17 campaign, Connor McDavid and the Oilers have taken a step back this year. This is partly because of poor goaltending and lack of scoring depth. If general manager Peter Chiarelli wants to return to the playoffs this season, he'll be active on the trade front this year. Adding Green – and potentially Petr Mrazek as well – will bolster the Oilers' roster and give them a better shot at a postseason berth.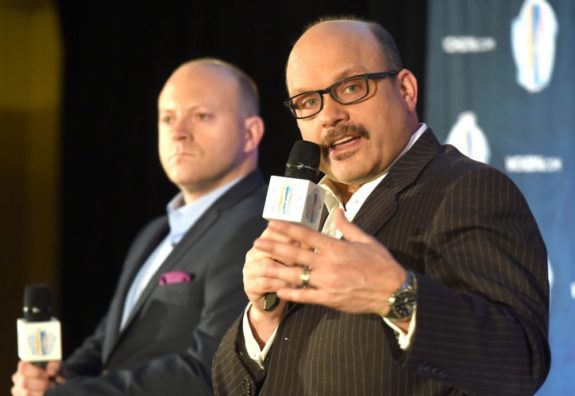 Edmonton has all of their 2018 draft picks and a slew of talented prospects, headlined by winger Kailer Yamamoto. While the odds of acquiring Yamamoto for Green are slim, they are greater for acquiring one of the Oilers' top draft picks. Given the present trade market and Edmonton's needs, acquiring either their 1st round pick or their 2nd round pick plus a prospect wouldn't be out of the question. Edmonton has cap space to afford all of Green's $6 million cap hit but they could look for other deals and would need to save money somewhere.
As mentioned previously, the Oilers could be interested in Mrazek as well. Gustav Nyquist could be appealing too if Edmonton wanted to add depth up front. Overall, the Red Wings and Oilers appear to be good trade partners, so don't be surprised if some deal occurs.
Toronto Maple Leafs
The rebuilding Maple Leafs are now in the stage of competing for the Stanley Cup. To better their chances, team president Brendan Shanahan and his brain trust will want to add some rental depth before their young stars need new contracts. Toronto has no cap space to spare, so any deal with the Red Wings would require Detroit to take on a roster player unless a separate trade happens first.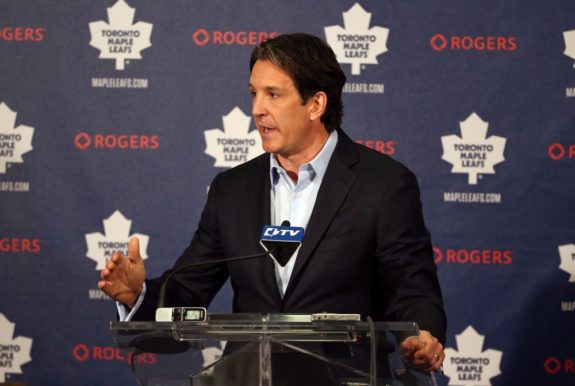 As far as tradable assets go, Toronto has their 1st round pick plus two 2nd round picks, with the second pick previously belonging to San Jose. In addition, they have one of the best prospect pipelines in the NHL thanks to those tough rebuilding years.
With the Maple Leafs, a similar trade could be worked out as with Edmonton. It would be odd to see the Red Wings trade with a divisional rival, but long-term stability is more important than short-term game results.
Washington Capitals
It wouldn't be surprising to see Green's old team make a play for him before the trade deadline. Following the departures of Kevin Shattenkirk, Karl Alzner, and Nate Schmidt, Washington's blue line is a little thin. They've relied on prospects to fill the void left by those players but they may want to add some depth ahead of the postseason.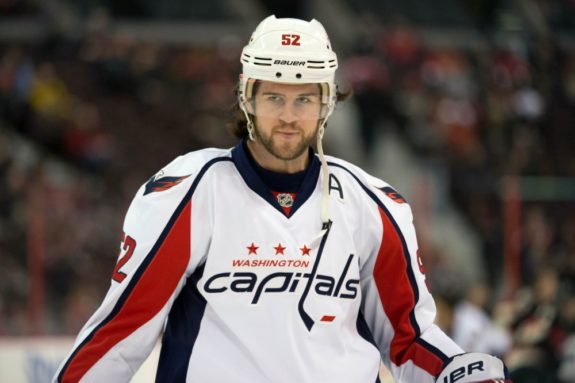 Washington has their 1st round pick plus Florida's 2nd round pick in this year's draft. Additionally, they have solid prospect depth, but really no high-end talent. However, the Capitals do not have a lot of cap space to spare. They would need to either send a roster player back to the Red Wings or work out a separate deal. Regardless, the need for defensive depth is there.
Other Contenders
Before Green is ultimately dealt, other teams will likely pitch Detroit for his services. It would not be surprising to see the Montreal Canadiens, Nashville Predators, and/or Los Angeles Kings reach out to the Red Wings before the trade deadline with hopes of acquiring Detroit's offensive defenseman.
Final Word
Of the possible trade partners, Edmonton appears to be the ideal choice. Their combination of quality draft picks and solid prospects would greatly aid Detroit's rebuilding process if Green was sent there. In addition, if the Oilers and Red Wings got together for a blockbuster deal involving Green, Mrazek, and possibly Nyquist, just imagine the return Detroit could receive.
What's your expectation if the Detroit Red Wings traded Mike Green? Comment below with your thoughts.