Every year, Detroit Red Wings general manager Ken Holland uses the American Thanksgiving holiday to evaluate where his team stands and how to approach the remaining 75% of the schedule. Considering the likelihood of reaching the playoffs when you're on the outside at this point of the season, Holland's rationale is pretty fair.
What was Detroit's closing argument before the holiday? An ugly 6-2 loss to the Edmonton Oilers – a team they shut out on the road just 17 days earlier – following a miserable blown lead loss to the Colorado Avalanche.
Presently, Detroit sits in third place in the Atlantic Division with a 10-9-3 record. They're only one point up on the Boston Bruins and Ottawa Senators, despite playing two more games. So while the Red Wings would qualify for a playoff spot if the season ended today, they're not in the best position to maintain that standing with 60 more games to go.
The Case Against the Red Wings
As I mentioned in a column for The Grind Line earlier this week, Jimmy Howard has been the key to Detroit's success so far. He's been lights out and arguably the best he's ever been.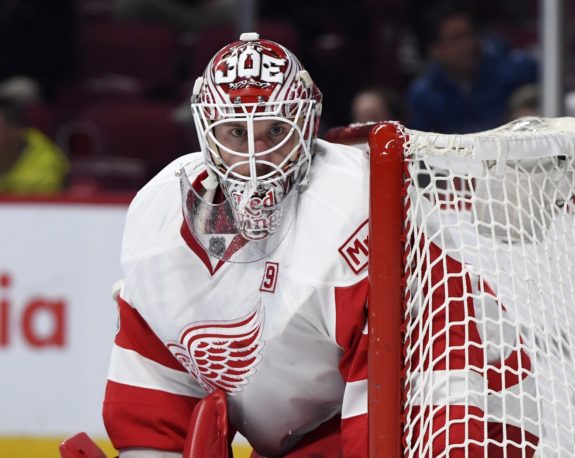 So, when Howard's off his game, the Red Wings are in a world of hurt, as evidenced in the latest Oilers contest. The team defense is not strong enough to bail out their goalie when either Howard or Mrazek is fighting the puck on any given night. And while team scoring is up from last year, it's still not potent enough to outscore opponents regularly.
In addition, the Red Wings have not been a consistent team at all this season. They haven't won more than two games in a row through the first 22 games, but have a six-game losing streak under their belt. The team that beat Calgary 8-2 and Buffalo 3-1 was certainly not the same team that (sort of) showed up against Colorado and Edmonton later that week. Why commit to a group that can't show up night after night?
The Case for the Red Wings
Despite their flaws, there have been bright spots for the Red Wings this season. Young guns Anthony Mantha, Dylan Larkin, and Andreas Athanasiou have taken over the scoring from Henrik Zetterberg, Gustav Nyquist, and Tomas Tatar as of late. Additionally, they've received offensive contributions up and down the lineup – Frans Nielsen, Luke Glendening, Martin Frk, and Darren Helm have combined for 20 goals in those 22 games.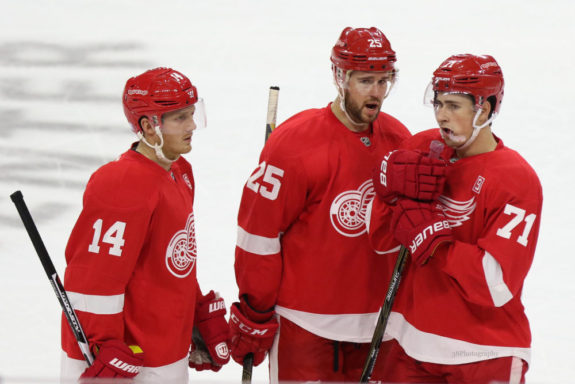 After a brutal 2016-17 season, the Red Wings' special teams have been especially good this year. Detroit's 23.2% power play conversion rate and 84.8% penalty kill rate are each in the upper echelon of the NHL, ranking sixth and fifth respectively. In fact, the Red Wings have already scored four shorthanded goals – one from Larkin, Glendening, Nielsen, and Helm apiece. Plus, Mantha's five power play goals already match the team high from last season – Larkin, Tatar, Thomas Vanek, and Justin Abdelkader each scored five with the man advantage the previous year.
And finally, while they've been completely dependent on him, Howard is playing the best hockey of his career. Detroit should ride this for as long as they can to build his value. They'll need additional cap space this offseason when Holland's task list includes signing Mantha, Larkin, Athanasiou, and Frk to new contracts. Being able to move Howard and actually receive a good return will set the Red Wings up nicely for the future.
What Should Holland Do?
Because they are a middle-of-the-pack team that could go either way, Holland should wait to make a decision on the fate of the Red Wings. Delaying until New Year's Day will give Holland a larger sample size to analyze before choosing to sell or stand pat and hopefully prevent an ill-advised trade.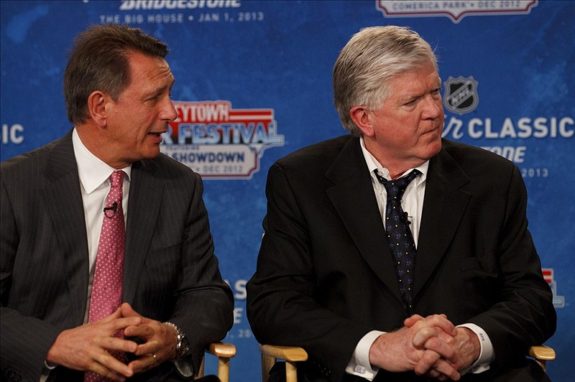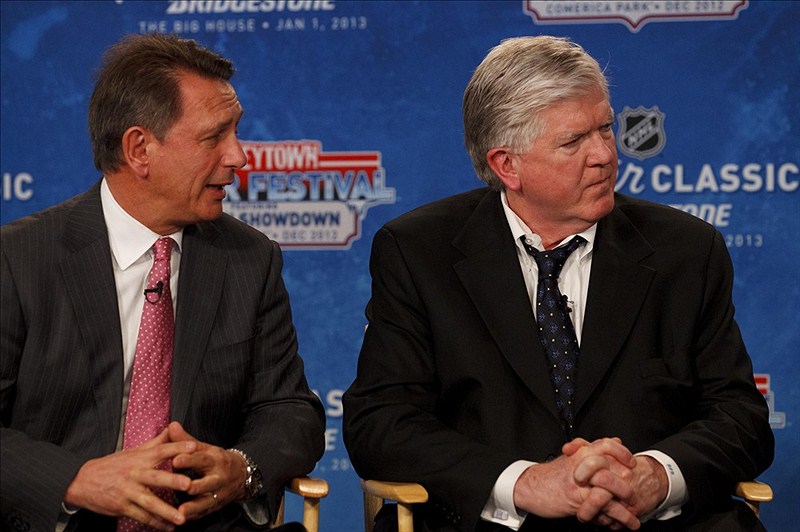 He should keep taking calls on pending free agent Mike Green regardless of where the Red Wings stand in the Atlantic Division though. The return for a nearly point-per-game, right-handed defenseman is too high to pass up with a strong draft class coming up. But for others like Nyquist, Howard, Mrazek, and possibly Helm, Holland should wait…for now.
What should the Detroit Red Wings do now that Thanksgiving has passed? Comment below with your take.