It's amazing how fast the season goes. The Detroit Red Wings have already completed the first quarter of their schedule, posting a 10-8-3 record in the process. Currently slotted in third with 23 points, they sit nine points back of the Atlantic Division-leading Tampa Bay Lightning, who have won 15 of their first 20 contests.
Thus far, Detroit has made substantial improvements from their largely disappointing 2016-17 campaign that saw them miss the playoffs for the first time in 25 years. Despite this, they currently sit just two points better than their pace from last season that saw their record stand at 10-10-1 through the first 21.
In this week's edition of The Grind Line, The Hockey Writers' Red Wings coverage team – Tony Wolak, John Curran and myself – react to Detroit's first quarter performance, providing their biggest observations from the young season.
Griffin Schroeder
Quite "Special" Teams
The Red Wings were a middle-of-the-pack team when it came to killing penalties in 2016-17. They posted an 80.8% success rate to place 16th in the league. Shorthanded, Detroit placed 22nd in Corsi-against-per-60, and their average success was partly due to the hot and cold play from goaltenders Jimmy Howard and Petr Mrazek.
Among 51 goaltenders who logged at least 100 minutes of shorthanded ice time, the former posted a league-best .923 save percentage down a man. The latter turned in an .855 save percentage, placing 38th.
That mild success did not cross over to the man advantage.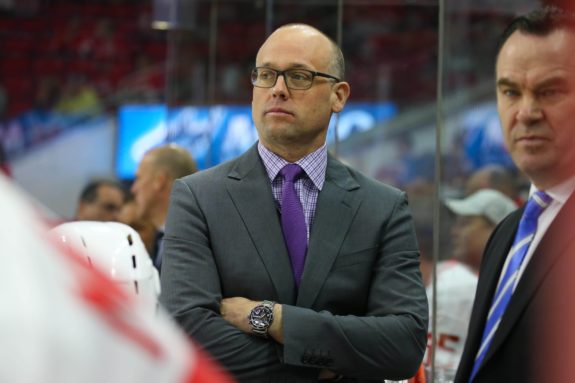 Converting at an ice-cold 15.1% rate to place 27th, the team turned in its second-worst man advantage performance in franchise history dating back to 1973-74. Four players tied for the team lead in goals with five markers each, and Frans Nielsen led the team with just 15 points.
Names like Gustav Nyquist, Henrik Zetterberg, Anthony Mantha, and Andreas Athanasiou underperformed. All four skaters combined for just six power-play goals. Despite the unit's 22 percent conversion rate in the final 20 games, it was clear that adjustments needed to be made for 2017-18.
Back to "Special" Status
Currently ranked sixth in the league on the penalty kill and eighth on the man advantage, improvements have been made across the board.
While Detroit's PK has fallen to 28th in terms of Corsi-against-per-60, both goaltenders have stepped up their play. They have increased their shorthanded save percentage to a combined .901 mark, a 12-point improvement from 2016-17.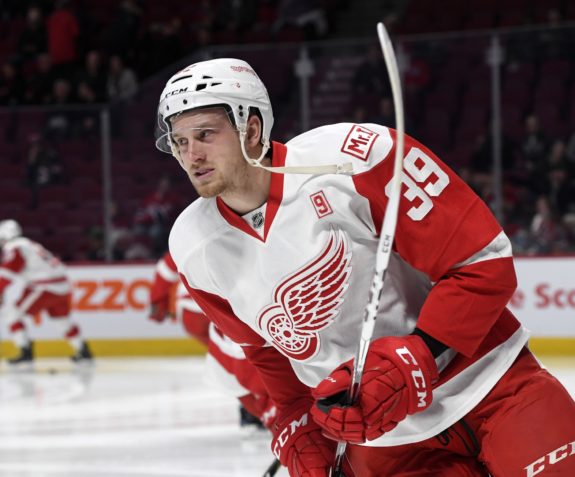 On the power play, the Wings have received contributions set to outpace last season's performance by a landslide. They compiled 107 points between 16 skaters last season. Through 21 games this year, Detroit has posted 42 with 14 different players getting on the scoresheet.
Zetterberg and Nyquist have failed to tally a marker, but Mantha has established himself as one of the best net-front power play men in the league to offset their slow starts. The 23-year-old's five-goal performance has him tied for third in the league. His seven points currently pace the Wings' unit.
Martin Frk has been a key cog in supplying a right-handed cannon of a shot, one that's netted him three goals and five points. Even when his blistering one-timer doesn't find twine, it creates rebounds for Mantha's finishing ability in tight. The two have proven to be a dynamic duo in this regard thus far creating prime scoring chances that were few and far between last season.
It remains to be seen if the team can find consistency with their special teams. However, it is an encouraging sign to see early improvements, ones that younger players have been primarily responsible for.
Tony Wolak
Goaltending Has Been Key
Through 21 games, Detroit's goaltending has been the difference. Well, to be fair, Howard has been the difference. In each and every start, the Syracuse native has given the Red Wings a chance to win regardless of the defensive performance in front of him.
Ever since he adopted a new mindset, the former Maine Black Bear has been cool and confident in net. For starters, unlike prior seasons, he's actually been able to remain on the ice. Combining for 63 appearances the last two years, this will be key going forward.
Despite his lengthy absences, the focused netminder hasn't been overly aggressive. He's on point in terms of being square to the shooter, and his movement has been quietly efficient as well. This is encouraging to see regarding his overall health.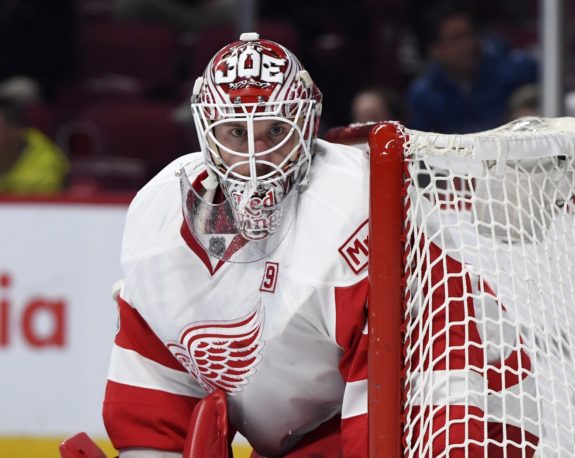 When it comes to goaltending, the elite netminders make saves look routine shot after shot. There's not a lot of flopping or extra movement. Montreal Canadiens netminder Carey Price has been the standard for efficient goaltending over the years. Howard is now playing that way, and his numbers are evidence of that, (2.34 goals against average, .928 save percentage).

Watching the 2003 draftee through his first 16 starts, there's not a lot of sprawling or diving to his game. Playing like a black hole in the crease, he's enveloped nearly every puck that has come in his direction.
For the Red Wings to have any sustained success this season, they must take the pressure off of the 33-year-old. He's been a rock so far, but the team can't rely on their goaltenders to bail them out night after night, especially shorthanded. Popping home a few more goals and sustaining strong team defense would go a long way in helping Howard achieve a rebound season for himself and the team. 
John Curran
Team Cohesion is Evident
The observation that has stood out to me during Detroit's first 21 games in 2017-18, aside from the impressive play from the young guns, has been how well the team has played as a whole this year compared to last. Players who needed to step up from disappointing campaigns have done so. In the process, they've helped their linemates play at a much higher level.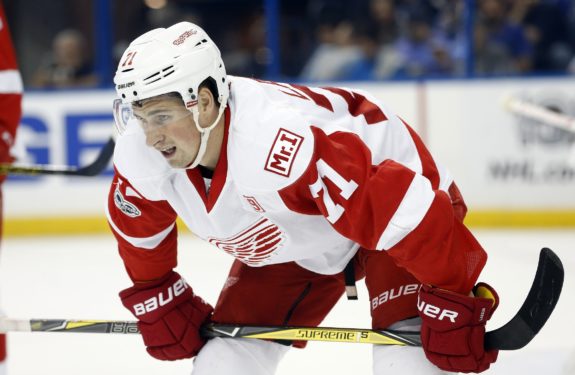 The maturation of Dylan Larkin, Mantha, and Athanasiou has undeniably helped boost the Wings on the ice and subsequently in the standings. All three players have contributed to numerous quality scoring chances and goals during the first quarter of the season.
When any combination of the trio is buzzing during a game, the rest of the team seems to capitalize on that energy following suit with intensity.
The team's cohesion isn't just limited to the offense, as both the defense and goaltending have also done their fair share of solid work as well. Bolstered by the addition of Trevor Daley, Mike Green's hot start, and a quietly steady Niklas Kronwall, the blue line has been pretty sufficient as a whole given their shortcomings.
Last season, it seemed like it was "Zetterberg Versus Everybody" as the captain gave his best effort night in and night out in an effort to keep the Wings' playoff streak alive. Now, the burden of the streak is gone, and other players are starting to take the team's reigns. This has lightened the load on the 37-year-old's shoulders.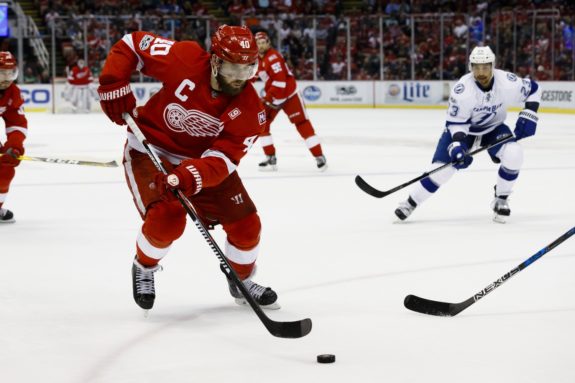 If you need a relevant example of just how lethal and exciting this roster can be, look no further than the game against the Calgary Flames on Nov. 15. The team did put eight goals on the board with six different players lighting the lamp, but they also stood up for each other and fought together. 
Whether you agree with fighting in today's NHL or not, you cannot deny that what occurred in that game was a fantastic display of team effort. The gelling of the squad moving forward will be something to watch as the season marches on.
Advanced statistics courtesy of corsica.hockey.
What is your reaction to the Detroit Red Wings at the quarter pole? Comment below with your observations.