How bad are Florida Panthers management and ownership feeling right about now?
The Cats lost 5-2 to the Vegas Golden Knights at T-Mobile Arena Sunday night, a game in which they led 2-0 after just five minutes, and then proceeded to muster only 14 shots the rest of the way.
Vegas head coach Gerard Gallant, fired by Florida in spectacular fashion last November, was able to rally his troops to overcome the early deficit, outshooting the Panthers 36-14 and outscoring them 5-0 (two were empty-netters) after Florida's 2-0 goal.
And who led the charge? Former Panthers Jonathan Marchessault (exposed in last summer's expansion draft) and Reilly Smith (traded for a fourth-round pick), who registered three and two points, respectively.
Maybe revenge really is best served cold. On ice, to be specific.
Gallant Vindicated After Florida Fiasco
After Gallant was – quite literally – dumped at the side of the road in Raleigh last season, speculation was rampant regarding the reasons behind the dismissal.
The image of the Panthers firing Gerard Gallant and leaving him behind on the road is going to linger over that franchise for a while. pic.twitter.com/U7z6aJlLtF

— Gord Miller (@GMillerTSN) November 28, 2016
The consensus seems to be that, once Dale Tallon was moved out of the general manager's seat after the 2015-16 season, Gallant's theories and coaching style were not deemed worthy by Tallon's replacements, who were all-in on analytics.
Gallant No Numbers Neanderthal
Now, I'm the first to defend analytics as a useful method of explaining why certain teams and players produce certain results, but by no means is it the Rosetta Stone of winning. It's merely a tool in the toolbox of a competent hockey organisation.
Curiously, the teams Gallant coached in Florida were actually decent in the analytics department, just a shade over the break-even points for things like Corsi For (possession, measured by shot attempts) and Expected Goals For.
Vegas Vindication for Victimised Gallant
When Gallant, along with Mike Kelly, his (also-fired) assistant in Florida, were hired to helm the Golden Knights, they were, quite literally, starting from scratch. However, nearly halfway through the expansion team's first season, Vegas is a very healthy 12 games over .500 and sits second in their division.
Somehow, the system that supposedly didn't work in South Florida with an established core group of talent, has set the piecemeal Golden Knights on the path to becoming the most successful expansion team in National Hockey League history.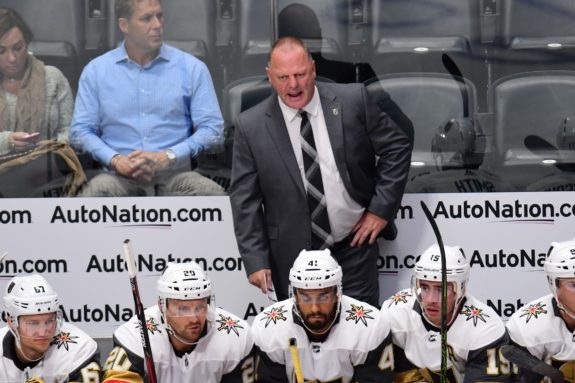 Admittedly, there's still a lot of hockey to play. But, even if the Knights were to finish a just single point ahead of the more talented, more established Panthers, Florida should be more than a little embarrassed.
And if Vegas continues tearing up the league at their current pace? The Panthers should be downright ashamed.
Marchessault & Smith Proving Doubters Wrong
After a 30-goal campaign in 2016-17, it was a shock to see Jonathan Marchessault exposed ahead of the expansion draft last summer. Things became clearer a few days later when Reilly Smith was traded to the Golden Knights in exchange for a fourth-round draft choice in 2018.
The Panthers clearly wanted to get rid of Smith, who had signed a five-year, $25 million dollar contract the previous offseason (which had yet to kick in), and exposing Marchessault was the price of doing business.
Panthers Pounced on Chance to Shed Salary
The Panthers were no doubt very grateful. Not only had they rid themselves of five years at $5 million per season of Smith, a player who only mustered 15 goals and 37 points the season previous, but they also achieved cost certainty with Marchessault. That is, if the diminutive forward were to have repeated – or even exceeded – his tremendous numbers from 2016-17, the Cats would surely have had to pay him several times the $750,000 he currently makes when his contract expires this summer.
After all, this is the team with the organisational directive to slash $10 million.
Jokinen buyout saves #FlaPanthers $1.2 million in real cash, $2.7M on cap this yr + next. Gets them closer to internal mandate to shed $10M.

— Frank Seravalli (@frank_seravalli) June 30, 2017
Marchessault and Smith Victims of Circumstance
Unlike Gallant, who was fired because of philosophical differences, Marchessault and Smith were victims of circumstance.
Smith had a miserable season by any measure in 2016-17, scoring 10 fewer goals and 13 fewer points than the year before. $5 million dollars is probably too much for Smith at his 25-goal, 50-point peak, but at 15 goals and 37 points? You can certainly see where the Panthers were coming from, especially considering the contract hadn't even kicked in yet.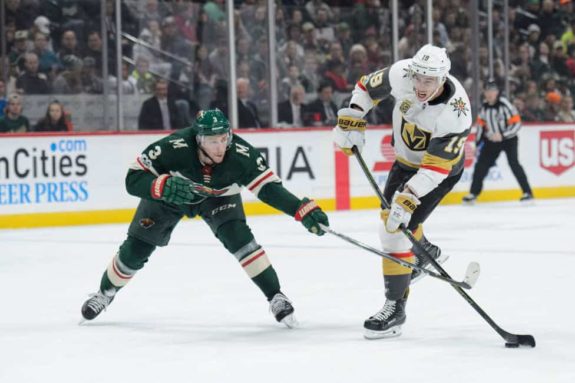 It's worth noting that, though Dale Tallon was in charge of the Panthers leading up the expansion draft, he was not the GM who gave Smith the massive deal. Thus, I imagine he was doubly eager to get rid of the underachieving winger, given Tallon's penchant for making moves to spite his usurpers. For what it's worth, Marchessault wasn't a Tallon signing, either.
Panthers' Underachievement Overreaction Proves Costly
However, with the exception of Marchessault, pretty much everybody on the Panthers underachieved last season. Along with having to deal with some catastrophic injuries to top players, the Cats were also just plain unlucky. Add to that a coaching (and therefore system) change partway through the campaign, and you can begin to understand why the team struggled so dearly.
Speaking of Marchessault, he stepped into the void left by his injured teammates and potted 30 goals and 51 points in his first full NHL season, all while playing against the opposition's top players. Yes, there were concerns about his defensive play, but the defensive game can be more easily taught than scoring 30 goals.
And this season? Marchessault is a plus-nine (if you're into that sort of thing) and his advanced numbers are even better, with a 54 percent Corsi For and 56 percent in both Goals For and Expected Goals For, suggesting his strong play last season, along with his torrid start to 2017-18 (29 points in 29 games) is no fluke.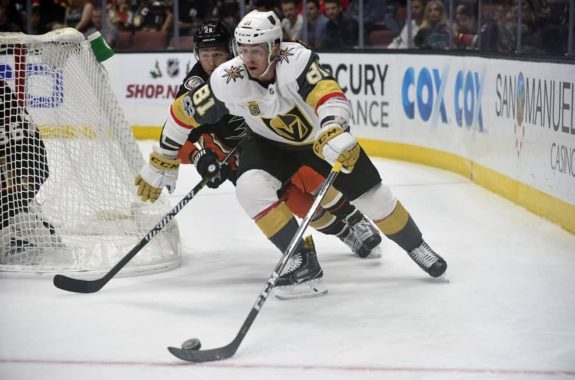 Oh, and if you're wondering about Smith, his advanced numbers are well above average, too. Even last season, despite his poor statistical output, the analytics suggested he was simply getting tremendously unlucky. For example, Smith only had a 43 percent Goals For statistic, despite being a 52 percent possession player and registering a 52 percent in Expected Goals For.
This year, Smith's luck seems to have evened out, with 25 points through 32 games. Maybe this is another one the Computer Boys got right.
Panthers Made Bed, Now Laying in It
Hockey is a game of infinite unpredictability; one of the main attractions of the sport is that any given team can win on any given night – with any given player being the hero.
However, one can be reasonably certain about some things, such as that giving away two of your best offensive players, along with perhaps the most successful coach in franchise history, is not only shockingly bad asset management, but also liable to severely handicap one's team.
Florida's futility was on full display Sunday night.
(All advanced stats are thanks to Corsica. All metrics are adjusted and at five-on-five, unless otherwise specified.)
Peter Ferrell covers the Florida Panthers and Toronto Maple Leafs, with a side of jersey and logo (over)analysis, for The Hockey Writers.