Aug. 8, 2018 marked the 30th anniversary of the trade that sent icon Wayne Gretzky to Los Angeles and sent shockwaves around the hockey world. Gretzky, along with Marty McSorley and Mike Krushelnyski, was shipped to the Los Angeles Kings for Jimmy Carson, Martin Gelinas, three first-round picks, and $15 million.

Even more shocking was the fact that Gretzky almost joined the Red Wings instead. In an interview on NHL Network, Gretzky thought he was going to be a Red Wing as little as 24 hours before the deal went down.
He ultimately decided on Los Angeles at the urging of his father (thanks, Walter).
While that would have been a major trade for the Red Wings, the franchise has completed other significant trades of their own. In this article, we'll break down the top three trades in Red Wings history.
Brendan Shanahan Acquisition
Just before opening night of the 1996-97 season, the Red Wings acquired power forward Brendan Shanahan and veteran defenseman Brian Glynn from the Hartford Whalers for Paul Coffey, Keith Primeau, and a first-round pick.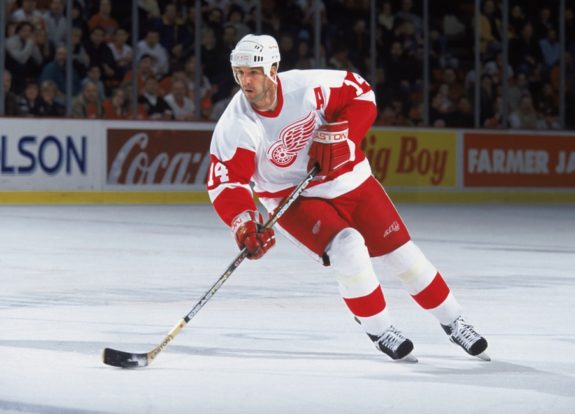 While Glynn never played for the Red Wings, Shanahan became a legend in Hockeytown. He would go on to help the Red Wings capture three Stanley Cups, including the 1997 Cup against Paul Coffey's Philadelphia Flyers (Coffey was dealt to Philadelphia during the season).
Red Wings Restock Edmonton
Midway through his second season in Edmonton, Jimmy Carson—who was the main piece coming back to Edmonton for Gretzky—was dealt to the Red Wings in a savvy move by Oilers' general manager Glen Sather. In November of 1989, the Red Wings acquired Carson, Kevin McClelland, and a fifth-round pick from Edmonton for gritty forward Adam Graves, former first overall pick Joe Murphy, scoring winger Petr Klima, and minor league defenseman Jeff Sharples.
---
Latest News & Highlights
---
While Detroit acquired a talented player in Carson, the three forwards would help the Oilers capture the Stanley Cup that season. Carson would eventually be dealt to Gretzky's Kings in a package for Paul Coffey. It's incredible how the separate Gretzky, Carson, Coffey, and Shanahan trades became intertwined and helped these three franchises.
Red Wings Trades: Trader Jack Ships Out Ted Lindsay
Following a contract and player unionization push by Ted Lindsay, general manager Jack Adams shipped the famed left winger to Chicago. In 1957, Lindsay was traded along with future Hall of Fame goaltender Glenn Hall for goaltender Hank Bassen, young center Forbes Kennedy, Bill Preston, and left wing Johnny Wilson, who would begin his second tenure in Detroit.
Lindsay had called for player unionization to negotiate better contracts and Adams wanted to keep things as is. Back then, NHL contracts strongly favored the teams and owners, and players had few negotiating rights when it came to new contracts. Many players even held offseason jobs to pay the bills. Lindsay's advocacy for players' rights eventually led to the creation of the NHLPA.
Following three Stanley Cups in the early-1950s, this trade, along with two 1955 blockbusters, essentially broke up the band. The Red Wings never fully recovered until the mid-1990s.
Final Word on Biggest Red Wings Trades
When thinking about blockbuster deals the Red Wings can make today, consider the fact that not all major deals work out. With the case of Gretzky and the Red Wings, non-trades often benefit the team in the end. Detroit's missing out on Gretzky set in place a series of events that eventually led to the acquisition of Shanahan and three Stanley Cups (plus a fourth Cup later on). How many Cups did Gretzky win after leaving Edmonton? Zero.
This article was originally published in August, 2016.
---

---