August 9th, 1988.  One of the most historical dates in NHL history.  Arguably, the most monumental trade in NHL history occurred.  The Edmonton Oilers, not even a year removed from winning four Stanley Cups in five seasons, dealt who is considered by most to be the greatest player in hockey history, Wayne Gretkzy.  Gretzky was dealt to the Los Angeles Kings with Mike Krushelnyski and Marty McSorley for a couple of players, Los Angeles' first-round entry draft choices in 1989, 1991 and 1993 and $15 million.
The backlash to this trade was, as expected, outrageous.  It triggered death threats against the Oilers owner at the time, Peter Pocklington, and a backlash against Gretzky and his new wife, actress Janet Jones, and forever changed the NHL.  An article talking about a documentary film made about the trade states the following: (From the Associated Press)
"The trade so upset Canadians that one elected official demanded the government block it, Pocklington was burned in effigy, Gretzky was called a traitor by some of his countrymen for leaving, and Janet Gretzky was branded hockey's Yoko Ono."
Some Background on Jimmy Carson
The centerpiece of the package coming to Edmonton from Los Angeles was a young center from Southfield, Michigan named Jimmy Carson.
Carson was drafted 2nd overall in the 1986 NHL Entry draft by the Kings after two successful junior seasons with the Verdun Junior Canadians of the Quebec Major Junior Hockey League ("QMJHL").  Carson was an offensive force with Verdun scoring 44 goals and 116 points in 68 games in his first season, and following that up with 70 goals and 153 points in 69 games in his second.
Carson jumped immediately to the NHL and made his debut for the Kings during the 1986-87 season, making the NHL's post season All Rookie Team with 37 goals and 79 points in 80 games.  He would, however, miss winning the Calder Trophy for Rookie of the Year, which went to his teammate, left-wing Luc Robitaille.  Carson followed up his strong rookie season with an even stronger season, scoring 55 goals and 107 points, in what would be his least season in Los Angeles before "the trade."
Carson Arrives in Edmonton
Carson had some success in his first season in Edmonton scoring 49 goals and 100 points in 80 games during the 1988-89 hockey season, however, he was not great.  The expectations were unrealistic due to who he was traded for and the pressure understandably unbearable.  Carson made it simple in an article for the LA Times in 2007: (LA Times)
"The end analysis was, I was not Wayne Gretzky."
After playing only 4 games the following season with Edmonton, Carson requested a trade and was moved to the Detroit Red Wings, his hometown team.  After several seasons spent playing 3rd on the depth chart behind Steve Yzerman and Sergei Fedorov, Carson was moved back to the Kings, ironically to play behind Gretzky.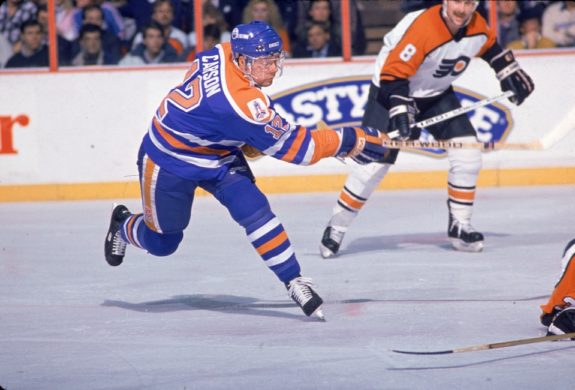 Carson received little playing time over parts of two seasons and in the Kings eventual Stanley Cup loss to the Montreal Canadians.  Carson was then moved to the Vancouver Canucks during the 1993-94 season, playing only 34 games in the regular season and was a healthy scratch for most of their playoff run, including their loss to the New York Rangers in the Stanley Cup Finals. Carson then bounced around playing a hand full of games with the Hartford Whalers, spent some time playing in Switzerland and finished his hockey career with two seasons for the Detroit Vipers of the International Hockey League ("IHL"), winning a Turner Cup.  Carson officially retired from hockey in 1998 and seemed to completely vanish.
Jimmy Carson – Post NHL
Well, Carson embarked on a new career as a financial advisor.  A quote from former owner of the Los Angeles Kings, Bruce McNall says about Carson's decision to leave hockey: (LA Times)
"In a weird way, I knew Jimmy's heart was not as much into it," says McNall of his friend, who neither smoked, drank nor partied with teammates. "He was an intellectual, multidimensional guy, read the Wall Street Journal, and so many other players just don't have his opportunities and interests. So I always thought, deep down, that maybe long-term hockey wouldn't be for him."
After retiring from hockey for good, Carson joined Northwestern Mutual as a Financial Advisor, an insurance, investment and financial firm that does estate planning , deferred compensation and other long-term planning for investors.  Carson states how he became interested in the Company: (ZoomInfo)
"I was approached by Gary Holvick, General Agent, in 1989 while playing with the Detroit Red Wings. He advised me to purchase a policy to fund a deferred compensation plan. I followed hisadvice and became a very happy policyholder. I was so impressed with the professionalism of both Mr. Holvick and Northwestern Mutual that I realized a future career existed for me with this company. I am proud to be a representative of the Northwestern Mutual Financial Network, an organization that I feel is the most reputable(1), financially sound(2), and top performing company in their industry(3).I believe in developing long term relationships that identify and act on any needs that might be required.
Carson began to prepare for his post-hockey career. While still a player, he had taken classes over the summers to become licensed as a financial representative, earning his certification in 1992. He's certified to deal with life, health, and long-term care insurance, mutual funds and stocks and other means of financial planning.  Carson, who came from a financially well off family, earned his fortunes through many investments and white collar work instead of as a hockey superstar.
Currently, Carson still lives in Michigan, about 45 minutes outside of Detroit, where he is a partner in an small investment bank that is part of the Northwestern Mutual Financial Network.  He and his wife Paula have four kids: Charlie, John, Andrew and Mia.  Surprisingly, none of them play hockey.
Interesting Facts about Carson
– His real name is Demetrios Kyriazopoulos, he is of Greek decent and his grandfather Americanized the name.
– Shares the NHL single-season record for games played with 86 in 1992–93, the year he was traded from the Red Wings to the Kings. (Shared with Bob Kudelski)
For Jimmy Carson's career stats, refer to the Internet Hockey Database