Considering the fact that the Detroit Red Wings need to re-sign Anthony Mantha, Dylan Larkin, and Andreas Athanasiou this coming offseason, agreeing to a new contract with fellow pending restricted free agent Petr Mrazek seems like an afterthought. However, the goaltender could have a huge impact on the Red Wings' summer plans.
Previously, I wrote about how the Red Wings and general manager Ken Holland have a tough decision to make with regard to Mrazek. Here, I consider the variables that come into play when looking at Mrazek's future with the organization, such as Jimmy Howard's age and contract status, Detroit's minimal cap space or NHL-ready goaltending depth, potential free agents, and Mrazek's recent play.
Let's get started.
In Mrazek's Hands
As the 2017-18 season progresses, the Red Wings organization should find a delicate balance between competing for a dignified place in the standings and providing ample evaluation time for next year's team. Unless he steps up his game, Mrazek being given more ice time would probably fall into the latter strategy.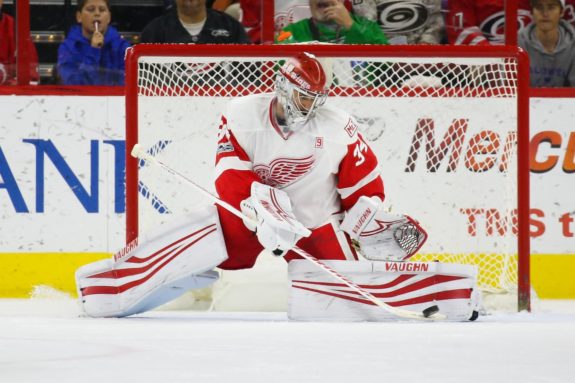 Surely, Mrazek knows he's playing for his next contract. He has two-thirds of a season left to make the case for another payday. So let him. Give him more starts to help find his game. This is not to say Mrazek should be the starter – Howard has earned that role. But, of late, Howard has stumbled (3.62 GAA, .858 SV% through the first five December games), thanks in part to the team's play.
This is a golden opportunity for the Red Wings to play Mrazek and let him determine his fate (and make their decision for them). Solid play reaffirms Detroit's belief that he can be a quality goaltender and boosts his rock-bottom trade value. Likewise, poor goaltending gives the Red Wings additional leverage when negotiating his next contract and possibly more time to fix his issues.
Evaluating Mrazek's Trade Market
Holland will surely be kicking the tires this winter in preparation for the 2018 NHL Trade Deadline. If Mrazek shows signs of life, he could be a coveted asset by teams looking to add goaltending depth.
Plenty of teams have been thrown out there as potential trading partners for Mrazek. Edmonton, Florida, Pittsburgh, and even Arizona could make a play for the netminder. Of those teams, the Oilers align the best with what the Red Wings would want in return for Mrazek.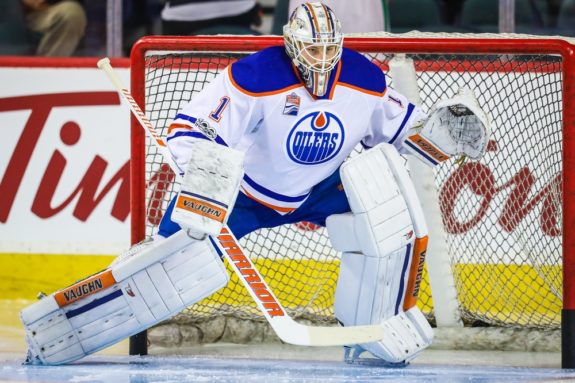 From Edmonton's standpoint, their goaltending has been atrocious this year after a solid 2016-17 campaign. Starting goalie Cam Talbot has been inconsistent and plagued by injuries after playing in 86 regular season and playoff games a year ago. Backup Laurent Brossoit has potential but has been unimpressive while filling in for Talbot. Edmonton desperately needs more stability in net and Mrazek could be the answer.
Let's Make a Deal!
Holland and the Red Wings have a couple different approaches they could take with a Mrazek-to-Edmonton trade. They could either ship Mrazek solely for a draft pick and/or a prospect or package the netminder with another player in a bigger deal. Based on his age and raw talent, the Red Wings could probably fetch a 2nd round pick or a decent prospect for Mrazek if he was solely moved with salary retained.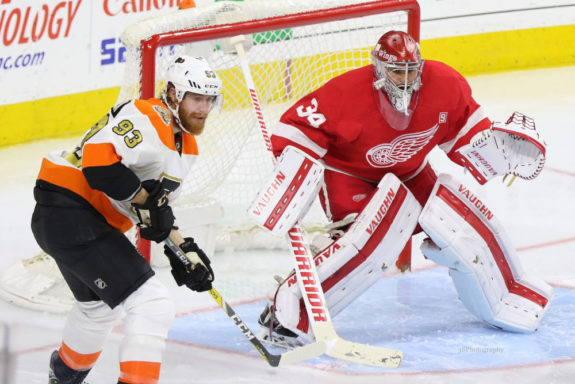 However, if another player was included in the deal – say, Gustav Nyquist – then perhaps Holland can convince Edmonton GM Peter Chiarelli to part with center Ryan Nugent-Hopkins. Still only 24 years-old, Nugent-Hopkins could combine with Dylan Larkin and Frans Nielsen to give Detroit solid depth down the middle. This would also allow Henrik Zetterberg to move to the wing, same with Michael Rasmussen – once he's NHL ready.
And If No Deal…
What if Holland can't find a trade partner who meets his demands for Mrazek? Do the Red Wings simply sell to the highest bidder regardless? No, quite the opposite actually.
If no deal can be struck, the Red Wings should keep playing Mrazek down the stretch and qualify him in the offseason, rather than letting the goaltender walk. With the salary cap expected to go up by a fair amount, the Red Wings have some wiggle room to retain Mrazek and try for a trade next season. Best case scenario: Mrazek finds his game and becomes – once again – part of Detroit's long-term plans.
What do you think the Detroit Red Wings should do with Petr Mrazek? Comment below with your thoughts.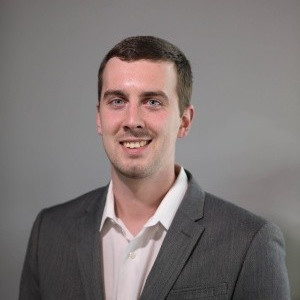 Tony Wolak is based in the Washington D.C. area and covers the Detroit Red Wings for THW. As a former junior and college hockey player, Tony has a unique perspective on Red Wings topics.