Though you haven't seen him in net much for the Detroit Red Wings this season, Petr Mrazek is a key player in the immediate future of the organization. His impact could either accelerate the rebuilding process or set the Red Wings back, depending on what they do with the netminder.
Detroit's crease has belonged to veteran goalie Jimmy Howard through the first third of the 2017-18 season. Mrazek has only started seven games this year and replaced Howard in three others, producing subpar numbers (3.72 GAA, .888 SV%). Mrazek really only had two quality outings under his belt – a shutout of the Edmonton Oilers and an overtime loss to the Washington Capitals. On the other hand, his start against the Montreal Canadiens may have been the worst of his career.
He's also a restricted free agent at season's end.
With the Red Wings already possessing a number of bad contracts, they have a difficult decision to make regarding Mrazek, once the franchise's goalie of the future.
Mrazek's Current Contract
Looking back to the summer of 2016, Mrazek had just come off of a breakthrough campaign where he seized the Red Wings' number-one goaltender job. And though he struggled down the stretch, Detroit ultimately gave Mrazek the final three starts of their first-round loss to the Tampa Bay Lightning.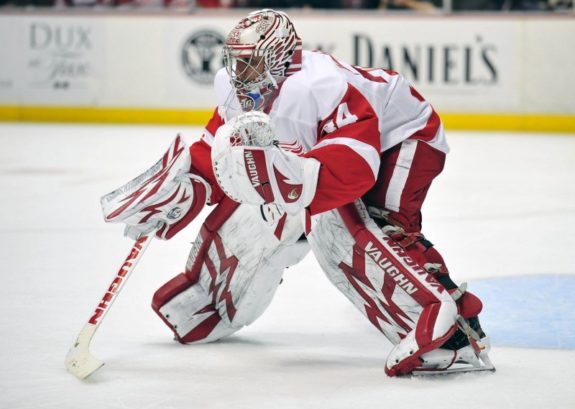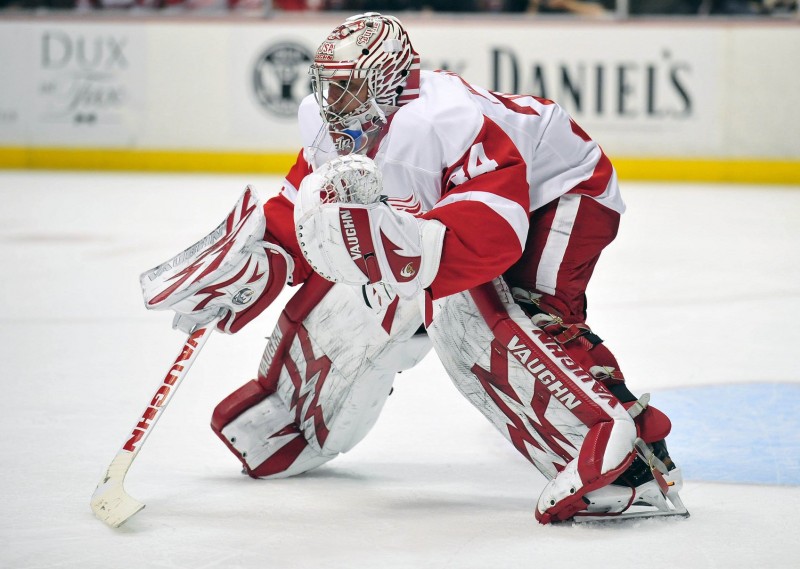 When it came time to negotiate Mrazek's next contract that summer, the netminder and his representation held firm on their beliefs that Mrazek should be paid like a budding star. The evidence, for the most part, pointed that way. So after intense negotiations, the two sides arrived at a two-year, $8 million contract the morning before Mrazek's scheduled arbitration meeting.
The ball was then in Mrazek's court, as the anointed starting goalie, to make good on Detroit's investment in him.
Red Wings & Mrazek's Decline
Since the start of the 2016-17 season, the Red Wings have looked like a different team than the once-dominant franchise we're used to seeing. Subpar team defense and a lack of scoring certainly contributed to that. Mrazek's play also hasn't helped.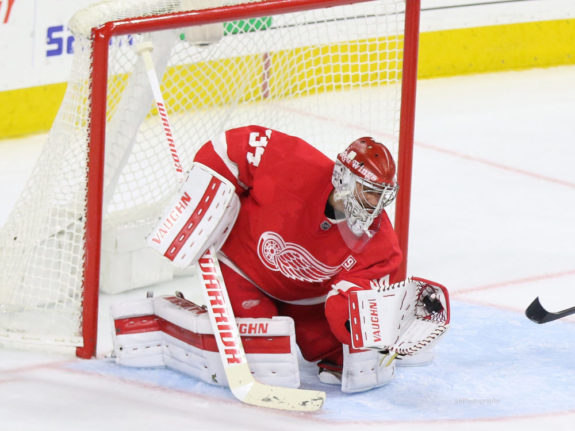 Though he has had some flashes of brilliance, Mrazek's numbers and play have definitely declined. Over the past 60 games, Mrazek has only won 20 contests. Again, defense and scoring woes can be blamed, but the netminder's goaltending issues persist. He has trouble seeing through screens, loses his angles easily, and gives up far too many rebounds for a less-than-optimal defense to manage. These are deficiencies that date back to the 2015-16 season.
However, there is still time to recover.
Finishing Strong
As we've seen with Howard and Chris Osgood in the past, goaltenders can alter their game to maximize their strengths and resolve their weaknesses. Howard, in particular, has really emphasized improving his skating over the past few seasons and found a new, better way to approach games mentally. It's been clear that these adjustments have worked, with Howard producing All-Star-like numbers over the past two seasons.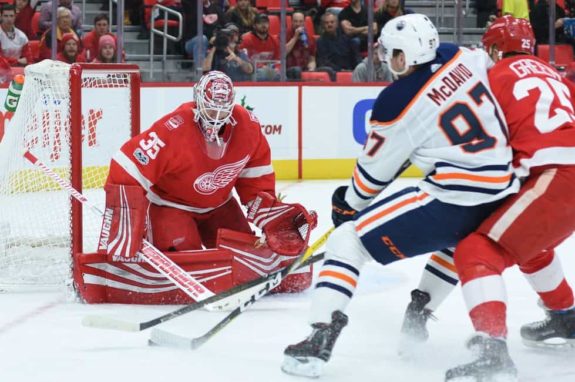 Mrazek can do the same. He has the raw ability to be a fantastic goaltender in the NHL. His strong lateral movement, lightning-quick reflexes, and never-give-up attitude are indications of that. It's up to Mrazek and goaltending coach Jeff Salajko to round out those rough edges through the rest of the 2017-18 campaign. If he can do that and continue his progress over the summer, Mrazek will have turned his young career around.
So what do Ken Holland and the Red Wings do?
Next Step for the Red Wings & Mrazek
First of all, there's no chance the Red Wings decide to non-tender Mrazek. No general manager would let an NHL asset—in this case, one with greater potential—walk away from team control with nothing in return other than added cap space.
Making $4.15 million in salary this year ($4-million cap hit), Mrazek will likely want a raise this summer. Who wouldn't? But considering Mrazek's play and the fact that Andrei Vasilevskiy, Matt Murray, John Gibson, and Martin Jones have lower cap hits than his present contract, a raise will be hard to come by. Nevertheless, it will be discussed before or once the Red Wings and their goaltender reach arbitration.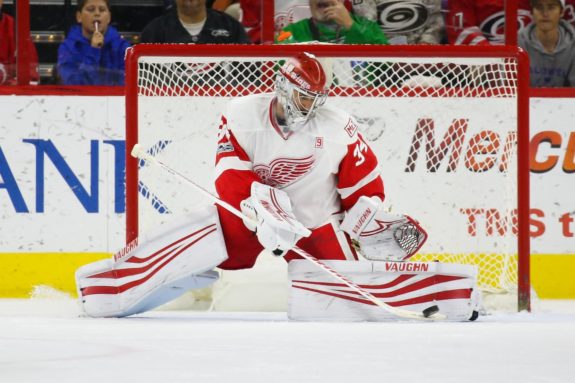 On Holland's side, the Red Wings really won't have much cap space to work with this summer after Anthony Mantha, Dylan Larkin, and Andreas Athanasiou are re-signed. Detroit's GM will also have to consider that Howard's contract and $5 million-plus cap hit come off the books at the end of next season. And considering that Howard will be 35 then, there's a good chance Detroit will want to either move on or reduce his role.
If Holland decides that he can't afford Mrazek's demands, he could look to trade the goaltender to a goalie-needy team this season or around the 2018 NHL Draft. Moving Mrazek for prospects and/or picks would assist the rebuilding process and the free agent market is somewhat deep if you're looking for a backup goalie.
Trading Mrazek does come with drawbacks though. The Czech netminder is a prime candidate for a bounce-back season in the right environment. He's a talented goalie that another coach could mold into a true starter. A Mrazek resurgence with another team would make Holland and the Red Wings organization look bad for giving up on a young, quality player at a point when his value is at the lowest of lows. Plus, relying on an aging Howard and a free-agent backup, with no NHL-ready prospect on the horizon, is not an ideal approach.
Final Word
Operating in the last year of his contract, Holland must decide whether to make adjustments while under contract or leave that for the summer, when someone else could be calling the shots. Of course, this all becomes null and void if Mrazek gets on a roll and reclaims the starting job. So until the Red Wings and Holland make a decision, Mrazek controls his own fate.