After 29 games, the New York Islanders stand at 16-10-3, which is good enough for fourth place in the Metropolitan Division. However, there is no room to rest. While the Islanders hold the first wild-card spot, the Pittsburgh Penguins and the New York Rangers are right behind them. Coming into the season, not many people would have those two teams missing the playoffs. Now, the Islanders will have to fend them off.
If they want to keep that position, they'll have to improve their recent play. The Islanders are losers of their last three games and are a mediocre 5-4-1 in their last 10. Despite this latest slump, Hockey Reference still has the Islanders' chances of clinching a postseason berth at 77.1 percent.  There's no doubt the Islanders have a playoff offense, but if the scoring stops, can they still get in? Let's find out.
Goals, Goals, and More Goals
The Islanders have scored a whopping 103 goals this season, good for second in the NHL. This offensive outburst is due in part to their new second line made up of Andrew Ladd, Jordan Eberle, and Mathew Barzal. Eberle was acquired in a trade with the Edmonton Oilers, and Barzal is in his first season as a pro since being drafted by the Islanders in 2015.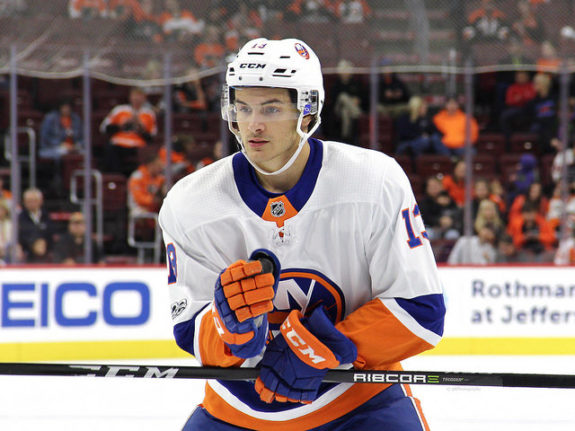 Barzal has been the second-line center behind Tavares the Islanders have longed for. In 29 games, Barzal has eight goals and 20 assists for 28 points. Barzal has been a big reason that the second line has been so dominant driving play with great puck possession numbers. Barzal's Corsi-for is 55.8 percent, Ladd's is 56.3 percent, and Eberle's is 56.9 percent. Anything over 50 percent means that player is controlling the puck more often than not.
The second line hasn't been the only line that's been effective. Josh Bailey is currently in the midst of a career year, with 32 points in 29 games and 27 of those points registering as assists. To put that in perspective, Bailey had 32 points in all 82 games just two seasons ago. Bailey's vision has helped Tavares and Anders Lee bury 17 goals each.
However, one can't expect the Islanders to continue this pace all season. In their last three games, the Islanders have scored three goals or fewer, which is below their team average of 3.6 goals per game. Those three games were losses. This team can certainly score, but constantly outscoring the opponent won't always work as the games get tighter come playoff time.
Logjam at Defense
Since garnering more playing time, Ryan Pulock has proved he belongs. The 23-year-old is averaging 16:31 time on ice in 16 games and has a Corsi-for of 53.1 percent. As impressive as he's been, there's a feeling he can do more offensively. Perhaps he will with a solidified role. With Johnny Boychuk out the past few games, and Thomas Hickey being placed on the IR, coach Doug Weight has had to shuffle his defense pairs a bit.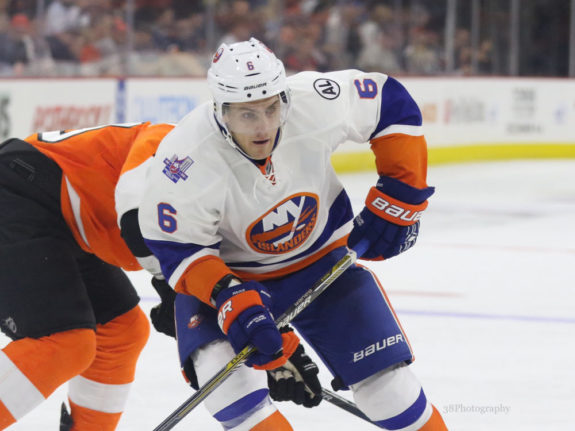 Outside of Johnny Boychuk and Nick Leddy, the defense is a tad suspect. Pulock is improving and Calvin de Haan is doing his job. Yet, the Islanders haven't nailed down their third pair. Dennis Seidenberg has played in just 11 games and acts mostly as the team's seventh defenseman. Based on his play, that's the way it should be.
Adam Pelech, Thomas Hickey, and Scott Mayfield are the other three defensemen competing for the final two spots. All three have been adequate and average, but Hickey's latest injury makes the decision a little bit easier. However, when he returns, he should get his spot in the lineup back.
Out of the three, Hickey provides the most stability and has shown he can step up in big moments. Don't be surprised if the Islanders deal a defenseman at the trade deadline, because there's simply one too many vying for playing time.
No Clear Number-One in Net
Last but not least, the Islanders' biggest problem. Their situation in goal may be the only thing between them and a playoff run. Neither Thomas Greiss or Jaroslav Halak has given the Islanders reason to believe they can carry the workload as a starter. Greiss has been the bigger disappointment of the two with a terrible .890 save percentage and a 3.79 goals-against average.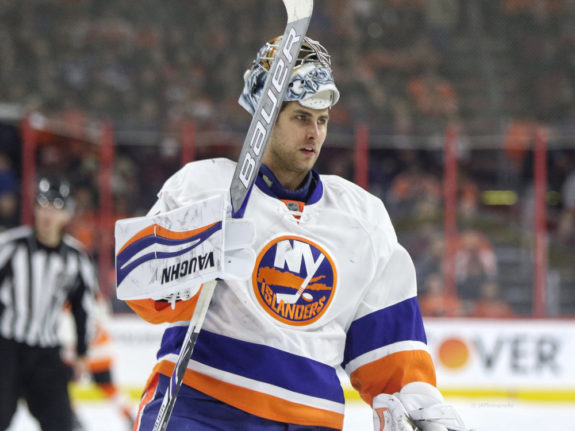 Halak has been slightly better, but he still holds a .903 save percentage of his own and a 2.93 goals-against average. Both are considered below average by league standards and are a big reason the Islanders are ranked 28th in the NHL in goals against. The team defense hasn't been great, but any team needs a few big saves and both goaltenders haven't been able to come up with them.
Do The Islanders Make It?
I fully expect the Islanders to test the market on goaltenders in the coming months. So far, this team has exceeded expectations, but that can fade quickly with one bad stretch. While the Islanders can roll four scoring lines, they still rotate between two backup goalies.
If the Islanders don't make any changes in net, I still think they have what it takes to make the playoffs, but it won't be easy. Maybe a goalie like Robin Lehner would be available for trade. If the Islanders acquire a starting-caliber goalie, I could see them being one of the best teams in the Eastern Conference outside of the Tampa Bay Lightning. Until then, they'll likely be fighting for their playoff lives the rest of the way.
John Cavanagh is a Journalism major in his third year at St. John's University in Queens. He's an aspiring sports journalist, and writes for his school paper called "The Torch". He also covers the New York Rangers for Blue Line Station, and now the New York Islanders for The Hockey Writers.