Through 13 games, the New York Islanders are 7-5-1, coming off a brutal loss in the last few minutes to the Washington Capitals. That 4-3 loss was highlighted by the poor play of goaltender Jaroslav Halak, who made only 15 saves on 19 shots in a game the Islanders dominated. It was the third game in a row that Halak started, but after this clunker, who can head coach Doug Weight trust in net?
The Case for Halak
Yes, Halak likely cost the Islanders at least a point against the Capitals on Thursday night. But, he's been the best goaltender on the team so far this season. After getting sent down last year and playing only 28 games in the NHL, many wondered if Halak's days as an Islander were numbered. Yet, he started this season on the Islanders roster and never looked back.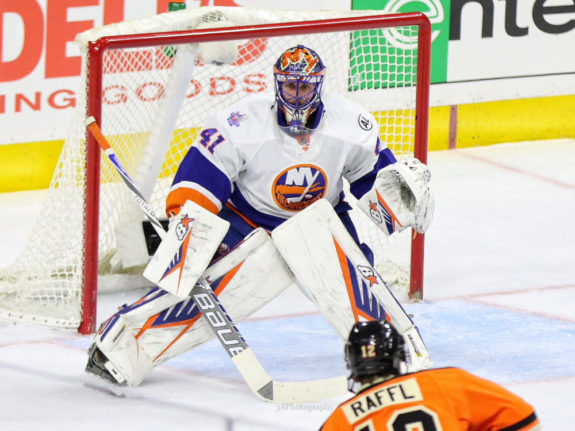 Through his first eight starts, Halak carried a save percentage of .916 with a record of 5-2. With the Metropolitan Division looking mediocre thus far, every point matters and Weight is clearly riding the hot hand. However, Halak has a tendency to be inconsistent and fail to make a big save when needed.
Against the Capitals, Thomas Hickey made an ill-advised pinch that resulted in a two-on-one for Washington. Lars Eller wristed a nice shot past Halak, but it's one he needs to come up with. A save percentage of .789 isn't going to beat anyone, and while it was just one bad start, it proved he struggles to handle the full workload of a starter. It's a problem that has plagued him his whole career.
Despite his previous shortcomings, the Islanders have looked impressive so far with him in net. The team has shown an ability to roll four lines and three defense pairs successfully. The only real question mark falls between the pipes. If Halak continues to outplay his counterpart, perhaps he's the answer.
The Case for Greiss
Last season, Thomas Greiss took the starting job from Halak and provided stability to a surging team that had a slow start. This season, it's been Greiss who's had the slow start. Through five games, Greiss is 2-2-1 with a 3.70 goals-against average and an .898 save percentage. To put it in perspective, Greiss has allowed 17 goals in five games.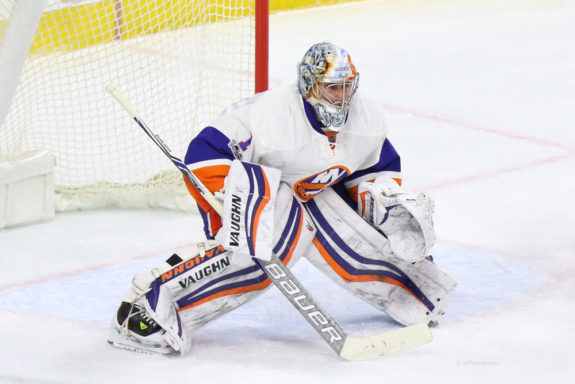 Greiss's last start came against the Minnesota Wild on Oct. 26, when the Islanders lost by a score of 6-4. While he may not be in a rhythm, he'll have to make the most of his next start. That next start may be soon with Halak's latest performance.
While Greiss has struggled, his history with the team may justify giving him time to figure it out. He was the goaltender the Islanders leaned on to advance to the second round in 2015-2016 for the first time since the 1992-1993 season. His postseason save percentage of .923 helped defeat the Florida Panthers in the first round. Last season, he was named the starting goaltender and went 26-18-5 with a 2.69 goals-against average and a .913 save percentage.
Greiss has shown in the past he is much better than his current numbers indicate, and if he can return to form, he could be the goaltender the Islanders lean on like they have in years past.
Islanders Need Clear Direction in Goal
The goalie situation isn't ideal, but it's better than last year when the Islanders carried three goaltenders. Most teams like to solidify their starting goaltender position at this point, but the Islanders seen content on playing both Greiss and Halak. This will keep both goalies fresh, and give Weight options as to who gives his team the best chance to win.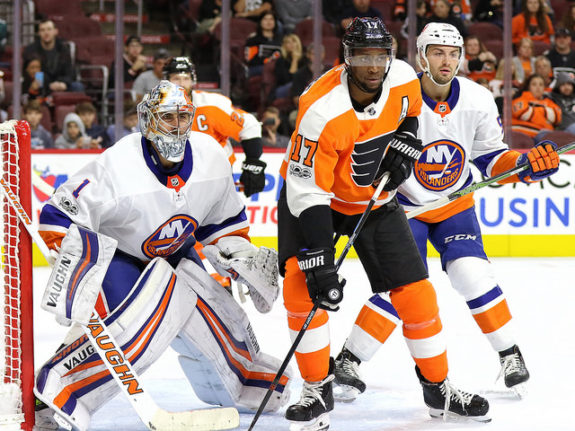 However, the Islanders know this is not a key for success. A clear direction is needed going forward. The margin of error is slim, and the Islanders can't afford to be patient. Another season can't be wasted with John Tavares's future with the team in limbo.
Greiss has provided greater stability the last few seasons, but Halak is better right now. I expect Greiss to turn it around and take the job back. Halak would be considered a quality backup in today's NHL. But, hockey is unpredictable and each game will be crucial going forward.