The NWHL announced through Twitter on Feb. 7 that Buffalo Beauts forward Rebecca Vint had been added to the lineup for the league's All-Star Game. Beauts fans in Buffalo, and Vint's own coaches and teammates, likely wanted to respond to the NWHL – "Well, what took you so long?". If you have watched her play this season, there never would have been any doubt in your mind.
She is "Miss Dependability" on the ice. Vint is a wingnut that fastens a line together and is relentless in the face of action. These types of players are essential to any lineup, and they have become about as rare as a natural hat-trick these days.
Rebecca Vint has been added to the #NWHLASG! She'll skate with #TeamLeveille in Saint Paul this weekend! Congrats, 12! pic.twitter.com/TgPbcE3RdS

— Buffalo Beauts (@BuffaloBeauts) February 7, 2018
THW had a chance to catch up with Vint shortly before she headed out to Minneapolis for the All-Star weekend Feb. 10 and 11. We were able to get the scoop on how she feels about her first season in Buffalo, and the opportunity to win her first Isobel Cup.
Her First Season in the NWHL
It was big news in women's hockey when Vint elected to sign with the Beauts at the end of Aug. 2017. Not only was she coming from two successful seasons in the CWHL, but her college career at Robert Morris University had been one for the ages. Playing at RMU from 2011 until 2015, Vint held the school's all-time scoring record at the time she graduated. That included 73 goals and 61 assists for 134 points in 127 games.
Once she wrapped up her NCAA career, she returned home to Ontario, Canada where she played two seasons with the CWHL's Brampton (now Markham) Thunder. The Thunder had made Vint a third round selection in the 2015 CWHL draft and she would not disappoint. In 24 games during her first CWHL season, she potted 19 goals in 24 games and tacked on seven assists to be more than a point per game player.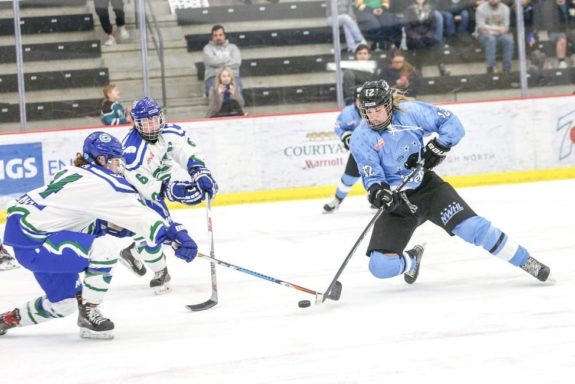 Many felt that the Beauts got away with highway robbery this past offseason. Not only because Vint signed with the team, but her Thunder teammates Jess Jones – a high-powered sniper – and Sarah Edney – now one of the top defenders in the NWHL – also came to the "City of Good Neighbors". Difficult to say who was more mad – the Thunder or the other three NWHL teams.
"I am loving every bit of my first season with the NWHL," Vint told THW. "We have a great group of girls, which is huge when coming to a new team. From my teammates to the entire coaching staff – they have made becoming a Beaut a great hockey experience."
Getting to Know Her New Teammates
More often than not, Vint has found herself on a line this season with Beauts' team captain Corinne Buie and her former Thunder teammate, Jones. Any hockey player in the world would love to have those two as linemates. Buie is the consummate leader and champion, and she is one heck of a sleek scorer too. Jones has a heavy shot and is one of the best natural goal scorers in women's hockey.
It is Vint's robust style and her commitment to defense that give players like Jones and Buie the opportunities they need to take chances and be creative. The line stays intact even as it flowing and winding because of a linemate like Vint.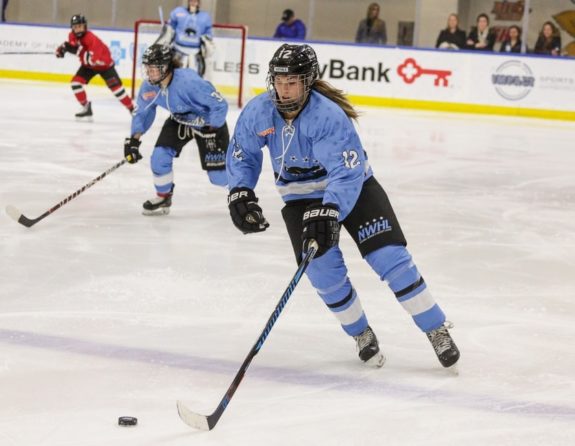 Recognizing that Vint already has a strong familiarity with both Edney and Jones, THW asked her how she felt about all of her new Buffalo teammates.
"I think every Beauts forward brings something different to the table," she explained. "It's hard to choose just one player, or even a couple for that matter. Buie is definitely someone I very much enjoy playing with. She has so much passion for the game. She is always positive, and is more than just a captain. She's a great person on and off the ice, a real treat to be around!"
We think the feeling is probably mutual, Rebecca.
Can Generate Some Offense Too
Vint has played in all 11 of Buffalo's regular season games so far this season. Through that stretch she has contributed two goals and three assists. Vint has also rifled 27 shots on net to give herself a 7.4 shooting percentage. Those numbers are maybe a bit low by her standards. With the Thunder she ended up totaling 41 points (27 goals, 14 assists) in 43 CWHL games across the past two seasons. But in her first NWHL season, those Thunder totals are irrespective of what Beauts co-coaches Ric Seiling and Craig Muni are counting on Vint to do game after game for Buffalo. They need her to bring the intangibles, and she is doing just that.
🚨🚨🚨 REBECCA VINT CUTS HARD TO THE NET AND SLAMS IT HOME! We're up 3-2 with 6:31 on the clock in the 3rd! #BUFvsCTW pic.twitter.com/zPfGJrMh6K

— Buffalo Beauts (@BuffaloBeauts) January 14, 2018
"I think some of my best attributes as a hockey player would be my strive to compete, my size, and doing things with a purpose," Vint stated.
She has the size part easily covered, standing at 5-foot-10 and just about 160 pounds. Vint's eight blocked shots this season are tied for fourth best on the team. Similarly, three of her five points have come on the power play. More noticeably though, Vint brings a physical style of play where she will not back down from any opponent. The Beauts have a few players like that, but Vint is one of the leaders of the pack.
Excelling on Face-Offs
The one statistic that jumps out as being a forte of hers is how she wins draws with regularity. While Vint has the ability to play the various forward positions interchangeably, she has developed a knack for being key on face-offs. Oftentimes she will be the one in the circle waiting for the puck to be dropped.
Vint has been doing it all season long too. In her 11 games, she has won the draw a total of 92 times. That is the second most of any Beauts player, trailing only Maddie Elia who is equally as tenacious of a player as Vint. Those 92 wins are also the sixth most in the entire NWHL right now.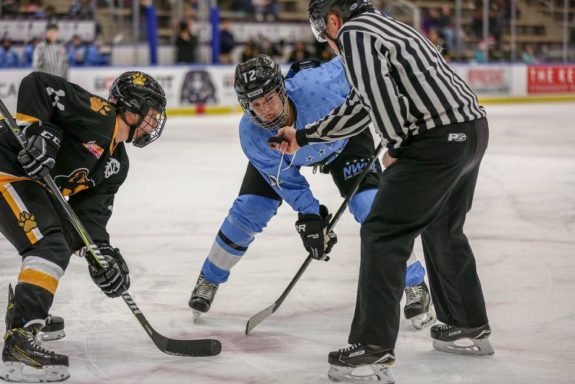 Asked what has made her so successful in the face-off circle, Vint shared:
"You learn different techniques throughout the years, but when you face so many different opponents at the draw you kind of learn off them too. The good things they do that you can learn from, but also what they are weak at. It's not only about your technique, but reading who you're facing off against."
While face-offs and puck control are always important, they tend to become even more so come playoff time. Also, the Beauts are finishing out their regular season with four games on the road. Controlling the puck early and often means less time and energy wasted trying to get it back. Clean draws are a vital art, and Vint is a Mary Cassatt.
Wrapping up the Regular Season
So about those four remaining games…, yes, it can be tough for a team to wrap up the year on the road. Playing in unfriendly confines away from home is not exactly a cup of tea, but Buffalo has been down this road before.
Think about it – now in the third year of the league, this is the first time that the Beauts will ever play a playoff game at home, having recently clinched home-ice advantage with a Feb. 3 win over the Metropolitan Riveters.  With their previous Isobel Cup finals appearance in '15-'16, and then winning the trophy last year, all of their playoff games were road games. They are accustomed to winning while they are away, and winning big. Still, the Beauts need to be prepared no matter what rink they are playing on.
"I think we just need to stay focused, and keep bringing everything we have," said Vint. "We are a force to be reckoned with when we are on our game, and I am super excited to defend the crown come playoffs."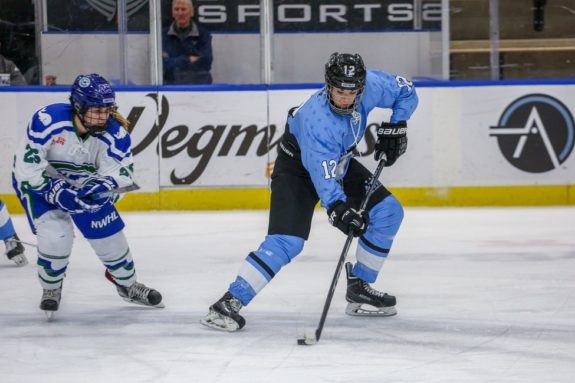 Vint said it perfectly – this Beauts team is a force to be reckoned with. She is pumped too about what this team still has left to accomplish, and what they want to do for the city. Our last question to her was this: as the Buffalo community gets ready for another Isobel Cup run, what is something you would want to say to the fans?
"Thank you so much for all of your support this season! It's amazing to see so many die-hard fans," Vint stated warmly. "And especially those repping my jersey – I am truly blessed to look, and see them in the rinks. But really it's amazing to see any fan in Beauts swag."
Make sure you come down to the HarborCenter on March 17 decked out in that Beauts swag, and do so in true playoff hockey fashion. Rebecca Vint and team will give you plenty to cheer about.
General Manager of the Buffalo Beauts (NWHL). Hockey history writer "The Hockey Writers". Credentialed media for the NHL Combine and 2018 IIHF World Junior Championships in Buffalo, NY, USA. Born and raised in Buffalo, NY. Lifelong hockey fan for over 40 years. Proponent of the women's game.