The Buffalo Beauts have closed the home portion of their regular season. We know that this is not a goodbye—it's just a "see you later." The team will finish out the 2017-18 regular season on the road with a game in Boston, two straight in New Jersey against the Metro Riveters, and their final game in Connecticut when they wrap up against the Whale on March 10 at Terry Conners Ice Rink.
Goodbyes are tough. See-you-laters are tough too. For members of the media, the Beauts last home game for 2017-18—a 5-3 win over the Riveters on Saturday, Feb. 3—was really the last time that we are certain to see and interact with the players and coaches, at least until the playoffs. For the fans it tugs even more at the heart. While their support for the Beauts may be undying, it is hard to not be able to see their players up close and in person, at least for the next month or so. As a whole, the Buffalo community is psyched over the season and what is still to come, but we are a bit melancholy too when our team will be far away and not at the friendly confines of the HarborCenter. By the way, the building has been absolutely raucous lately.
WHAT. A. GAME. #METvsBUF

Recap 👉 https://t.co/N9mNkTfNrv pic.twitter.com/dMikfE73QK

— Buffalo Beauts (@BuffaloBeauts) February 4, 2018
And there is where the parting of ways becomes more bearable. The Beauts are hitting the open road for more than a month, but they are leaving the Buffalo faithful with hearts spilling over with inspiration and love for their team. With six straight wins stretching back to mid-December, including an overtime victory and two wins in shootouts, the rink has gotten fuller and louder at each game. The players are feeding off of it. The coaches are feeding off of it. And in turn, the fans have fallen head over heels for their hockey club.
As we say "see you later" to the Beauts, here are five inspiring thoughts that they are leaving us with. Each is listed in no particular order, as they are all of value and importance to the success of the team. Especially with the playoffs in sight.
1. Leveille Just Keeps Getting Better and Better
When a player is named captain for an All-Star team, it stands to reason that she has played remarkably well up to that point. Amanda Leveille has been named one of the captains for the 2018 NWHL All-Star Game, and was given the honor of drafting her team. The only concern is that some folks may not realize just how good Leveille has been playing as the season has progressed. At this point, she has been downright awesome.
Like the Beauts themselves, Leveille is now undefeated in six games straight. Within that six-game stretch, she has posted games of 37, 21, 24, 31, 25, and 30 saves respectively. Even though she garnered the win in the 5-3 victory over Metro, she still expects more of herself:
"I'm my harshest critic," Leveille said to THW after the game. "I didn't like the goals that I gave up today, but the most important part is that our team won, and that happened today. I gave up (fewer) goals than the other goalie. That's all that I'm asking for."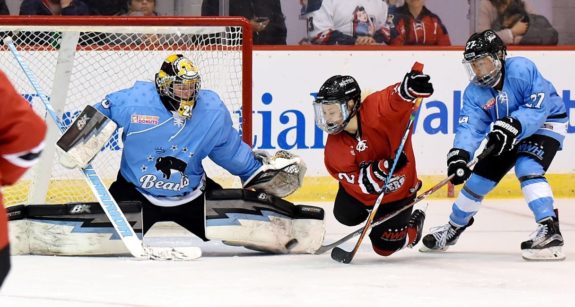 In 12 games this season, Leveille has gone 8-4-0. She has picked up a shutout—that came during the wild 1-0 shootout victory over the Boston Prides that went a full 10 rounds before it was decided. In well over 700 minutes of play, Leveille has made 348 saves off of 382 shots. That gives her a 2.79 goals-against average and a .911 save percentage. That save percentage is fourth best in the league, but you have to remember too that Leveille is one of only two NWHL goalies to have played 12 games this year. The other netminder—the Whale's Sydney Rossman—has a .894 SV% and a 3.10 GAA in as many games. Two of the three goalies to have better save percentages than Leveille have only played in four and three games respectively.
Despite any criticism she has for herself, Leveille's play is getting hot at the exactly the right time it needs to. The playoffs are just around the corner.
2. Defense Corps Functions Entirely as One
The Beauts' D continues to look more cohesive through each game. What is particularly nice to see is that a different defender appears to step up her play from game to game—it's not always the same one or two coming into the forefront. The Beauts collectively have blocked 109 shots this year with only the four games remaining. That is the second-most in the NWHL behind only the Whale.
Granted, not all of those shots were being blocked by defenders, but the eight blueliners who have seen game action this year have accounted for nearly have of those blocked shots (47). Defender Jordyn Burns is tops among all Beauts in that category with 14. That ties Burns for third most in the entire league. Not surprisingly she was made an All-Star selection.
In the win over the Riveters, Sarah Casorso had two assists from the back end. Sarah Edney put two shots on net and was a plus-three. Burns was also a plus-three. If you go back to the Jan. 27 game against the Boston Pride at the HarborCenter, it was Colleen Murphy leading the team in blocked shots with a pair; she also saw a lot of ice time that game, and deservedly so. While at the Jan. 14 game in Connecticut, Lisa Chesson put forth a goal and an assist in the 4-3 win over the Whale. Jacquie Greco has been the most physical of any of the Beauts' D and consistently hustles with intense concentration every shift she takes.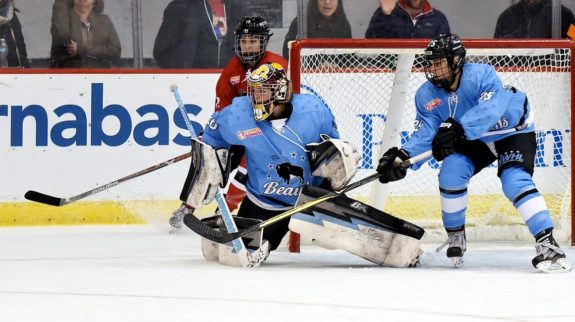 It's different defenders leading the charge, and yet they still function as one unit. They come at opposing teams like a hydra—remove one of the heads and two more appear. The Beauts' defenders have that swarming effect where one player will backfill another skater. First, it is Casorso and Burns. Then it becomes Casorso and Murphy. Followed by Burns and Greco, and Casorso and Edney. All of them are interchangeable and they seem to thrive off of this being so.
3. Seiling Has Every Reason to Be Pleased With Specialty Teams
In terms of special teams production, the Beauts are second-best in the NWHL with goals scored shorthanded and in goals scored with the player-advantage. While the Riveters may lead the league in power-play goals with 16 of them, Buffalo stands in second place with eight markers of their own. Separately, only Buffalo and Metro have scored shorthanded this year—neither Connecticut or Boston has managed to do so. It just so happens that the two shorties that the Beauts picked up this season came in the most recent 5-3 victory over the Rivs.
When the media asked Beauts forward Hayley Scamurra how important specialty teams have been to the team, she explained:
"Super important," she said. "I think games are won and lost by special teams. We've been really hammering it in practice and working on it, and I think it's shown."
While Buffalo scored their first two shorties, the Riveters sit at the top of the charts with four of their own. Metro's Alexa Gruschow is the only player in the NWHL who has scored more than once shorthanded and is at the top of the column with two. The four battles these two teams have played against one another have been physical, to say the least. Sometimes it has been a downright war. The fact that the Riveters lead the league in all specialty categories is another bone of contention between the two squads.
Riveters Won't Just Fall off the Throne
When asked about the rivalry, Beauts co-coach Ric Seiling told THW:
"In our previous two-year history, we've been to the Finals once and we won it once, and they (the Riveters) haven't gotten past the first round yet. I think they're the kind of team they (the NWHL) would like to see go. That team has really improved since the first year, and since last year. They just don't quit. They didn't go undefeated just by showing up. They're a good hockey team—they're a very solid hockey team. They play very hard, and they play very well. It's just a matter of we have to be playing our game and playing our style, and counter what they're doing. They're a very good hockey team—don't discount them. Just because we beat them once doesn't mean they're going to fall off the throne."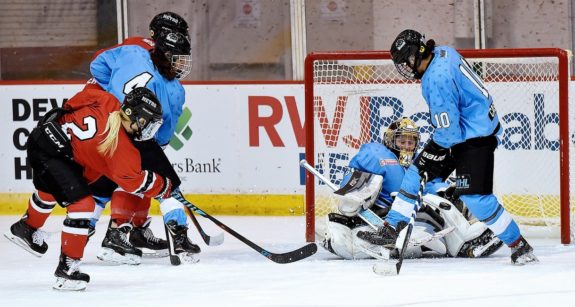 Regardless of which team has produced more, Seiling and co-coach Craig Muni have to be pleased with how their team has done either with the advantage or without. The Beauts have had to kill off 50 penalties this season, the second-most in the league. In those situations they have allowed goals just nine times, which puts them at an 82-percent success rate for their PK. Not too shabby, but still can be improved upon. In particular, Scamurra, Jess Jones, Kourtney Kunichika, and a rookie who has turned out to be getting better game in and game out—Kaylyn Schroka—have stood out as some of the better penalty killers on the team as the season has gone along.
"At any level, special teams is pivotal," Seiling went on to say. "You get into the playoffs and with a lot of teams 5-on-5 play evens up, but it's special teams that makes the difference. You've got to be operating at peak come playoff time. Special teams in the NHL, NWHL—doesn't matter—you've got to be on spot with it."
4. Scamurra Making Case to Be Best Two-Way Player in the NWHL
One of the best players during the Feb. 3 showdown was easily Buffalo's Hayley Scamurra. With 54 seconds left in the opening period, playing shorthanded, and trailing the Riveters by a goal, Scamurra drove to the net and slipped one through Katie Fitzgerald. It was the definition of being relentless, and also showed a player capable of taking the game into her own hands. The crowd immediately fed off of her performance and did not let up with their support for the remaining 40 minutes.
"It was great," Scamurra said. "The crowd's been getting bigger and bigger since the Pegulas bought us. It's been amazing. It's really fun to play in front of our crowd."
Somewhat under the radar, Scamurra is proving that she is the best two-way player in the NWHL. Her backchecking and forechecking are done with equal force and focus. While Scamurra is indeed that relentless player, she does so with a calmness and composure that is not typically associated with such an attacking word. She is very much self-aware and in command of anything she can control in the game.
🚨: @HScamurra
🍏: @jburns_17 #METvsBUF pic.twitter.com/gVEBhWULHp

— Buffalo Beauts (@BuffaloBeauts) February 3, 2018
Scamurra is a point-per-game player this year. In 11 games played, she has scored five goals and seven assists. Those 12 points have her well within the top 10 scorers in the league. Scamurra is also at the top for leading the NWHL in shots. After the game against the Riveters, her shot total rose to 50 which just beats out the Whale's Kelly Babstock's 49.
Even though she is among the top scorers, Scamurra is quick to point out that all players on the Beauts right now are contributing. Offense is coming from everywhere, whether a Beaut is in the top-10 or not.
"I feel like a lot of us are up there," she explained. "We're all pretty close in points. Maybe leading by one or two, but everyone is contributing on our team. It's great to see."
5. Kunichika Is Playing a Season for the Ages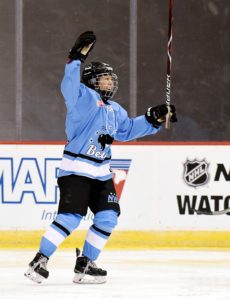 While we are on the subject of flying under the radar, let us talk about the season that Kourtney Kunichika is having. She is the only original Beaut from the inaugural 2015-16 season and is naturally considered more of an elder stateswoman on the team even though she is only 26. Playing mostly center on a line with Scamurra and Maddie Elia, the trio have easily been Buffalo's top line. Kunichika herself has been the adhesive for the line – the one that allows Scamurra and Elia to attack vehemently but keeps the line defensively responsible. If Scamurra is cool, calm and collected, then Kunichika must have ice water running through her veins—no challenge seems to phase her. She is the consummate veteran for sure.
"We have great chemistry," Scamurra said about playing with Kunichika and Elia. "We're all battling down low and we find each other. We've been lucky enough to put some in."
In turn, Kunichika rather quietly has led the Beauts in scoring for most of the season, although Scamurra just moved ahead. In Kunichika's 12 games she has scored a pair of goals and nine assists. After being the second leading scorer (nine goals, eight assists in 18 games) for the Beauts during the 2015-16 season, Kunichika's numbers dropped a bit last year (two goals, nine assists in 17 games) on a team that truly struggled to generate offense. Scoring has not been a true concern for Buffalo this season, and Kunichika has done a superb job of feeding pucks to her linemates who are both finishing.
How to Wrap Up the Regular Season
Improvements can always be made. But when you consider the five aforementioned positive aspects and know that a few more could have been pointed out, it is easy to see why Buffalo has become so enamored with this hockey team. There is much to be excited about as the Beauts try to complete "the drive for two." If there is one thing that Buffalo fans are guilty of, it is that they love their teams regardless of outcomes. Maybe in any other situation than this one, that could be problematic because oftentimes not enough pressure is put on the team when it needs to be.
Here we have the total opposite. These players expect it of themselves that they will win for this city, and they do not want to let the Buffalo faithful down. No one can scoff at the idea that the Beauts are capable of outworking any hockey team in any league—that is how much they care right now. More importantly, they have each other's backs.
So long for another month, Beauts. We know it's just a "see you later." Buffalo is anxious for your return. Absence does in fact make the heart grow fonder and your city awaits your return with open arms.
General Manager of the Buffalo Beauts (NWHL). Hockey history writer "The Hockey Writers". Credentialed media for the NHL Combine and 2018 IIHF World Junior Championships in Buffalo, NY, USA. Born and raised in Buffalo, NY. Lifelong hockey fan for over 40 years. Proponent of the women's game.