Nashville Predators defenseman P.K. Subban won his first Norris Trophy during the lockout-shortened season of 2012-13. He was awarded the trophy as the league's best defenseman after he posted 11 goals and 38 points in 42 games. He was still a Montreal Canadien that season and tied for the seventh-youngest player to win the award, doing so at age 23. His 38 points were the second-most on the team and eight more than any other Montreal defenseman. Subban played a key role in helping the Canadiens win the now-defunct Northeast Division.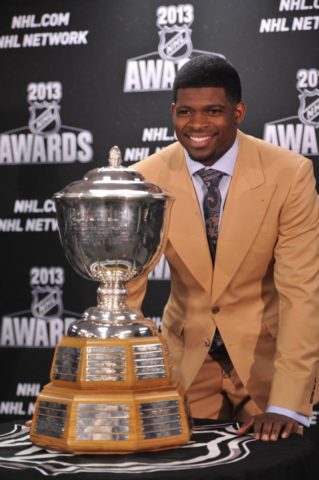 Since winning that Norris Trophy, Subban has been good, especially the three seasons immediately following his award win. However, given the blockbuster trade that sent him to Nashville and his electric play, he is more often associated with how the media perceives him. This involves the criticism he draws from old-school hockey fans who often view him as a distraction.
This negativity has at times been warranted. Occasionally, Subban can look more interested in off-ice interests than his play. Last season, his first with the Predators, he had a down year, posting his lowest point total since the 2011-12 season. He also missed 16 games in the middle of the season with a back injury. After returning to full health, he played great and helped the Predators reach the Stanley Cup Final. This season, he continues to be a dynamic force on their blue line and is playing the best hockey of his career.
Earning Laviolette's Trust
Throughout Subban's career, he has often been protected in his deployment. During his six full seasons in Montreal, half of them ended with him receiving the majority of his non-neutral zone starts in the offensive zone. This zone split reached its peak during his Norris-winning season when he had a 54.6-percent offensive zone start rate. In his two seasons with the Predators, he has started more in the defensive zone, including 59 percent this season. That rate is the highest of his career and also the highest among Nashville defensemen. Considering the quality of the Predators' defense, it is evident that head coach Peter Laviolette intentionally deploys Subban in the most difficult of situations.
Despite Subban having such a difficult split of zone starts, he still has a Corsi above 51 percent at 5-on-5. The Predators are also controlling over 60 percent of goals at 5-on-5 when he is on the ice. As a team, Nashville is controlling 55 percent of goals. Subban has played almost exclusively with former Montreal teammate Alexei Emelin as his defense partner. They have been together for over 600 of Subban's 800 5-on-5 minutes. When together, the pair has a 49-percent Corsi, but Emelin is having a negative impact on Subban. When Subban is playing with a partner other than Emelin, his Corsi jumps above 58 percent.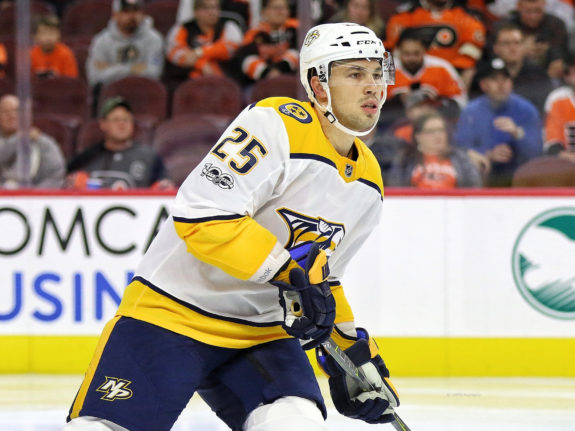 The other defenseman Subban plays with often this season is Mattias Ekholm, his main partner last year. When on the ice together, they have a 57-percent Corsi at 5-on-5. Subban and Ekholm generally play together when the game is winding down and either the opposition is pressuring or Nashville needs a goal. This makes sense as most coaches shorten their bench in the most important game situations. Although playing the two together full-time would create two dominant pairs, separating them gives each defense pairing an anchor. For the Subban/Emelin pair, that anchor is Subban, further confirming the trust Laviolette has in Subban.
The Offense Is Still There
For as much of an improvement as there has been in Subban's defense, it has always been his offensive skillset that is his best asset. Anyone who has watched him play knows what he brings: a strong ability to handle the puck and a booming slap shot that is a threat to score from anywhere in the offensive zone. Those shots and his vision for passing the puck have helped him lead the Predators in scoring this season with 40 points in 50 games. His 40 points already match his total from last season in 66 games.
His 13 goals lead the league for defensemen and are just two off his previous career high set during the 2014-15 season. His 0.65 goals per 60 minutes are also the best among defensemen with at least 1,000 minutes of ice time. He is accomplishing this goal rate while shooting a career-high 10.92 percent, highest among NHL defensemen. His 5.94 shots per 60 are his highest rate since the 2013-14 season, so he is shooting accurately while having a high volume of shots.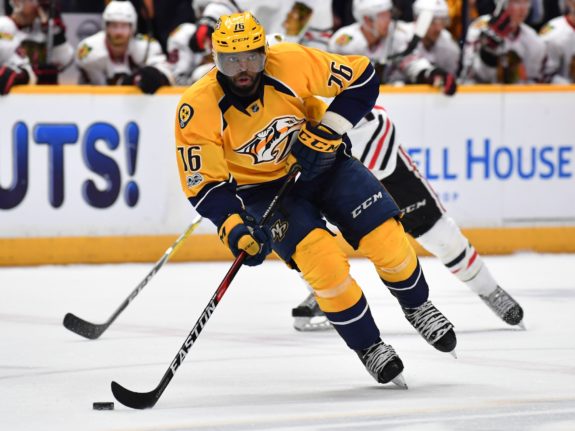 Subban's 0.80 points-per-game is the second best scoring rate of his career, only behind his Norris-winning season. His 2.00 points per 60 are the third-most among defensemen with at least 1,000 minutes played. He has registered a point on 26 percent of Nashville's goals this season and has contributed 7.8 standings points to the team's 69 points through 50 games.
The Predators have a 21-4-4 record this season when Subban registers a point and a 10-8-3 record when he doesn't. He is driving play better than all other Nashville defensemen, leading the group in shot and goal control in all situations. Keep in mind, this is occurring while he is starting in the defensive zone well over a majority of the time. This makes it more difficult for the Predators to gain control of the puck, and they have to escape the defensive zone before being able to generate any offense.
Why Subban Should Win
Since winning the Norris Trophy in 2013, Subban has just one other top-five finish, in 2015. He finished third that year, losing to Erik Karlsson and behind Drew Doughty despite having more points than Doughty. I feel that he finished third due to the misconception that he wasn't a strong defender. Generally, the defenseman with the higher point total receives more votes. This season, that reason is no longer valid considering Subban's negative split in zone starts and Nashville's control of play when he is on the ice.
Subban is a key in shutting down the opposition, taking on more responsibility than ever before in his career. He is also driving the Predators' offense more from the blue line than any of his teammates. He ticks off all the boxes that voters typically look for when choosing their Norris winner. Furthermore, awarding Subban his second Norris Trophy would only continue to confirm his place among the game's elite defensemen.
*All stats came from Hockey-Reference and Natural Stat Trick.
My name is Kyle, and I'm the managing editor of The Hockey Writers. I joined THW in Oct. 2017 and am always striving to bring you the best hockey coverage possible. You can email me directly at kyle@thehockeywriters.com.