After a whirlwind summer of big moves, the Calgary Flames are in an unexpected place as they approach the 2018 National Hockey League trade deadline: exactly where they were a year ago. In 2016-17 the Flames were part of a pack of teams vying for a playoff berth, eventually capturing a wild card spot.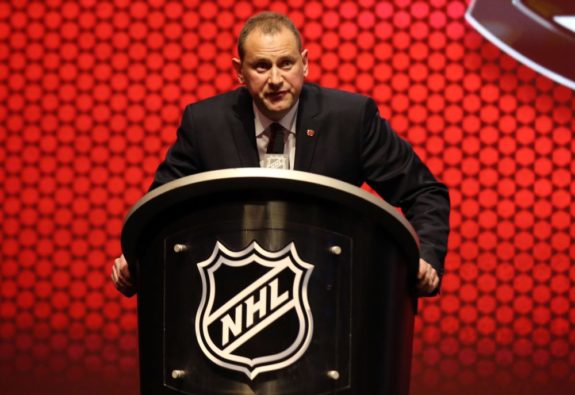 Now, after an off-season that saw general manager Brad Treliving send several high draft selections out the door in order to shore up his defense and goaltending, the Flames are in a tenuous position in the Western Conference playoff race.
The Flames' Situation
The Flames are in the midst of two concurrent (and overlapping) playoff races:
They're battling with San Jose, Los Angeles and Anaheim for the two Pacific playoff spots – it's still conceivable that the Flames could have home ice advantage in the first round.
They're battling with Dallas, Minnesota, Colorado and Chicago (and the three Pacific teams) for the two wild card playoff spots.
Their path to any of the playoff spots is precariously narrow given how many teams are jockeying for spots.
In terms of assets, the Flames have a bit of cap space and some roster flexibility. According to Cap Friendly, they've stored away enough space during the regular season that they an add $10 million at the deadline. They don't have a ton of draft picks available to trade this year: they traded their first and second round picks to the New York Islanders in the Travis Hamonic trade, while their third rounder is tied up with the conditions of the Mike Smith trade with Arizona. They potentially have no second round pick in 2019 or 2020, but other high picks in those drafts are available to swap.
What they lack in picks, they make up for in prospects. Jon Gillies and Tyler Parsons are promising goaltending prospects. Juuso Valimaki, Adam Fox, Oliver Kylington and Rasmus Andersson are strong defensive futures. Matthew Phillips, Dillon Dube, Spencer Foo, Adam Ruzicka and D'Artagnan Joly highlight their forward prospect group. Rather than swap lottery tickets in the form of draft picks, the Flames can deal in more known quantities.
Their Needs and Wants
The good news is that Treliving's jockeying over the summer did end up having the desired effect: the Flames are better in goal and on the blueline than they were a year ago. That said, they still struggle to give their goaltenders a ton of run support and remain a group that's very reliant on their top two lines for offense. They could use additional scoring depth for their top nine, particularly in the form of speedy, right-shooting forwards – adding a right handed player that can play center would be ideal. Kris Versteeg is expected to return from his hip injury sometime in mid-to-late March, but pushing him into the top nine would be a lot to ask.
Does the "M" in 3M stand for "magic" pic.twitter.com/0e04VDasxR

— FlamesNation (@FlamesNation) February 4, 2018
While they're seeking to add some offense, the Flames also likely hope to somehow gain some medium-term flexibility. The club has to re-sign Mikael Backlund to a pricey extension this summer, while July 1 also opens a window where they can re-sign Micheal Ferland, Sam Bennett and Matthew Tkachuk to extensions. Tkachuk's deal will be especially crucial to nail down early, so having some cap flexibility going forward is integral to the Flames keeping the band together, so to speak.
If nothing else, the Flames' lack of draft picks and eye towards future contract moves could push them in the direction of making some old-fashioned "hockey trades," moving roster players like T.J. Brodie or Bennett to other teams in a way to set up both clubs going forward rather than outright "buying" or "selling" at the deadline. A swap for somebody like Michael Grabner of the Rangers, Zack Kassian of the Oilers or a bigger swing for someone like Brendan Gallagher of the Canadiens could be in order.
Ryan Pike has covered the Calgary Flames and the NHL Draft extensively since 2010 as a Senior Writer for The Hockey Writers and Senior Contributing Editor of FlamesNation.ca. A member of the Professional Hockey Writers Association, he lives in Calgary.