From a contract management standpoint, the Calgary Flames are sitting pretty this year. Having already gone through some protracted contract negotiations in recent summers with Sean Monahan, Johnny Gaudreau and Sam Bennett, and having signed long-term deals for Dougie Hamilton, Mark Giordano and T.J. Brodie, the Flames have no big negotiations to delve into this summer.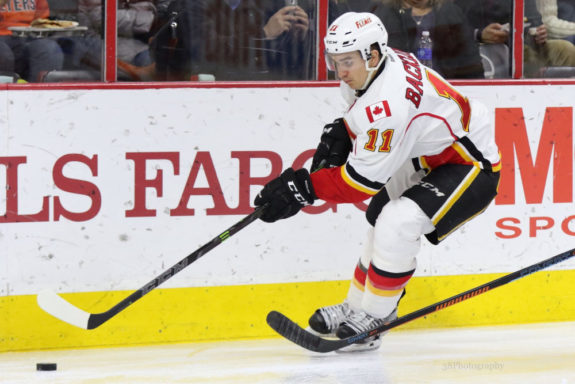 Well, except for Mikael Backlund, who has quietly established himself as the best two-way center on the team and perhaps the key cog in making the entire team run properly on the ice. With the trade deadline looming and Backlund's current contract expiring on July 1, the Flames need to face a simple truth: they need Backlund.
Patience in Development
A product of Vasteras, Sweden – located just an hour outside Stockholm – Backlund was selected by the Flames 24th overall in the 2007 NHL Draft. He spent another season in Sweden, then signed with the Flames over the summer and was moved to the Western Hockey League's Kelowna Rockets while already in North America for the 2009 World Junior Championship tournament. He wasn't getting a ton of ice time in Sweden and the thought was playing big minutes in the WHL would help him transition to the pro ranks. After winning a WHL Championship with the Rockets and making a trip to the Memorial Cup, he went pro the following season.
Backlund's first few pro seasons were productive, but hardly did much to assuage the fears of a fanbase starved for their club to finally deliver a star player via the NHL Draft. He spent his first three seasons in the NHL under head coach Brent Sutter, a longtime junior coach renowned for teaching responsible two-way hockey. Backlund struggled at times to generate much offense in a bottom six role under Sutter – his high was 25 points over a full season – but he was given increasing defensive duties as he proved himself able to handle them.
Emergence as a Shutdown Forward
While much of the hockey world loathed the 2012-13 NHL lockout, Backlund was one of the few players that seemed to benefit from it. Heading back to his hometown team, he played against other top NHLers who headed to Sweden to stay active. When the NHL returned, Backlund had a renewed confidence with the puck.
Not only could he play against the top players in the NHL and hold his own, he could generate offense, too. Under new Flames coach Bob Hartley, Backlund was relied upon for his defensive role with an increasing proportion of his shifts starting in the defensive zone but he also managed to increase his offensive production over four seasons. When Glen Gulutzan arrived in Calgary he continued Hartley's trend of leaning upon Backlund in defensive situations and, paired with some roster improvements that increased the quality of his linemates, Backlund's offense continued to uptick.
By this point in his career, Backlund is a consistent 50-point forward as well as a center that can be relied upon to shut down the top players in the NHL.
The Backlund Bump
It's one thing to play well and prevent the opposition from doing so, but Backlund's become associated with what The Athletic's Kent Wilson has described as "the Backlund Bump." In short? Backlund consistently makes his teammates better, in that their possession statistics are significantly boosted by their presence on his line.
Past major beneficiaries of the Backlund Bump include:
Paul Byron: +11.5% (2013-14)
Mike Cammalleri: +8.5% (2013-14)
Matthew Tkachuk: +8.4% (2016-17)
Lance Bouma: +8.1% (2014-15)
David Jones: +5.8% (2014-15)
Jiri Hudler: +5.1% (2013-14)
When the Flames were a rebuilding team, they kept their heads above water in games by using Backlund to carry a couple lesser linemates. Now that the team has become more balanced, Backlund's become a central part of the "3M Line" with Tkachuk and Michael Frolik – one of the most accomplished shutdown trios in the league. Their performance has allowed Sean Monahan's scoring line to get easier deployments and generate more scoring chances, while it's also allowed Gulutzan to shelter Mark Jankowski in his rookie season. In other words: Backlund's performance has arguably allowed the Flames to slot their players properly on the ice and given the team a chance to succeed in a big way.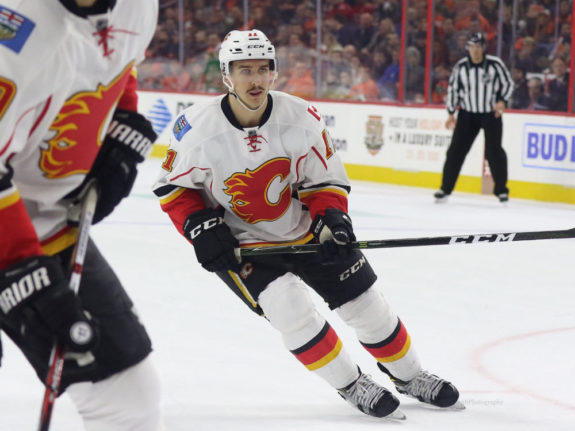 The Lineup's Lynch Pin
The first thing the Flames would need to do if Backlund departed is try to replicate him, but he's not exactly something that grows on trees. He's a better defensive center than Monahan and allows his coach to utilize his teammate in more offensive situations. He's the ideal mentor for Jankowski, a budding 200-foot center still getting his feet wet at the NHL level, and in the interim allows his coach to shelter his younger teammate.
The ideal situation is probably to re-sign Backlund for four or five seasons and use him as a mentor for Jankowski; if he develops faster than expected, suddenly the Flames have three strong pivots up the middle and the ability to roll three lines against any team in the league. Keeping Backlund makes a world of sense for the Flames and letting him walk to the open market would be disastrous in terms of unbalancing the team's forward group. They need to re-sign him.
Ryan Pike has covered the Calgary Flames and the NHL Draft extensively since 2010 as a Senior Writer for The Hockey Writers and Senior Contributing Editor of FlamesNation.ca. A member of the Professional Hockey Writers Association, he lives in Calgary.