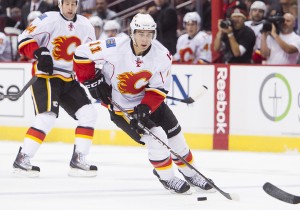 Training camp hit its mid-way point at the Scotiabank Saddledome on Wednesday and the Calgary Flames celebrated by holding a scrimmage.
Day four of 2013 training camp was punctuated by two main storylines: the return to the ice of captain Jarome Iginla (who had sat on the sidelines for the first three days with a sore groin) and the impressive performance of center Mikael Backlund in the special-teams focused scrimmage.
Following the on-ice session, Flames head coach Bob Hartley expressed some satisfaction with his team's performance in training camp thus far.
"I'm very happy. We still have adjustments, but that's going to be the same thing for 29 other teams. But I like the jump, I like the intensity, the execution is real good. Mikael Backlund, that scrimmage, was playing basically by himself out there. We see good things. The veterans are pushing hard, the kids are improving. I'm very happy," said Hartley.
While all eyes were on Jarome Iginla as he had his first taste of Hartley's up-tempo, intense practice, the story of the subsequent scrimmage was Mikael Backlund, who scored a hat-trick in Team Red's 4-1 win over Team Black. Following a couple seasons of inconsistency and injuries, Backlund's facing a crucial season in terms of his future with the Calgary Flames. However, with a brand-new coaching staff in place in Calgary (aside from returning goaltending coach Clint Malarchuk), Backlund has the opportunity to start fresh.
"I don't know Mikael Backlund," noted Hartley. "I had a few good meetings with him prior to the work stoppage. I've had a few more since we've started. He's eager to go. He knows this is a big season for him. We're supporting him and he has the talent to do it. I think that we'll give him some clear roles and I'm sure he's going to have a great season for us."
In addition to a renewed on-ice confidence – likely a by-product of his lockout success with HockeyAllsvenskan's VIK Vasteras HK, his hometown team – Backlund is sporting longer hair. When asked, Backlund explained that while his hair has been growing throughout the lockout, there's no significant connection between his locks and his confidence.
"I had long hair last year, too. I said I was gonna save it for all lockout and then cut it when it was over, but I haven't had time so far. It's been quite busy," shared Backlund. "But I feel good on the ice. I told myself to be more cocky and believe in myself and stuff like that, just go out and have fun and that's what I've been doing. It's been going well so far."
Noting the workload on his starting netminder thus far, Hartley announced after practice that Miikka Kiprusoff will get a day off on Thursday. Leland Irving and Henrik Karlsson are in camp battling for the back-up goaltender position.
The Flames have two more days of on-ice activity prior to Friday afternoon, when all 30 NHL clubs are required to set their 23-man opening night rosters.
—
QUICK QUOTES
"Right now, every coach, every member of the management, we each have our own evaluation, and then later on this week, we will sit and kind of look at our roster and that's where the great debate will start."
-Bob Hartley, Calgary Flames head coach, on how his club will determine its 23-man roster before Friday's 3 p.m. ET deadline
"They've been great. Every youngster coming up from the American League, this is the best hockey school in the world. Those guys basically played anywhere between 25 to 30 games, so this is quite a bit of hockey. Those guys feel pretty good about this. Their confidence level, their game shape level, is there. In Abbotsford, they've done a really good job preparing those guys and we're seeing that on the ice right now."
-Bob Hartley, Calgary Flames head coach, on the performance of the camp invitees brought up from the AHL's Abbotsford Heat

"I got to play lots last year against the top lines, like you said, and most games I did well. That gives me confidence knowing I can play against the top players in the league. This year in Allsvenskan, I learned myself to not have any respect for anybody – I obviously have respect for human beings – but not going out there thinking someone's better than me. Playing in specific, going against Allsvenskan, playing against Landeskog, Kopitar, Bobby Ryan, all those guys that were there playing…Marcus Johansson, I always thought I was going to be the better guy and I was the better player on the ice. That's my thing I have to bring, as player, to this level, too."
-Mikael Backlund, Calgary Flames centerman, on his confidence level heading into the season after being used against the top opposition lines (when healthy) last year