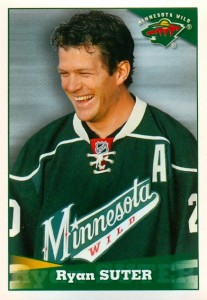 Coincidence and fortune had to intersect for Zach Parise and Ryan Suter to cross into Minnesota last July 4th: Coincidence that both were unrestricted free agents at the same time and fortune that both wanted to play together.
Another intersection of coincidence and fortune may be crossing in the Wild's favor very soon, as an unusual number of Parise and Suter's 2010 US Olympic teammates will be unrestricted free agents at the end of the 2013-14 season.
| | |
| --- | --- |
| UFA Status of 2010 US Olympians Under the Age of 35 | UFA Year |
| Ryan Whitney | 2013 |
| Dustin Brown | 2014 |
| Ryan Callahan | 2014 |
| Phil Kessel | 2014 |
| Ryan Miller | 2014 |
| Brooks Orpik | 2014 |
| Joe Pavelski | 2014 |
| Paul Stastny | 2014 |
| Patrick Kane | 2015 |
| Ryan Malone | 2015 |
| Bobby Ryan | 2015 |
| David Backes | 2016 |
| Tim Gleason | 2016 |
| Erik Johnson | 2016 |
| Ryan Kesler | 2016 |
| Jack Johnson | 2018 |
| Jonathan Quick | 2023 |
Surely, Parise wouldn't mind dishing the puck to recent foes Brown or Callahan. Suter could have former Vezina winner Miller cleaning up behind him.  Parise and Kessel attacking from different lines might prove unstoppable.  Of course, every team and fan could futilely conjure up fantasy pairings like these.
But did anyone imagine Parise and Suter with the Wild a year ago?
Before signing together, they were very familiar with each other, having played against each other in high school and college, and together internationally six times, notably the 2004 World Junior Championships and the 2010 Olympics.
"We played together before on different U.S. teams, we played against each other growing up," said Suter at the press conference that presented both stars in Minnesota forest green for the first time. "We talked over the years about how great it would be to play together, and it finally happened."
Brown was a World Juniors teammate of both Parise and Suter.  Stastny, Kessel, and Brown also played with them in the World Championships.  Kessel and Pavelski share roots in Wisconsin with Suter.
For all we know, casual discussions about playing together may have already been lobbed back and forth "over the years."
So could such kismet among Olympic teammates strike again in Minnesota?
Even with the incoming lower salary cap, the Wild have expensive players such as Niklas Backstrom, Pierre-Marc Bouchard, and Matt Cullen coming off the books in 2013, and Dany Heatley, Devin Setoguchi, and Tom Gilbert (another fellow 2010 US Olympian) the next year, with only Cal Clutterbuck, at the moment, looking like a potentially expensive RFA re-up in that time period.  So the money may be there.
Backstrom is facing a make-it-or-break-it year.  Mikael Granlund's learning curve as a top-six center over the next two seasons will determine the need for a Pavelski or Stastny.  And while the presence of Parise may cancel out a sniper such as Kessel, banging forwards with good hands like Brown and Callahan are always in demand.  A steady veteran in Orpik who has already won a Cup is also always valuable.
Ultimately, unrestricted free agents go where the money is, but the heart often plays its part too.  The Minnesota-born Parise is certainly an example of this, having rejected a $110 million dollar offer from Philadelphia to sign a matching $98 million dollar deal with his buddy Suter to return home.
So in just a year and a half, a fleet of star American free agents will have riches for the taking and familiar faces to ride with in Minnesota.  Does an American armada lurk in the Land of 10,000 Lakes?