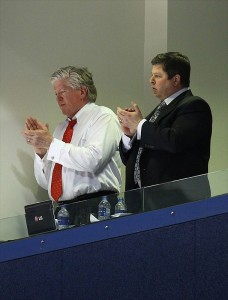 Fantasy hockey fans are always looking for new ways to gain that edge. In some cases, they are exploring new types of leagues. Basically, hockey and fantasy hockey news can be all found in one place at HockeyDraft.ca. Also, if there is a league and you are one who wants to have someone else run it then HockeyDraft is also for you. The fun in demos and pools is how they are constructed. This is a site that does it top notch.
Their pools also give you the option to engage in the oldest form of taunting imaginable and that is the good old trash talk feature. If that was not enough, they have the latest injuries, news and player reports. Just take a long look at this demo ladies and gentlemen.
The breakdowns are extremely comprehensive and so is the fantasy news as it comes in. If you think about it really, the company has been around for 11 years now. They have a reputation that keeps growing positively. Generally over 5,000 likes on Facebook is pretty impressive. The bottom line is when you have a fantasy site that throws down, they explore a little bit of everything.
If you have never done box pools, they have something for you too. Announcements are also right on the money and nothing is reported unless its 100% accurate. As a fantasy hockey writer and avid player, I trust HockeyDraft for all my high end pools. Why do the work if you do not have to? Think about that for a second. With the NHL starting on Saturday, people need to get ready and this is a site that will have you ready at little or no expense.

Hopefully one goes and takes a look tonight or tomorrow and we will be working with HockeyDraft throughout the season. Good luck!
Sincerely,
Chris Wassel