Several sources, including TSN, are reporting that the Toronto Maple Leafs have moved tough-luck centre Matthew Lombardi to the Phoenix Coyotes.
The deal will see the Maple Leafs get a fourth round draft pick in 2014 in return for Lombardi, which will turn into a third-rounder should Lombardi re-sign with Phoenix this summer. The Leafs will also retain the $500,000 signing bonus owed to Lombardi as well as a portion of his remaining salary in the deal; the amount of which was not disclosed.
For Lombardi, Phoenix represents a return to the team where he had his best season. Lomabrdi played with the Coyotes in 2008 and 2010, registering 16 points in 2008-09 and a career-high 53 points in 2009-10.
Lombardi, 30, was acquired via a trade with the Nashville Predators which saw Lombardi and defenseman Cody Franson (recently signed to a one-year deal by Toronto) heading to Toronto for defensemen Brett Lebda, Robert Slaney and a conditional draft pick.
Known as a speedster with some offensive flare, Lombardi, arrived in Toronto as damaged goods (concussion), limiting him to just 62 games last season where he registered eight goals, 18 points and a minus-19 rating.
With a shortened training camp coming to an end on Friday, the Maple Leafs had an alarming number of forwards under contract, which likely facilitated the deal.
With Tyler Bozak and Mikhail Grabovski looking as if they will assume the two top centre roles with the Maple Leafs, Lombardi, Tim Connolly, David Steckel, Nazem Kadri and Jay McClement were expected to fight it out for third and fourth line duty.
Connolly's considerable $4.75 million contract all but assures he will be given every opportunity to make the roster, while Steckel and McClement are expected to shine in supporting/defensive roles. Of course, Maple Leafs general manager Dave Nonis may chose to buyout Connolly, but thus far that move seems unlikely.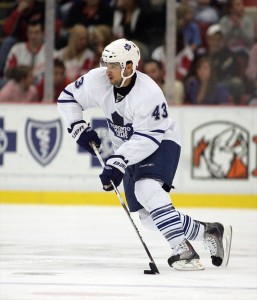 Kadri may find his way onto the top-two lines as a winger, but even if he doesn't, finding a spot for Lombardi, Connolly, Steckel and McClement will be tough, even with Lombardi's departure.
Players like Leo Komarov, Matt Frattin, Clarke MacArthur and Mike Brown will be vying for bottom-six minutes, and with the Maple Leafs already committed to Phil Kessel, Joffrey Lupul, Mikhail Grabovski, Nikolai Kulemin, Tyler Bozak and James van Riemsdyk to man their top-six, keeping Lombardi in the fold just didn't make sense.
Joe Colborne and Carter Ashton are also expected to make a push for a spot on the big club, as is NHL veteran Keith Aucoin, who has looked great with the Toronto Marlies this season and has not looked out of place at training camp.
Kadri impressed the Leafs' brass at Wednesday's scrimmage, scoring a hat-trick on goaltender James Reimer, helping Kadri's team to a 5-1 victory.
While there is no guarantee that Kadri will make the big club out of camp he has played well at the AHL level, and when you come out and net a hat-trick in your first scrimmage, the Maple Leafs are likely looking to make room on the roster for Kadri.