The Chicago Blackhawks just can't get it done these days. Their three-game road trip this past week left a lot to be desired. They provided a gleam of hope with a 2-1 defeat over the Nashville Predators last Tuesday. But that was soon vanquished with a 4-2 loss to the lowly Vancouver Canucks on Thursday. There was light at the end of the tunnel Saturday, as the Hawks were up 2-0, and then 3-2 against the Calgary Flames. Alas, they couldn't get over that hump, and fell 4-3 in overtime.
It's the same old story. The Hawks have dug themselves into a hole where they have a very minimal chance of making the playoffs. It's do or die every night. And most nights, it's die. But the show must go on. Here's our weekly updates.
Winner of the Week: Nick Schmaltz
While we keep waiting for the core to step up, Schmaltz has decided to take charge. He provided an assist in Nashville, and notched a goal in each of the last two games. That's two goals and an assist in three games. According to Charlie Roumeliotis of NBCSChicago, Schmaltz has posted at least a point in 10 of his last 14 games.
Schmaltz has found his comfort zone centering Patrick Kane on the second line. In these last three games, he's registered five shots on goal, four takeaways, and a blocked shot. He's averaging almost 19 minutes of playing time per game, and spending time on both the power play and the penalty kill. He's being aggressive all over the ice, and turning into a valuable asset for an otherwise lackluster team.
Loser of the Week: Jordan Oesterle
This young man has hit another road bump in his quest to be a dominant defenseman in the NHL. After being a healthy scratch for 25 of the first 29 games of the season, Oesterle was inserted alongside Duncan Keith on the top defensive pairing. He found success and stability there and even earned himself our winner of the week honors back in early January.
But lately he's come down to earth a bit. Coach Quenneville wants Keith and Oesterle to contribute offensively, but it can't be at the expense of defense. These past few tilts, their defense has suffered. In Vancouver, it was Oesterle not clearing the puck out of the Hawks' zone that led to the Canucks' third goal of the game. In Calgary, he was caught standing around for the second goal against, as well as the overtime tally. He needs to ramp up the intensity and be more aggressive with his stick and his positioning.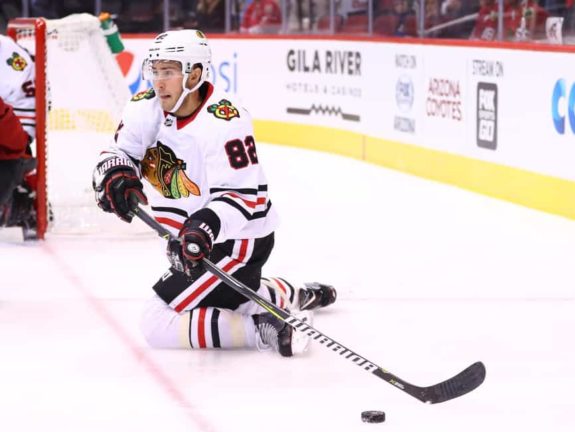 A lot is being asked of Oesterle. With the exception of Saturday's tilt against the Flames, he's actually seen more ice time than any other defenseman in the past handful of games. Mistakes are going to happen. Hopefully he can learn from his mistakes as the rest of the season unfolds.
What Went Right for the Blackhawks: The Youth Movement
Three games, seven goals for the Hawks. Who scored said goals? The new guys, the youngsters! In Nashville, it was David Kampf and Vinnie Hinostroza that got the team on the board. In Vancouver, Schmaltz and Alex DeBrincat were the ones with goals. In Calgary, it was Schmaltz and Hinostroza again, and Anthony Duclair added a tally.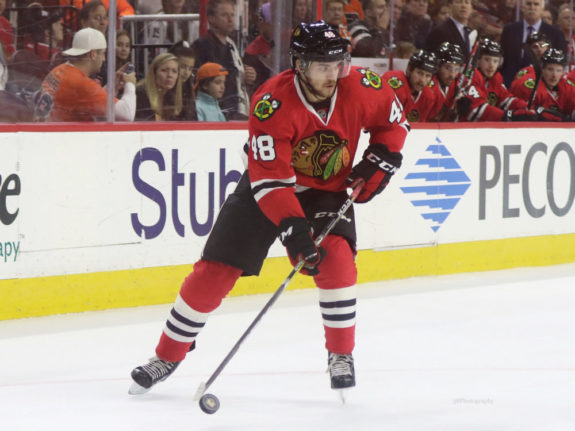 We might not be happy with the Hawks' overall performance this season, but a closer look shows the younger players learning and improving. They are slowly taking on bigger and bigger roles. As a matter of fact, DeBrincat and Schmaltz are the second and third-highest goal scorers on the team (Kane is still first). It might be disappointing right now, but if one looks at the big picture, there's hope for the future.
What Went Wrong for the Blackhawks: Lack of Finish
Let's face it, this has been an issue all season long. In the past, the Hawks' saving grace was their ability to climb out of a hole. If they were behind in a game, they clawed their way back. Nine times out of 10, there was someone who made that big play or scored a clutch goal. There was always the belief that they could pull it out in the end.
This season, this hasn't been the case. Last Tuesday was the exception. After scoring first, Nashville tied it up. But the Hawks scored the go-ahead goal and held onto their lead. The problem is they just can't seem to do this consistently.
In Vancouver, the Hawks again gained the momentum by scoring first. But then they let their foot off the gas, and the game got away from them. In Calgary, they were ahead twice, yet couldn't hold onto their lead. It's disappointing, and it's been difficult to watch. I'm sure it's been frustrating and demoralizing for the team as well.
Related – Blackhawks Weekly: Improved Play a Positive Sign
Other News and Notes
While Schmaltz earned the honors above for scoring in the last two games, Hinostroza actually matched his stats. He also has two goals and an assist in the last three games, including a power-play goal. He's been lining up on the fourth line but has been taking shifts up with Kane and Schmaltz as well.
With two assists on Saturday, Kane is up to 499 assists in his NHL career. His next one will be No. 500.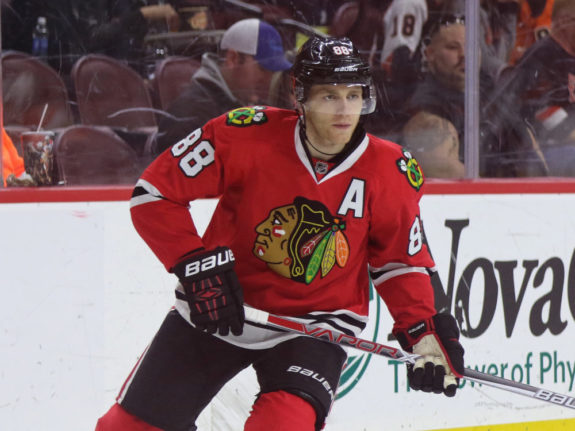 Brandon Saad earned an assist on Schmaltz's goal on Thursday, breaking a nine-game stretch without a point. But it wasn't enough, as he was demoted to the third line for the most recent contest in Calgary. He was held pointless for that matchup as well.
While Michal Kempny suited up in Nashville and Vancouver, he was a healthy scratch for the most recent game against Calgary. Jan Rutta drew into the lineup in his place. He finished the night a plus-1, with 16:56 minutes of time on the ice, and one shot on goal. Overall, not a bad performance.
Anton Forsberg started in goal in Nashville and Vancouver, and played relatively well. But for some reason, Jeff Glass got the start in Calgary. This has been the case since starter Corey Crawford has been out because of injury. Each backup gets a few starts here and a few starts there. It's unclear how Coach Q is determining who will be in net, but it could be to the detriment of both players.
On a positive note, Crawford skated in Chicago on Saturday and was expected to skate on Sunday as well.
Wrapping It Up
The Hawks gained three out a possible six points this week. That's not enough. Their current record is 24-20-8, for 56 points. This is four points behind Anaheim, Calgary, and Colorado. Minnesota holds the final wild-card spot, with 61 points.
Things don't get any easier either. The Hawks take on the Calgary Flames again this Tuesday. They meet division foes in the Dallas Stars on Thursday, and the Minnesota Wild on Saturday. At this point, the playoffs look like a lost cause. But perhaps the Hawks can salvage some dignity with some wins in the near future.
Gail Kauchak has covered the Chicago Blackhawks as a content writer since 2014. She previously wrote for Fansided's Blackhawk Up, and has been part of The Hockey Writer's team since 2017. It's not always easy to balance life's responsibility's with one's passion, but Gail's doing her best to make it happen. Quote to live by, "Follow your dreams, and good things will happen." Wait, maybe it's "Good things happen when you shoot the puck!" You get the idea.
Follow Gail for her unique commentary about this storied franchise. And be sure to catch her and the rest of the Blackhawks' crew on their weekly Blackhawks Banter show, as well as follow her on Twitter.